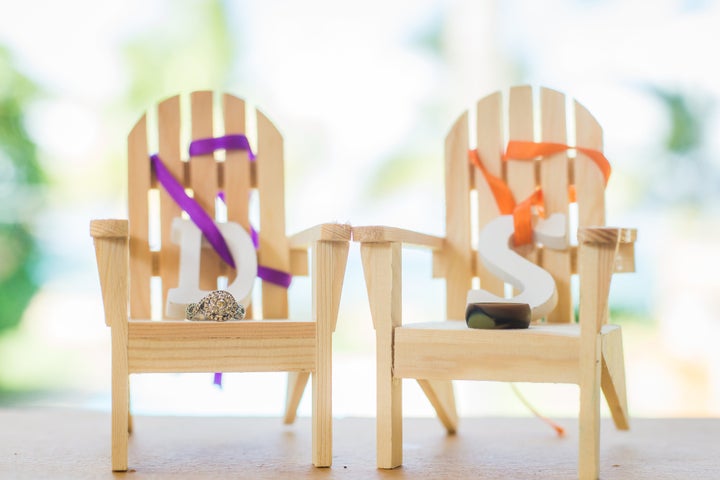 I just got a wedding planning request for August of 2020. It arrived on January 10th of 2017. Seriously. Now that's just crazy.
It's engagement season, and this isn't the first ridiculous wedding request I've received recently – by far, the most entertaining ones are from young ladies who haven't yet received a ring, or an actual proposal. While I appreciate their enthusiasm, scheduling a consultation with a wedding planner before you're engaged is definitely premature.
It is perfectly acceptable to have a long engagement. If you put off the wedding planning for as long as a year, nobody will judge you. After that, you'll get nagged to death by both sides of the family, and your nosy friends, until you declare that you've chosen a wedding date.
The important question here is how long is TOO LONG to be engaged before you get married? Or even choose a date? And how long can you realistically drag out the wedding planning? The answer to those questions depends on whether you have a legitimate reason for postponing the actual deed.
Some couples have really good reasons for putting off the wedding – I had a bride and groom who were in medical school, for example, and planned their wedding almost three years in advance for the week after their dual graduation, in the short break they had before starting their residencies in two different cities. Because the time window was so tight, they HAD to book their wedding date far in advance to make sure they'd be able to get married on that day. They didn't have a second-choice wedding date option.
That was a legitimate reason to choose a wedding date more than two years ahead of time, and ask people to block on their calendars. Nobody questioned the logic because it made perfect sense. What does not make sense to people is hearing that their newly engaged friends aren't getting married for several years for no apparent reason. Why get engaged?
My husband likes to joke that brides and grooms who wait for years may not even be together by the time that date rolls around. We all know couples whose marriages have lasted less time than some couples choose to be engaged.
Two years out is more than enough time to plan a wedding. A year is far more common, and less than a year is even more common than that nowadays. More than 50 percent of the more than 500 couples I've work for have planned and executed their weddings in less than nine months.
So back to the question of WHY anybody would get engaged and wait several years to get married. I shared this story on Facebook and polled my friends. There was much speculation. My favorite suggestion came from my podcast producer Rita Rich, who suggests that perhaps one half of the couple is incarcerated? Or maybe they both are? That would be an excellent reason for delaying the wedding.
Several people suggested the couple was saving up for the wedding, and that's entirely possible. But it's a good idea to save up the bulk of what you're going to need before you hire a wedding planner, and start signing vendor contracts. You'll be required to put down deposits once you've accepted vendor bids, and they're not going to hold the date until you've saved up the cash for the down payment.
The most insightful comment came from a friend who pointed out that some people like the idea of being engaged more than the concept of actually getting married. Another friend in the wedding industry messaged me that only sadistic brides plan for that long, so they can make their wedding planners completely insane. She's definitely right about that.
You might be wondering why a wedding vendor wouldn't be thrilled to accept a client so far ahead – and it's a good question. Some vendors might happily accept the contract because they are able to adjust their rates for the future at the time of booking. But for a wedding planner who is responsible for estimating a budget for the couple's big day, and finding vendors to service those weddings, starting the wedding planning more than two years out is a nightmare. All it really means is that we're going to have to plan the wedding several times, as the couple changes their mind, because they have so much time to think about everything.
The bride who inspired this blog also sent me lots of pictures and a link to her "inspiration board" on Pinterest. God help me. Wedding trends come and go quickly, and there's no way she's going to actually choose any of the bouquets, cakes, or décor that she's so painstaking cataloged and labeled in order of preference.
How do I know this? Because if she's already put in literally hundreds of hours dreaming about her big day, and pinning pictures of everything she sees that she loves, she's not going to stop now. She's addicted. She's going to keep surfing Pinterest and all the other wedsites like it's her job, until she makes the groom and her wedding planner completely insane with her changes and inability to commit to a final decision. It's not like she's making her final choices and is ready to lock them all in – she just wants to plan the wedding three or four times until it is absolutely perfect. Fun in theory, totally impractical if you're working with a professional wedding planner, and you're not paying by the hour for her to listen to all of your whims, fancies, and pipedreams.
There are a few rare instance where certain venues do need to be booked very far in advance. And if the couple is committed to a certain date, they may have to book two-plus years out to get their first-choice venue. Even in that case, you don't need to actually begin planning your wedding just because you've reserved the venue. In fact, you should make sure you're ready to put down all of your major deposits before you get started, because nothing you choose is confirmed until they have your money.
It's certainly up to each individual couple to determine how long is long enough to be engaged before saying "I do." Just don't expect that your choice to have a crazy-long engagement means that you're going to be treated like a soon-to-be-bride for several years by all your friends and family, until you final go down the aisle. Nobody has time for that nonsense, they're only going to stay excited about your engagement for a reasonable period of time.
Related
Popular in the Community