It was a horrible day -- late start, fevers, tantrums at the doctor's office in front of judgy-eyed mothers, and you know how that cycle goes where our stress rubs off on each other until the day from hell feels like it will never end: the epitome of a shitty day for a mother of two under two.
I wanted to give up (not that I knew how), but I just wanted to turn back or fast forward time to a better day.

And then I remembered something.

I remembered the day a few weeks ago when my 2-year old's eyes sparkled as she saw me take off my jacket and sit down in her classroom.
I was spending that morning in her school (all moms had been invited for a short mother's day celebration) and she could not believe -- or contain her excitement -- that I was actually there with her.
She had taken me by the hand to show me the corner where she loves to sit down on a beanbag to read.
"Shaggy Dog!" she screamed as she showed me one of her favorite books.
Even her teacher was astonished, "Is that Yasmeen?! I've never heard her speak so loudly!"
The soft-spoken, shy little girl in school had transformed into the same loud and opinionated toddler she was at home.
We read books, made a card, and played with dinosaurs.
It felt like we were in our own little bubble, so much so that even after many kisses and cuddles, she was reluctant to let me go.
But I would return, I promised...
...and when I did a few hours later, she ran up to me with open arms for the warmest hug I have ever received.
What a beautiful moment it was.
What a beautiful moment it is... every afternoon when I pick her up.
And today, on a day that wasn't as beautiful or calm or loving, I remembered that moment.

I remembered the pang of sadness I always felt in those beautiful moments.
Sadness over how fleeting they could be.
How long will seeing me after school put such a big smile on her face?
How long will she run up to me in a crowd of people and give me the fiercest hug a person can give?
How long will a cuddle from me make everything better?
How long will reading a book or playing a game together be the highlight of her day?
How long will a hand rub on her back help her sleep?
How long will she want me to sit down with her and play?
How long will I be enough?

Because, just yesterday, she was a newborn.
Today she's a little girl with opinions, with likes and dislikes, with a sense of humor, and with so much love to give.
Tomorrow she will be a teenager who wants to walk home from school, not be picked up.
Tomorrow she will think that I don't understand, that I'm from a different generation, that I'm not as fun as her friends, and that I can't make everything right with the world.
Already I see her growing up too quickly, and it breaks my heart to think of this most natural evolution of the mother-daughter relationship, of the move into adulthood.
I am sure our relationship will blossom in different ways later on down the line. But right now, on most days, we are everything to each other.
So even on a hard day like today, remembering the sparkle in her eye when I went to her nursery school was enough to pull me back from the ditches.
It was enough to remind me to savor every precious moment when my daughter thinks I am everything, when she believes I have superpowers, and when she gives me so much love and enjoys being showered with mine.
Because as much as I hope it will be forever, I actually don't know how long...
...how long will I be enough?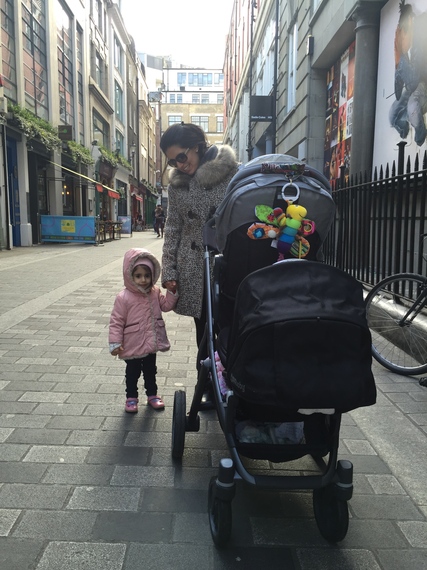 Related