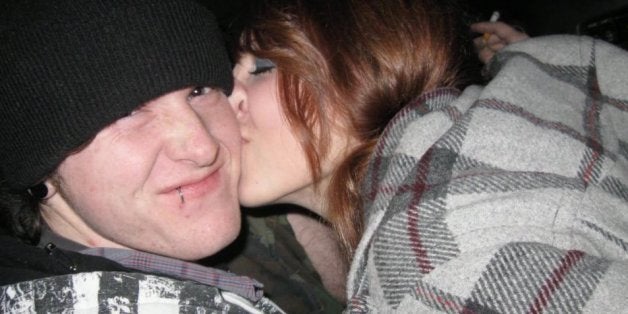 Four years ago my oldest son Zack took his own life. He was 19 years old. When he told us he was gay at the age of 14, we were not surprised. We told him we loved him. Close friends and family immediately accepted and embraced Zack. So when he killed himself, we were stunned, mystified and devastated. We kept asking ourselves, "Why?!"
One week earlier the city council in our hometown of Norman, Oklahoma, had approved a proclamation recognizing LGBT History Month. But a bitter public debate ensued, and the comments from those opposing the proclamation were vitriolic and hateful. The meeting revealed a deeply divided community. Supporters of the proclamation were shaken and in tears. Norman is a college town with a reputation for being progressive and inclusive, so the viciousness of the comments made during this meeting were shocking. Exactly one week later Zack committed suicide.
Could the comments made at the meeting have contributed to Zack's decision to end his life? We still don't know. As we sought answers to why he had taken his life, we discovered some revealing anthologies -- personal diaries he had written. We soon realized how much he had struggled. His views were much more complex than we knew. He clearly grappled with reconciling his own sexuality with opposing views in the community, particularly the anti-gay religious view.
Weeks after Zack's suicide we learned that Zack had been HIV-positive for more than a year and had only very recently begun telling friends. Our hearts were broken again when we realized the pain he must have felt when he did not think he could share this information with us.
We realized that Zack had been HIV-positive when people spoke at the city council meeting quoting erroneous statistics about HIV/AIDS in the LGBT community, further stigmatizing and marginalizing our son.
As much as my family tried to vocalize our concerns about LGBT kids in our community, we were stymied at every turn. We attempted to speak out publicly at a League of Women Voters forum in the city council's chambers, but we were not permitted to express our opinions. I personally wrote a heartfelt letter to our local newspaper, the Norman Transcript, and the editor refused to publish it. I felt betrayed. I felt our community was being let down.
How could the community leaders sweep this dark period under the rug? I have begun to see the world through the lens of Zack's eyes, and I will continue to speak. My family and I will no longer remain silent.
There are so many areas that demand our attention as parents of LGBT youth. Sex education and HIV/AIDS prevention are critical issues. Eight states, including my home state of Oklahoma, have laws dubbed "don't say 'gay'" laws, which are outdated, incorrect, or judgmental in nature. They either don't allow any mention of homosexuality in public education or severely restrict discussion of homosexuality. These states allow sex education that erroneously misleads our young people, suggesting that if they are gay, they will undoubtedly contract HIV and AIDS. Even when they allow mention of HIV/AIDS prevention, they maintain that abstinence until marriage is the only acceptable method of prevention. How can our LGBT youth be expected to remain abstinent until marriage when they don't even have the right to be married in these states? These laws are harming not only our young people who are gay but all young people. All young people need to know the actual routes of transmission and, most importantly, how to protect themselves! Our legislators need to stop making second-class citizens of our children who are LGBT. They can do this by taking the judgment out of sex education and HIV/AIDS prevention. The very young people who need the prevention information the most are the young people who are being alienated by the wording of the laws.
Our mission has become letting people know Zack's story and our journey. This is why the soon-to-be-released documentary film Broken Heart Land, which follows our story, is so critical.
The films directors, siblings Jeremy and Randy Stulberg, became a huge part of our lives, following us for about three years and chronicling Zack's life and pain, the shocking city council meeting, the events that have happened since that meeting, and our journey through loss, pain, discovery, and awakening. Our intent is to help open lines of communication and convey that love is sometimes not enough. Our hope is that this film will save lives.
We want this film to be shared. It will have its world premiere at the Frameline Film Festival in San Francisco on June 21. My husband Van, daughter Nikki, son Austin, and I are excited to be traveling to San Francisco to participate in this screening to share Zack's story. It will also be broadcast nationally on PBS' World Channel, and I will personally be participating in a simulcast and discussion about the important issues discussed in the film. My hope is that this film reaches other teens and their families who might be struggling with the same issues.
Zack was such a unique and inspiring spirit. We loved him beyond words. As a family, we want to honor his memory. We learned in the worst way possible how important it is for parents and families to bring up the tough topics, the potentially embarrassing topics, and the personal topics. Our children need to know we are willing to talk and listen. We need to be telling our young people who are HIV-positive or living with AIDS, "You matter, we love you, and we want a cure for you, but until that happens, we are here to support you." They need to know how important it is for them to protect themselves, and how important it is to us that they do so. They need to know that if they are sick, we will be there for them, and that if they have a problem, we will be a source of support. It hurts my heart beyond measure that my son, whom I loved so very much, didn't feel he could confide in me when he was most vulnerable. I want other parents to let their children know that regardless of their sexual orientation, their gender identity, and especially their HIV status, they are loved, supported, and valued. Now is the time. This is the moment.
Popular in the Community