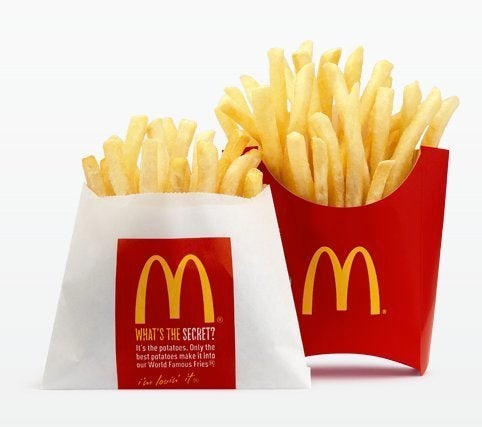 "I used to work at McDonald's making minimum wage. You know what that means when someone pays you minimum wage? You know what your boss is trying to say? It's like, 'Hey, [if] I could pay you less, I would, but it's against the law.'"
Now it seems that some minimum wage employers are trying to pay their workers less -- and to even make it legal to do so. It seems unfathomable that anyone would consider the minimum wage -- which, for a full-time worker, provides a yearly salary that is thousands of dollars below the poverty line for a family of three or four -- to be too high. But in Arizona, Republican legislators are pushing a bill that would allow employers to pay teenagers working part-time a full three dollars per hour less than the state minimum wage, which works out to a mere $4.65 per hour.
And the Florida legislature is considering lowering the state minimum wage for tipped employees by more than half, from the current $4.65 per hour to the federal minimum of $2.13. OSI Partners, the company that owns Outback Steakhouse, supports the legislation. Given the current political discourse on how best to create good jobs and help struggling families, OSI's involvement is especially noteworthy since the firm is owned by Bain Capital, the company that Mitt Romney co-founded and in which the Republican presidential nominee still has tens of millions invested.
The federal minimum wage, currently $7.25 per hour, has been raised only three times over the last 30 years. If the minimum wage had kept up with inflation over the last few decades, it would now be $10.55 per hour -- arguably still not enough to support a family, but a marked improvement from where it is presently.
Unfortunately, this overwhelming support for raising the minimum wage does not extend to most of corporate America, which has a tendency to prize the short-term bottom line above all other considerations, including the ability of its workers to make ends meet. The anti-minimum wage gang will "twist itself into knots rationalizing a corporate-backed agenda," John Stoehr observes in The American Prospect. And there is no question that those opposed to raising the minimum wage will prey upon our fears of joblessness and the bad economy to try to convince us that the minimum wage needs to stay where it is.
Corporate lobbyists are busy spreading distortions and outright lies in their attempt to hold back minimum wage increases supported by the vast majority of working people. Here are some of the biggest falsehoods that are going around, along with facts you can use to discredit them (with many thanks to raisetheminimumwage.org for providing much of this information):
Myth No. 1: Raising the minimum wage will kill jobs

Facts: Rigorous research carried out over the last two decades has demonstrated that raising the minimum wage does not result in job loss -- in fact, it's been shown to result in increased employment. For example, an analysis of Illinois, which raised its minimum wage in 2004 and 2006, showed that the state experienced more job growth than surrounding states where wages remained at the federal minimum.
And contrary to the claims of corporate America, large companies can easily afford to pay workers an increased wage without suffering losses. According to the National Employment Law Project (NELP), corporate profits now represent the largest share of GDP -- and wages and salaries represent the lowest share -- in over half a century.
Myth No. 2: Raising the minimum wage will hurt small businesses
Facts: According to NELP, two-thirds of all minimum wage employees work in companies with at least 100 workers, and half of all minimum wage workers work in companies with over 500 workers. For those small businesses that do employ minimum wage workers, there is good news: a 2006 study found that small businesses experienced higher rates of growth in states where the minimum wage was higher than the federal minimum.
"The business owners with whom I talk every day believe that, far from hurting their businesses, raising the minimum wage in fact helps small businesses, women workers and the broader economy. Raising the minimum wage reinforces their business strategies, rather than undermining them."
Myth No. 3: We can't afford to raise the minimum wage during a recession
Facts: Raising the minimum wage would provide the stimulus we need to speed economic recovery. A 2011 study by the Federal Reserve Bank of Chicago found that every dollar increase for a minimum wage worker results in $2,800 in new consumer spending by his or her household over the following year. Put simply, low wage workers have a desperate need for any increased income and spend it quickly, often on the local level, which provides a huge boost to the economy--as even conservative economists have documented.
There is no doubt that the current federal minimum wage is too low, and that raising it would provide a much needed boost not only to low-wage workers but also to the sluggish economy. Now that election season is in full swing, it's important to find out where candidates seeking our votes stand on the issue of raising the minimum wage -- and to let them know where we, along with the majority of Americans, stand on the issue as well.
Popular in the Community