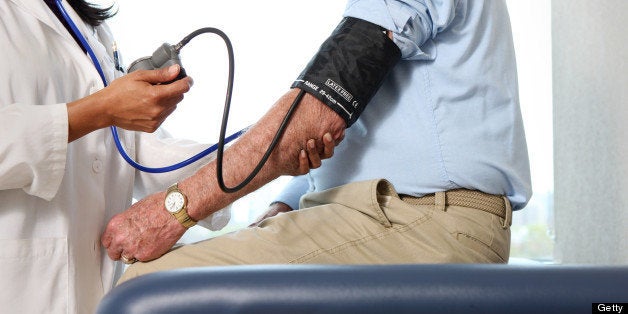 Though Chubby Checker recorded these lyrics to Limbo Rock in 1962, the popular catchphrase still holds true today--especially when it comes to your blood pressure. Ever since 1967, we've been aiming to go low. That is the year the first Veterans Administration Cooperative Trial was published, which confirmed that treatment of patients with high blood pressure resulted in fewer strokes, deaths and cardiovascular complications.
Before this landmark study, high blood pressure was not recognized as a disease requiring treatment. There were even physicians who felt that high blood pressure was a phenomenon of aging and that higher pressures were needed to get blood into the head of elderly individuals with hardening arteries (atherosclerosis).
We've grown wiser as we've aimed lower. Today, most physicians work to keep their patients' systolic blood pressure (the top number) at 140 mm Hg or less. Last year, there was a publication suggesting that perhaps, those individuals over the age of 60 should be allowed to have a slightly higher blood pressure (150 mm Hg or higher if it was controlled). However, a new study, just released by the National Institutes of Health, suggests we need to lower the bar once again.
So how low should you go? The results of this study were astounding, and build a solid case for managing systolic blood pressure to 120 mm Hg or less. Here are the facts uncovered in the Systolic Blood Pressure Intervention Trial (SPRINT):
Treatment of blood pressure to the lower target (systolic blood pressure controlled to less than 120 mm Hg) resulted in a one-third reduction in heart attack, heart failure and stroke as compared to control of blood pressure to 140 mm Hg or less.
There was also a 25% reduction in death for patients treated to the lower target.
The average number of medications it took to control systolic blood pressure to 140 was two. The average number of medications to control to a systolic blood pressure of less than 120 was three.
The study was so compelling that it was stopped two years early because of the statistically significant results. The monitoring committee determined that this lifesaving information needed to go public. This is important news for the 1 in 3 Americans who are estimated to have high blood pressure, which is a leading cause of cardiovascular disease, kidney disease and death in our nation.
The SPRINT study was specifically targeted at that "Rock and Roll Generation" with 28% of patients over the age of 75. As I remember my youth in the 50's and 60's, I am amazed at the changes that have occurred in music and in medicine since that time. The next time you meet with your health care provider, you may want to remind him of Chubby Checker's song and ask, "How low should I go?"