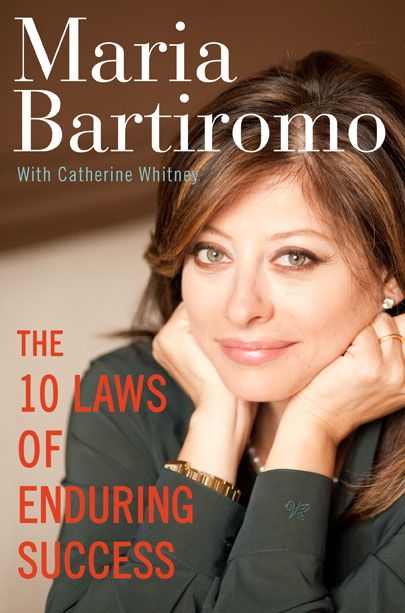 A good teacher will help aggregate information and condense it for you in an organized manner. A great teacher will passionately help you discover the ability you have inside yourself and help you culture that pearl, so that your feelings and intellect become your allies.
Such is the approach Maria Bartiromo has taken in her new book, 10 Laws of Enduring Success, written with Catherine Whitney. The book details the events that Bartiromo had to overcome and the manner in which she had to persist from her days as a young girl in Brooklyn, to becoming the woman the world knows her as today.
The result is an inspiring and highly motivational book that is perfectly timed for today's business environment. It doesn't pander to her constituents on Wall St. either: it's equally motivating to white and blue collars - and especially to women. While reading it, I kept thinking how this book reminded me of 2 other inspiring reads I recommend to my students: Napolean Hill's Think and Grow Rich and Stephen Covey's Seven Habits of Highly Effective People.
"People need a lot of help and they need it now. It was heartbreaking for me to watch people lose their jobs in 2008," recounting the utter destruction of Wall St. the way we knew it. "I saw iconic firms collapsing and the people walking out of these hi-rise buildings with boxes and I was thinking to myself, 'This is just a moment in time and this too will pass for them' and I tried to look at what I could do to shed some light on the hardships and how great leaders have overcome similar situations in their lives."
Bartiromo asked many of the CEOs and business leaders she knows about their early careers - the hardships, blow-ups, and challenges - and the racism and sexism. She asked them, "Take me back to the beginning of your career. How did you stay standing? What did you do when you lost your job? How did you stay successful when the rest of the world was falling down around you." She tapped a wide array of talented leaders with business acumen such as Jack Welch, Bono, Chris Gardner, Deepak Chopra, Joe Torre, and Oprah - just to name a few.
"I didn't want to write Jack Welch's 10 Best Business Secrets," she said wryly. "I wanted to include lessons from CEOs, but tell my own story too...and that was scary for me." 10 Laws of Enduring Success reads like a memoir - one that resonates of her successes, failures, near-misses, and heartbreaks.
This book is a very enjoyable read because it is full of candor. In her own voice, Bartiromo is gutsy, but at the same time vulnerable: a quality not found in books written by someone of Bartiromo's popularity, talent, and image - a talent that is a huge asset to CNBC and their parent company, General Electric.
Many of the books written by her peers are so scrubbed and sterilized, that by the time they're published, you're left with a 3-day-old-chewed-gum of a book: no taste, and so thoroughly scrubbed, they would make the Russian censors at ITAR-TASS blush. Bartiromo took a leap and stuck her neck out inviting vulnerability, and the reader is better for it because they can identify with her. Two of Bartiromo's character traits emerge over the course of the book: 1) she is a very sensitive person; 2) she is still very Brooklyn!
At the heart of everything Bartiromo does is her family and her heritage. Her grandfather, Carmine Bartiromo, came to America in 1919 after fighting for Italy in WWI on the ship Rex. He left his friends and family like many did for a better life here. That act of courage is not lost on Bartiromo. "A friend of mine found my grandfather's green card, the ship's manifest, and picture. I was so floored and proud, I felt that I had to write about it." The book is dedicated to Carmine Bartiromo - "who brought his dreams to America on the Rex in 1919 and made my future success possible."
Bartiromo learned her work ethic while working in the family's Bay Ridge restaurant, Rex Manor, named after the ship. She hung coats and helped her father Vincent, the chef, in the kitchen. "Every day, I witnessed my father dedicate himself and his life to his family," describing her father's work ethic. "He'd regularly work long hours, day after day and he never complained." Her mother Josephine worked a full-time job at OTB, taking bets as a teller.
Although she's from working-class roots, it was a far cry from a Raymond Carver short story of blue-collar despair, but it was definitely more than a few large cheese pies away from how her beloved husband, Jono Steinberg, grew up. His was the C-Section of the WSJ, a quotron, and listening to his father Saul "dealmaking" on the phone. Her's was more May I take your coat? and marinating scungilli.
Despite interviewing big CEOs and world leaders, her mother still calls her on her cellphone at 3:01 pm if she is late for Closing Bell, her afternoon show on CNBC. "My family has been an underlying strength for me - they keep me grounded. I attribute all my success to them. They keep me real."
So do her friends - and it's worth noting that Bartiromo is a product of her own vision and advice. Intention equals results.
After confiding in her friend Kitty Pilgrim about a change she wasn't so keen about at her then-employer CNN, Kitty gave her what in retrospect was understated, but prescient advice: "Maria, you have to think about where you see yourself in five years. Once you get that picture, then you have to work toward it now. That's the best advice I can give you."
Bartiromo, then 26 and ever-resourceful, decided to put that mentoring to work. After all nighter's (every night) as a producer at CNN for the overnight shift, she convinced her boss (Lou Dobbs) to let her stay after work - the early hours of the morning. She cajoled and persuaded the camera crew to record clips of her on-camera, reading her own reporting of the day's news and hot topics. She created her reel - "Maria Bartiromo, reporting for CNN Business News."
When the opportunity arose, she interviewed with Peter Sturtevant and Roger Ailes at CNBC in Fort Lee and they loved her clips. They called her back and she accepted the job. She told Dobbs she was leaving and he chastised her for making what he thought was the biggest mistake of her life. Bartiromo followed her heart, as she suggests her readers do - as long as your behavior is based firmly on what you want to do in your heart, and if you fail know you can try again.
...And those clips I spoke about...the ones she used on her reel to get the position at CNBC? They were just clips. They were never broadcast, they never were going to be - just Bartiromo and her enthusiasm caught on tape somewhere on the streets of Manhattan.
But once firmly in place at CNBC, she wasn't done improving, nor getting some rather brutal advice at times. "I was already successful on air, but I had a shortcoming. When I was asked to speak in front of a crowd, I would get to the podium, look at my index cards, and choke. "Do they love me, do they hate me? I had all these thoughts going through my mind while I'm about to speak. I was awful."
After one such presentation, her boss at the time, Pamela Thomas-Graham pulled her aside and said in no uncertain terms, "That didn't exactly go so well. You let down your audiences. You have to fix this," and exasperated, Bartiromo asked her boss to help her find a speaking coach. The coach's advice was simple:
"What do you want to say? Don't look at the cards, look at me. Put down the cards and tell me in your own words what's in your heart?," she recalls still somewhat mortified.
"I want to say blah, blah, blah."
"Well, there you go. You just did it. You don't have to be or sound like anyone else. Just be your authentic self."
To this day, Bartiromo writes bullets on the index cards and speaks from the heart.
Her thoughts about her industry are just as blunt. "At the heart of everything on Wall St. has to be Integrity. I am outraged to see some of these executives walk away with giant pay packages. I am a firm believer in pay for performance, but some of them are just ridiculous. However, I also believe that an across-the-board, blanket statement that all business is "bad" is just not true."
As a result of what we've just been through, Bartiromo believes this is a great time for women to advance...and to garner equal pay. "Women are soaring. Sixty percent of higher degrees are going to women. Women are the CEO's of their households. The elephant in the room is that they are still making 20% less than men. Women are in a great position to take leadership positions."
10 Laws of Enduring Success by Maria Bartiromo and Catherine Whitney is out on Crown in Hardcover and on Kindle Reader.

Calling all HuffPost superfans!
Sign up for membership to become a founding member and help shape HuffPost's next chapter