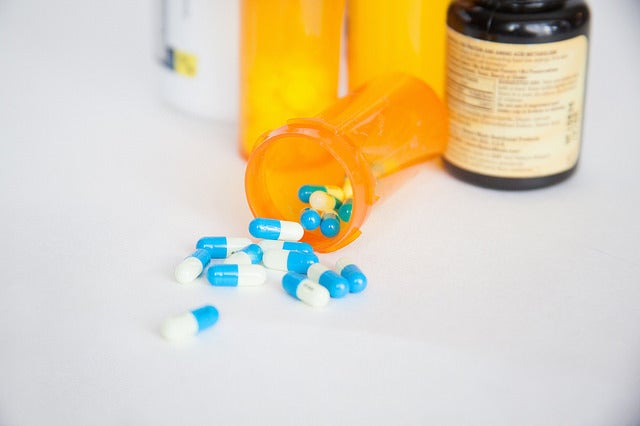 A case that Leah, who asked for her full name to be withheld, encountered in 2015 while working as a nurse's aide in the maternity ward at Albert B. Chandler Hospital in Lexington, Kentucky shocked her. "I was told repeatedly by higher-ups that the patient was on something illegal," says the Kentucky native. "On my level, I'm not told the specifics of the drugs because I was supposed to provide basic care. The patient was already admitted. We wanted to check her out and get her to calm down, and lay down on the maternity bed to scan her pelvic area. But she was screaming and wouldn't cooperate."
The patient was nine months pregnant and in active labor, but at the time of the incident, the medical staff had no idea how far along her pregnancy was. Leah suspects the patient, who was around 30 years old at the time, had swallowed the drug, because she bore no physical signs of needle use, even between her toes where some patients shoot up to hide their drug use.
The woman's bizarre and combative behavior also suggested that she had been using drugs. She was incoherent and slurring her words. And at one point she rambled about the child's father. The nurses were trying to calm and prep her so the doctor could do an ultrasound.
The head nurse stepped out of the room, assigning Leah to keep an eye on the patient. The woman's facial expression suddenly changed, she squatted and pushed out the baby. Another nurse dove and caught the newborn.
Unfortunately, these instances of drug abuse during pregnancy are not uncommon. In this case, the baby showed signs of being effected by the mother's drug use. The average drug-exposed infant experiencing withdrawal will stay in the hospital for about 17 days.
The opioid epidemic is a vast problem affecting families. Drug overdose is the number one cause of accidental death in the United States, according to the America Society of Addiction Medicine. The Center for Disease Control and Prevention reports that since 1999, the number of deaths caused by opioid overdose quadrupled as of 2015, and opioid overdose costs 91 Americans their lives every day.
Many medical professionals, especially those in rural and urban communities, share in Leah's experience of treating pregnant women who are struggling with addiction. Every 25 minutes, a baby is born in the U.S. showing noticeable signs of drug withdrawal. There are around 440,000 infants each year born exposed to illegal drugs or alcohol. And approximately 5.4 percent of pregnant females between 15-44 years old actively used illicit drugs, according to the 2013 National Survey on Drug Use and Health.
In many cases, the mother's history of drug use is long. "As I have conversations with moms after birth, it is really common that those dependencies began way before pregnancy," says Stephen Patrick, a neonatologist and assistant professor of Pediatrics and Health Policy at Vanderbilt University in Nashville, Tennessee. "They often began after a car accident, when a woman has been prescribed opioids, or out of a medicine cabinet with unused opioids that weren't properly disposed of. So, it's not as if someone becomes pregnant and then says, you know 'I'd like to begin abusing opioids.' It generally begins way before then, way before pregnancy."
Opioid abuse during pregnancy is linked to negative health outcomes for both the mom and baby, including hepatitis, birth defects, low birth weight, and neonatal abstinence syndrome (NAS). Neonatal abstinence syndrome affects newborn babies who were exposed to drugs during pregnancy.
Under the supervision of their physician, pregnant women should gradually come off of drugs, regardless of whether they are illicit or prescription, to protect their own health and that of their baby. If a pregnant woman suddenly stops using drugs on her own, the unborn baby might experience respiratory depression, which could result in insufficient oxygen to the fetus and eventually death.
One option is medical detox programs, which provide the mother with customized care taking into account the specifics of the addiction, the mother's health, and her psychological state along with the pregnancy. "We evaluate the whole person from a medical standpoint, behavioral cognitive standpoint, motivation standpoint, living environment, and social circumstances," says Hendree Jones, professor of obstetrics and gynecology at University or North Carolina and executive director of UNC Horizons, a substance abuse treatment program for women and their babies. "Her support for recovery and continued recovery based on these factors determine if an outpatient program is good for [the mother], group therapy, or psychology."
Many people seeking to get off heroin or prescription opioids will undergo medication-assisted treatment (MAT). MAT often includes administration of methadone, a long-acting opioid medication, accompanied by emotional, psychological and other services. There are no drugs approved by the U.S. Food and Drug Administration for treating addiction in pregnant women, according to the National Institute on Drug Abuse, but MAT improves outcomes for pregnant women and their babies.
Although these drugs were not designed solely for the purpose of treating dependent pregnant women, evidence shows that methadone, suboxone, buprenorphine with naloxone, and buprenorphine alone are effective in treating opioid dependence in pregnant women. Studies have found that buprenorphine, specifically, is an effective way of helping pregnant woman detox from opioids, according to the American Congress of Obstetricians and Gynecologists. "Buprenorphine is safer for pregnant women and there are less withdrawal symptoms like neonatal abstinence syndrome than with methadone," says Laura Goetzl, a physician and director of the division of maternal-fetal medicine at Temple University Lewis Katz School of Medicine.
There is still some concern among health professionals about prescribing the buprenorphine for pregnant women. "There is a greater risk that a patient will fill the prescription and sell it to make money because of its street value," Jones says. "Family members or friends might take it away from [patients] to sell it or use it themselves. Naloxone or buprenorphine has less of a street value because it would give a withdrawal side effect if used incorrectly like via vein."
In cases of overdose, pregnant women can take naloxone, but it is recommended that they do so under medical supervision. "If I encounter a baby in the delivery room that is opioid-exposed, and I give them naloxone, it could cause them to have seizures so we don't do that," says Patrick. "But I would say if you have a pregnant woman who is dying from an overdose, then, yes use naloxone. What's good for mom is good for baby, and if mom is having an overdose, you would want to treat that."
These approaches are most effective when the addiction is caught early in the pregnancy. But in many cases, pregnant women fear legal consequences or social stigma, so they don't come forward in time for the baby to receive effective medical care. "It's important to be mindful that when we think about addiction, it is a disease not a moral failing," Patrick says.
Nonetheless, Tennessee recently made a troubling move. In 2014, the state passed a law making it a misdemeanor if an infant is born dependent or injured as a result of a pregnant woman using narcotics. In March 2016, the controversial Tennessee policy came to an end. "My state in particular created a law that a woman could be charged with a misdemeanor punishable for up to a year in prison," says Patrick. "If she used an illegal drug during pregnancy and the infant was harmed. One of the concerns with laws like that is that it causes women to avoid care for fear."
The American Society of Addiction Medicine advises that state and local government should not consider drug use to be a form of child abuse. Medical professionals such as Patrick agree, "So if we really want to begin to tackle the problem of substance use in pregnancy, it really needs to be grounded in public health and science and improving access to treatment and to promoting access to providers and it doesn't need to. You know the criminal justice system certainly doesn't have the capacity, nor do I think most states would want to arrest that quantity of pregnant women it hasn't been shown to be effect those sorts of policies and certainly they are potentially harmful."
As for the 2015 case that Leah, she only knows that the case was turned over to physicians after the child was born. "The baby was addicted, and they had to get a medical team together to follow the protocol to take care of the child," she says. "We don't always get to know what happens with the patients. That bothers me, I wish that I did, but I understand why I can't. Sometimes I wish I knew how the situations turned out."
Need help with substance abuse or mental health issues? In the U.S., call 800-662-HELP (4357) for the SAMHSA National Helpline.