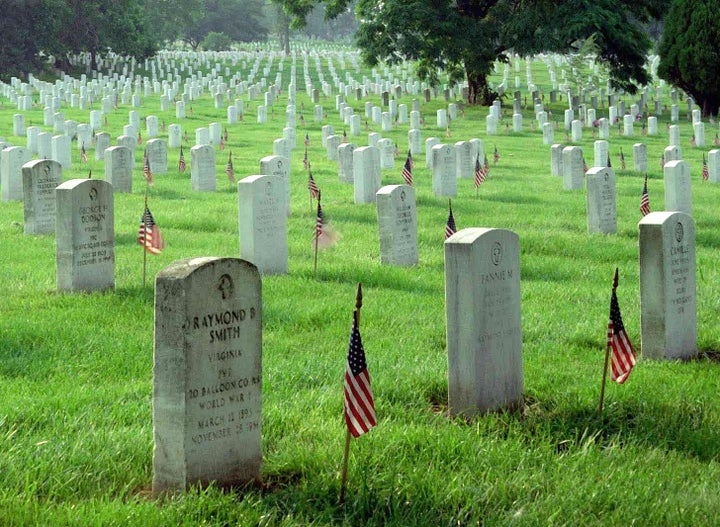 It will soon be Memorial Day in my home country, the United States -- a time for remembrance of and tribute to those lost in military service. People set aside time away from the season's first barbecues to visit cemeteries to pay their respects and honor to those who are lost.
Before I go much further, you should know that I am a veteran. You should also know that I believe firmly in giving tribute to those in service... whether its military or civilian service, but not just on Memorial Day, but everyday.
But this Memorial Day, I want to add a little CHALLENGE to give ourselves annually.
"Carve your name on hearts, not tombstones. A legacy is etched into the minds of others and the stories they share about you." -- Shannon L. Alder
Every year we march forward in our lives. Most living the same day over and over, like Bill Murray's "Groundhog Day." Same morning routine. Same commute. Same cubicle. Same meetings. Same routine with the kids. Same dinner conversations. Same weekend chores. Same. Same. Same.
Life is the GREATEST adventure and yet many of us take it for granted, simply punching in and out of our lives. We make plans for tomorrows that are never guaranteed.
As children, we had boundless energy and unlimited dreams. Then society and the status quo comes in, and changes it all. They squash the dreams and set boundaries of what's possible, what's realistic, what's safe, what everyone else is doing.
Why? Why do we do it to ourselves and our children?
It's almost like a bad M. Night Shamalayan movie where the society is getting its newest members to drink the Kool-aid and become like them. But if you ask, NO parent wants that for their child. No parent wants their child to be like everyone else.
What parents DO want is for their child to be successful, to be safe, to be secure. And this is where that Kool-aid slips in. For the way society and the status quo see it, the only way to do those things is to park your dreams, park your authentic you, and put on the grey suit of monotony like everyone else.
And now, we're all just punching in and punching out of our lives...waiting for "somedays" that may never come. This results in almost 90% of us going to our own deathbeds REGRETTING the lives we led for everyone else, like they wanted us to, instead of living authentically as ourselves.
I say "SCREW THAT!" Aren't the visionaries we celebrate, the same ones who dared to live their own way, their own dreams? Aren't these heroes of ours the ones who became hellbent to make their dreams happen? Didn't Bill Gates do it his way? Sir Richard Branson? Malala? Rosa Parks? Harvey Milk?
Well, I propose that we change this perpetual Kool-aid drinking and choose differently for ourselves and our children, like our visionaries, and we use Memorial Day to do so! Much like you're reminded at Daylight Savings Time to change your smoke alarm batteries, I'm on a MISSION to add another remembrance to our Memorial Days.
As we remember those who gave their lives in service, what if we, every year remember our dreams that were lost in the service of the status quo? That we take this moment every year, to recognize who we really are, what we really want for ourselves, our children and our world...and then go out and freakin' get it!
Don't you think that those who gave their lives in service would be OVERJOYED if the day set aside for them was a catalyst in changing the lives they laid down their own to protect?
It's Memorial Day... what dreams and forgotten lives are you remembering you had? It's Memorial Day 2017. Will you choose to make it different for your 2018?