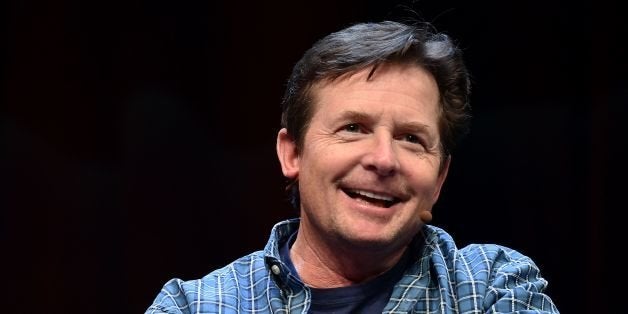 Magic happened in a crowded hotel ballroom and I was a lucky witness.
Last Wednesday, Michael J. Fox bounded up the stage stairs to thunderous applause and a standing ovation. He's far healthier than the tabloids would have you believe. Then he settled in to a club chair on the stage (his first words: "This is a comfy chair!") and proceeded to school the nearly 1,000 people in attendance on what it means to be human.
Fox was the marquee keynoter at a conference called WorkHuman, an event designed to inspire business professionals to make their workplaces more "human." Fox's body of work encompasses his time as an actor, author and philanthropist. Although I really wouldn't call myself a hardcore fan, I did love the Back to the Future trilogy and his book Always Looking Up: The Adventures of an Incurable Optimist.
Why is it, then, that I can quote--nearly verbatim--some of his wittiest rejoinders made on television appearances? Why does Michael J. Fox, (the man, not the celebrity) have such a prominent place in the recesses of my forgetful middle-aged brain? Half the time I can't remember where I put my cars keys for Pete's sake. But hey, I can remember that sometime in the 1990's, Mike Fox had an especially funny quip about feminine hygiene products on Rosie O'Donnell's talk show.
It turns out that I wasn't the only person with this inexplicable connection to the beloved celebrity. Whenever I would tell people that I was attending a conference at which Fox was the headliner, the reaction was unanimous: "I love him!" people would enthuse. What is it about this 54 year-old guy who is living with Parkinson's disease that universally draws a positive reaction? And, how would his message play in the business community? Could his message of hope and optimism even come close to making a dent in the cynicism and weariness that runs rampant in our office hallways (and coffee shops and home offices)?
Fox's message was spot on. After hearing him extoll the benefits of gratitude, optimism and the meaning of work, it finally all came together for me. The reason I can so easily conjure up Fox's various quips, is that he's 100%, all-in human. What he says comes from a place of true decency. Not perfection; he's gone on the record about his personal challenges over the years.
For 45 minutes, Fox talked with Julie Zadow of Globoforce (the conference organizer) about optimism, hope and gratitude. He talked about work ("At some point your work becomes broader than just your job") and his disability ("Life is about circumstance and choice. I've accepted what my life is and then moved on.") He was charming and funny, as you would expect, saying of his character, the conniving Louis Canning on the TV show The Good Wife, "You know, disabled people can be assholes too."
There was a hugely important message waiting for me in that ballroom in Orlando. Throughout the talk, I kept having to remind myself to watch Fox--the actual person--not the image projected behind him on a huge screen. After all, I've grown conditioned to watching him via the TV or movie screen. "He's right there in front of you, Jen, watch him, not the screen" I kept reminding myself. Indeed, he was right there. All of him. Human, laying it all on the line, with a wit and authenticity that can't be faked.
As Fox exited the stage, he did a few hops of his iconic dance from Back to the Future--the one in which Marty McFly plays "Johnny Be Goode" on the guitar and imitates Chuck Berry's famous "duck walk" move. The crowd went wild. Many of us cried. Why? I've not seen many of his movies. I rarely watched Spin City or Family Ties. Yes, I loved Back to the Future, but a favorite movie trilogy doesn't make me a lifelong fan of the starring actor.
What makes Mike Fox so memorable? I realized that my favorite "clips" of him are from his real life-- telling wonderful anecdotes from memoirs, or doing press junkets on the morning talk shows. It wasn't until I experienced Michael J. Fox in person--for a full 45 minutes, and not a seven-minute segment on a TV interview, that my fondness for a man I've never met made sense. The reason he is so memorable is his humanity. As his Twitter handle says, he is @RealMikeFox. And it's that authenticity that connects him to so many people. He's got grit, yes. And he's handsome and funny too. But so are a lot of other celebrities out there. What sets Michael J. Fox apart is that he represents the deepest level of what it means to be human. He is relentlessly optimistic, a true family man, and driven to bring his best self to whatever endeavor he takes on.
And that is something all of us, no matter what our occupation or vocation, can aspire to. Thank you, Mike, for helping me remember that the magic of humanity is in all of us. We just need the courage to conjure it now and then.
Jennifer V. Miller is a freelance writer covering leadership issues in the workplace. For more coverage on Michael J. Fox's WorkHuman keynote, visit her blog The People Equation.
Support HuffPost
The Stakes Have Never Been Higher
Related
Popular in the Community