Many have taken advantage of the fact that art has performed historically well across market sectors, even in times of economic turmoil. After the 2008 and 2010 market crashes, some gallery doors closed, while other doors opened to serve the global collector base that were still interested in investing in art. A recent article on Artnet focused on a mid-market gallery founded by Cristin Tierney, and how she harnessed her knowledge of the public and private market to attract high-profile clientele and represent unique artists.
Art and financial expertise in both the primary and secondary markets are imperative to making smart investment decisions. According to the article, both markets "together comprise the twin halves of the art economy" and investments that adhere to both aspects of the market ensure that an investor is not only buying the right work, but selling the investment at the right time to yield a return. Dealers, like Cristin Tierney, use financial and art world expertise to protect the artists they represent, while informing and educating collectors who may not have experience acquiring artwork. This strategic knowledge supports the market by ensuring that artist's work has long term staying power and that the work has investability for collectors. The work done by dealers is important to the investment value of work, and a significant aspect of why the industry has performed historically well across market sectors.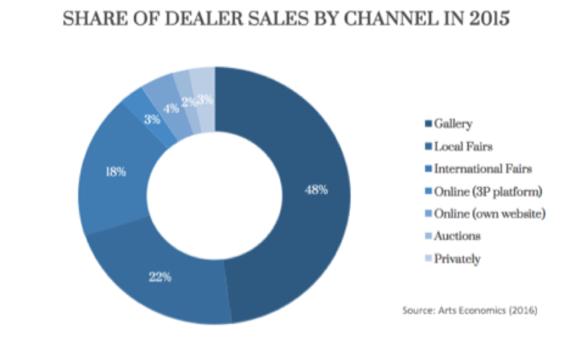 Art investment funds harness the art and financial expertise of art experts, like dealers, to ensure art as the best alternative asset to diversify investment portfolios through a large capital base and exceptional advisors. Investors purchase shares in a fund and art experts invest in works that reflect positive trends in the market. This ensures that you don't risk purchasing works that won't provide a return. Unlike dealers who hold onto artworks for short periods of time for quick turnarounds, the "buy & hold" strategy allows for work to appreciate in value so that the fund can utilize its market knowledge to place the work in the market at the right time. Through art funds like Arthena, investors can diversify their portfolio without the worry that their investment will fail to yield a return, and partake in investing in a booming asset class.
Become an Arthena user today to gain access to our funds, exciting art world news, and invitations to some of the most exclusive events happening in today's art scene. Click here to request membership or email info@arthena.com
REAL LIFE. REAL NEWS. REAL VOICES.
Help us tell more of the stories that matter from voices that too often remain unheard.