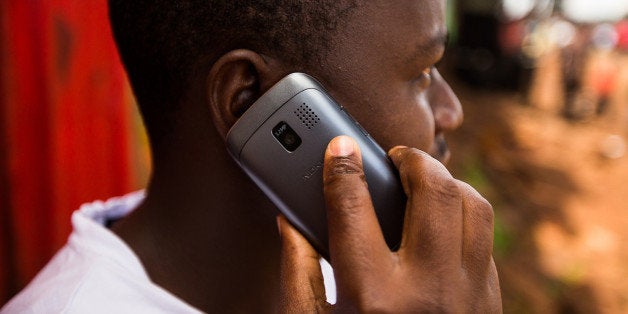 I live in the heart of Silicon Valley and am still dependent on a piece of plastic I have to carry around with me everywhere. From gas to groceries, I pay with my credit card.
With the introduction of Apple Play only six months ago, Americans are only now starting to experience the smartphone-enabled proliferation of US mobile money services. Yet, perhaps because not every buyer has an iPhone 6 and not every vendor has a near field communication terminal, credit cards dominate the US market and will continue to do so for the foreseeable future.
However, 9,000 miles from Silicon Valley in Nairobi, Kenya, a far more widely adopted mobile money service has exploded. Unlike the mobile money experience that US users are just beginning to adopt, using mobile money in Kenya does not require a smartphone, or a credit card. In fact, it doesn't even require a bank account. Already, two out of every three adult Kenyans (18+ years) actively use it and it accounts for more around 18% of Safaricom's revenue, more than SMS and data combined.
Safaricom's M-Pesa is the leading platform behind the mobile money revolution. Upon registering a SIM card through Safaricom, the leading telecom company in Kenya, a user can simultaneously register to use M-Pesa. Across Kenya, a network of "human ATMs" has emerged, where M-Pesa users can either deposit cash into their mobile wallets (thereby tying a cash balance to their phone number) or withdraw cash that has been sent to their mobile number. By the end of 2014, there were 81,000 M-Pesa agents across Kenya, and you'd be hard-pressed to travel anywhere in the country and not find an M-Pesa agent. In fact, M-Pesa agents are more prevalent per capita in Kenya than ATMs are in the United States.
M-Pesa's evolution is a shining example of how disruptive innovation often stems from markets that lack many basic technologies and infrastructure. In Kenya, over 80% of the population lives without access to grid electricity, instead relying on dim, toxic and expensive kerosene fuel combustion to light their homes. However, even without power, most of these off-grid families and small businesses own mobile phones. Of course, these aren't iPhones with capacitive touch screens and instant access to the app store. The phones they own are probably Nokia or Samsung feature phones with an alphanumeric keypad and a black and white LCD display. By leveraging this basic phone, intricate platforms like M-Pesa can offer an attractive alternative to stashing cash underneath a mattress.
From mailing cheques to using PayPal, US customers have no lack of options for storing and sending money. In Kenya, before M-Pesa, sending money to family members was done by stuffing physical cash into an envelope, entrusting it to an unknown bus driver, and hoping it reached its destination without anything skimmed off the top. Recognizing the need for a better solution, Safaricom launched a successful marketing campaign by assuring customers they could cheaply, quickly and securely "Send Money Home" with M-Pesa. In the US, where credit cards already work without too much hassle, a user needs far more convincing to make the transition to mobile money. In countries like Kenya, which has seen the exponential adoption of the mobile feature phone amid energy and formal banking scarcities, using M-Pesa is a no-brainer.
For unbanked Kenyans and many other countries where mobile money has expanded, M-Pesa has become far more than a way to send money home. Routine purchases like airtime or utility bills are paid via mobile money. Retailers of all sizes accept M-Pesa merchant payments for groceries, cab fares, airline tickets or even school fees.
Microfinance organizations are even able to offer lower interest rates due to saving on cash collection costs by receiving payments through mobile money. Our company, Angaza, leverages a variety of mobile money platforms, from Airtel Money to Tigo Pesa to Safaricom's M-Pesa, to receive pay-as-you-go energy payments from solar product micro-loans.
In off-grid markets like East Africa, solar energy can provide a reliable and affordable source of electricity for light, mobile phone charging, and powering electronics like radios and refrigerators. However, the upfront cost barrier of a solar home system keeps them out of financial reach of most off-grid consumers. By spreading out the cost of a solar home system over time via affordable weekly payments, solar energy becomes widely accessible, even to families earning less than $2 a day. All of this is possible thanks to the incredible growth of M-Pesa, which enables pay-as-you-go customers to make their weekly payments easily and securely.
Apple is innovative, yes. But Kenya has attracted the global spotlight when it comes to the mobile money innovation. It may take many years for Apple Pay to reach the prominence that mobile money has experienced in a country where even electricity is a luxury.
This post is part of a series produced by The Huffington Post and The World Economic Forum to mark the Forum's Annual Meeting 2015 (in Davos-Klosters, Switzerland, Jan. 21-24) and in recognition of the Forum's Global Shapers initiative. The Global Shapers Community is a worldwide network of city-based hubs developed and led by young entrepreneurs, activists, academics, innovators, disruptors and thought leaders. Aged between 20 and 30, they are exceptional in their achievements and drive to make a positive contribution to their communities. Follow the Global Shapers on Twitter at @globalshapers or nominate a Global Shaper at http://www.globalshapers.org/apply. Read all the posts in the series here.