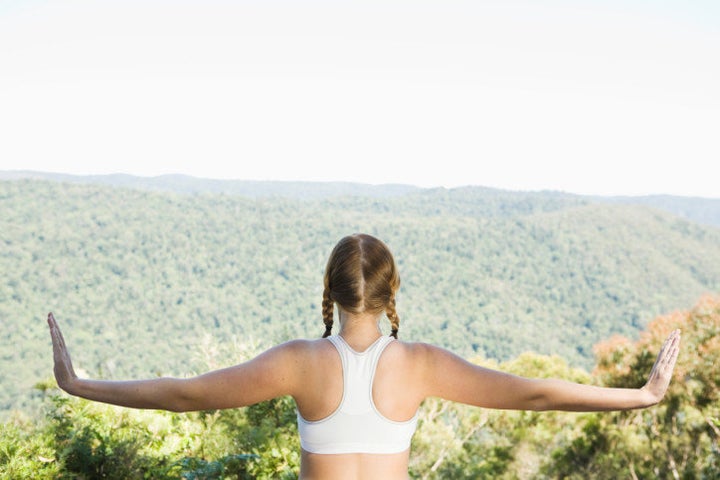 One year ago, you couldn't get me in a bikini at the beach, let alone a sports bra while working out. I am all for finding stylish ways to accent the curves of your body. However, women, let's be real. I think we all have found clever ways, whether they are stylish or not, to make our bodies disappear under clothing. Believe me, if I could wear a sleeping bag to the beach I would. If someone had told me that I would be revealing my insecurity in front of hundreds in NYC's Union Square Park, I would have thought they had lost their mind.

On May 17, 2012, I will in fact be rocking out in my sports bra in front of hundreds of people in the middle of one of the busiest parks in New York City. The Sports Bra Challenge is a charity fitness event in which people will gather to support one another in accepting the person they are today; their bodies, their minds, their insecurities.

Last May, as summer was approaching, I was overwhelmed by my annual beachwear anxiety. You know, that moment when you realize bikini season is right around the corner. Usually, I think "kill me," but this particular year, there was a fire inside of me to change how I felt about myself. As a fitness instructor, I needed to own up to my role as a leader so I encouraged my riders to step out of their own comfort zones by facing a fear. I set a private, personal goal for myself to face my biggest fear of revealing my midriff. Why was this so scary? What was I trying to hide? I challenged myself to teach one of my SoulCycle classes wearing only a sports bra. When the class was over and I was still wearing my gold lame jacket (yes, this class was Rihanna-themed), I was not only disappointed in myself but I felt like I had let down those riders who looked to me as a leader who practices what she preaches.

At this moment, I realized that I could not face this challenge alone, I needed the support of my peers. The only way I was going to be able to overcome my biggest fear was if an entire class would join me by riding in their sports bras too.

A simple personal goal quickly turned into a small movement as two of my personal heroes, NBC'S The Biggest Loser Season 11 finalists Olivia Ward and Hannah Curlee got on board to rock it out in their sports bras on July 29, 2011. Women across the country were sharing stories of how they participated in their own "homemade" Sports Bra Challenges in their hometowns. Thus, the Sports Bra Challenge came to be.

The most valuable thing I learned from this experience is that my own personal insecurity is a subject that most people relate to but never discuss. Body image issues, lack of confidence, and feelings of self-hate are all topics that most people have dealt with but are never addressed. If adults are still identifying themselves with the negative comments that peers have implanted in them throughout their lives, I couldn't imagine how our youth are handling their insecurities, especially in a world with such unrealistic standards of beauty and success. The Sports Bra Challenge is about bringing people together to accept and share their insecurities and overcome their fear of them. Why are we still so afraid of who we are?

On Thursday, May 17, The Sports Bra Challenge will consist of two large-scale SoulCycle classes and a Vinyasa Yoga class. All proceeds from the event will benefit City of Hope's Positive Image Center and S.E.A.K. Foundation. I encourage you to take part in this empowering day, if not for yourself then come out to show your support for a friend, relative, neighbor, or anyone you know who is facing a challenge in their life. Hey, If this whole idea scares you (trust me, it terrified me) then right there is your reason as to why you should participate in The Sports Bra Challenge and if not in Union Square Park, then in your own hometown.

For more information on how to get involved or participate in the event, visit at www.seakfoundation.com.
REAL LIFE. REAL NEWS. REAL VOICES.
Help us tell more of the stories that matter from voices that too often remain unheard.