110 EUR/88 GBP/125 USD - If you wanted to spend a similar amount on travel costs in Europe, but not stick to visiting one city alone, what options would you have?
Well, the possibilities could be endless, but here's a plan I had come up with to visit 4 cities in 3 countries!
This happened two springs ago, when I was a broke student in Switzerland and wanted to visit Budapest for an event. Flights from Basel to Budapest were costing at least 250 Euros, and if you've ever gone through a similar phase ,you would know how much it would pinch to spend 250 Euros on flights to a single city alone.
So, I set off on a mission to find an alternative plan that would let me spend less and see more.The result: it was possible to spend less than half the amount on transport AND see three additional cities too.
While exhaustively searching for all options to get to Budapest, I realized that I could instead split my journey at some point so as to get cheaper connections and as a result, see at least one more city.
Somehow,during the process, Milan came up as an option and I ran the usual search on a booking engine to get an idea of the options available. When I looked back at the screen, I could not believe the first option I saw. Could there really be a flight from Milan to Budapest for 10 euros? Turned out it was true! That was how I got introduced to WizzAir, one of the low cost airlines in Europe,and I went on their website to make sure the fare was not an error. As with other low cost airlines in Europe like easyjet,RyanAir,etc, you could only have a single carry-on bag, and would have to pay for anything extra you carried. Fine, I thought. Next, I had to find a cheap option to get to Milan from Basel. Several searches later, I did find a savings, non-refundable train fare for 20 Euros on sbb.ch (the Swiss train website). So, there I was, sorted for one half of the journey. 30 Euros to get to Hungary from Switzerland. Not bad,I told myself. This would give me a day's break in Milan, and I managed to find an adorable Couchsurfing host in the city for a night too.
While I was at it, I also found two other hosts in Budapest who were happy to host me. I planned to stay in Budapest for four or five days, and my next task was to plan the return trip, and if possible, see yet another new place.
Once again, I started looking at outbound flights,trains,buses from Budapest and evaluating my options. A friend had recently moved to Belgium and visiting her had been at the back of my mind for quite a few days. So, when I came across a 20 Euro flight to get to Brussels Charleroi, I was really excited! She was living in Ghent,and I figured I could spend a weekend with her and then use at least a day to go around Brussels,before taking a late night Eurolines bus back to Basel.I was really glad to find this bus for 31 Euros,and this meant that I could be home at a good time in the morning the next day.

To summarize all my transport expenditure, this is what I spent:

Basel->Milan- Train- 20 Eur
Milan city-> Malpensa Airport - Bus- 8 Eur
Milan Malpensa->Budapest- Flight- 10 Eur
Budapest-> Brussels Charleroi-Flight- 22 Eur
Charleroi -> Brussels Railway station - Shuttle Bus - 5 Eur (varies)
Brussels-> Ghent-Train- 8 Eur
Ghent -> Brussels-Train - 5 Eur (discounted bulk tickets)
Brussels -> Basel-Bus- 31 Eur
Total:109 Eur
So, overall, what I can suggest is:
Try breaking your journey and finding cheaper modes of transport, if direct connections seem to be very expensive.
Scour the web for budget airlines as well as train offers in different countries.Trains with more changes often cost cheaper, more so if you are under 25 years of age.
Being flexible with the modes of transport and connection timings can be very useful.
Switzerland has something known as a 'Super saver fare', which offers great reductions on different tickets about two weeks in advance. Similarly, Deutsche Bahn (Germany) has several offers for each state as well as for travelling across the country, in a group, etc. In fact, if you are more than 5 people, you could pay only half the price . For closer distances, I love using carpooling.Check out mitfahrgelegenheit or blablacar for an idea.
Have not really found buses in Switzerland. Meinfernbus and Eurolines run from Basel(Lorrach in Germany) and Zurich to different countries. So, you can check out that option too.
I visited Milan again two months ago and spent a few days there this time. I loved trying out all the food along with drinks like Limoncello and Avarna. However, what I really liked too and could recommend is the 'Milan City Card'.I was able to have a free Pizza meal,get access for free to the rooftop of the Galleria Vittorio Emmanuel,get discounts to museums, get two Uber rides and also had the possibility to have a free boat ride, free dessert and more.It costs 7 Euros for one day,13 for 2 and 19 for 3 days.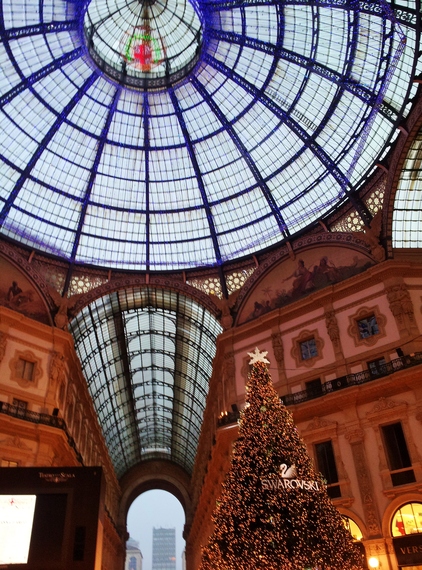 Hope this post can give you some ideas for budget travel in Europe. If you are open to hitchhiking, you can of course do a lot more in 109 Euros.But, if you are not that flexible with time or not very comfortable with the idea, then finding out about the different offers in advance is a great idea.