In order to help Chicago and its public schools face a severe fiscal crisis after years of borrowing, mayor Rahm Emanuel is preparing to reveal some significant new Chicago taxes. Because the state is trying to deal with its own budgeting and revenue crises, the mayor can't rely on help from Springfield to shore up the city budget. Instead, Emanuel has turned to taxes and fees to help pay for the fire, police and teacher pension deficits and to give the city some breathing room when it comes to cash--its credit rating remains at junk status.
The Chicago Sun-Times first reported that Emanuel will propose a $500 million increase in property taxes, a new garbage pick-up fee and a few other tax increases: a $1 ride-hailing surcharge, an e-cigarette tax and $0.01 per ounce sugary drink tax will add up to a total of about $600 million in new cash for the city.
Emanuel first must get City Council approval. He is scheduled to unveil his budget at a Sept. 22 meeting. During his mayoral campaign in the spring, Emanuel had promised he would avoid any property tax increase for the city's portion of the shortfall.
So what do these huge numbers mean on an individual scale for an average person living in the city?
Check out this chart, which breaks down a year's worth of the cost of the new taxes and fees for a person living in an average home in the city, who needs his or her trash picked up, and smokes e-cigarettes: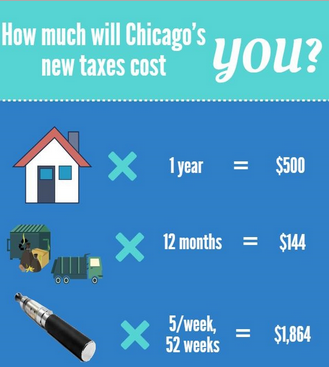 To see the rest of the infographic, which breaks down a year's worth of the cost of the new taxes and fees for a person who rides in an Uber-type car twice per week and drinks one, 12-ounce sugary drink every day, check out Reboot Illinois.
Sign up for our daily email to stay up to date with Illinois politics.
Calling all HuffPost superfans!
Sign up for membership to become a founding member and help shape HuffPost's next chapter