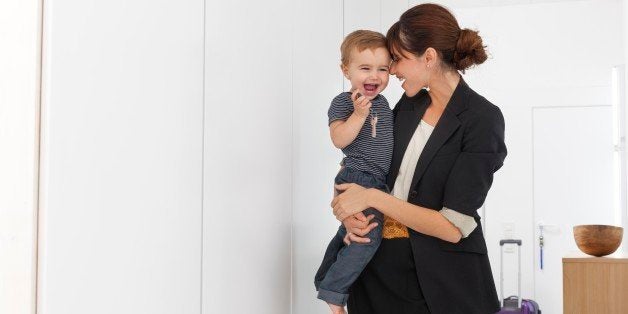 This Mother's Day, I am celebrating with my husband and four children, having recently given birth to our youngest son. As the CEO and Founder of The Representation Project, I've gone on paid leave, enabling me to rest, recover, and bond with my new baby.
Unfortunately, many of my fellow parents are not so fortunate. The United States is one of two countries in the world out of 181 surveyed by the International Labor Organization that does not guarantee paid maternity leave (the other being Papua New Guinea). Iran and the Democratic Republic of Congo have 12 and 14 weeks, respectively.
Without a national paid family leave policy, workers are either unable to take time off with a new child or are forced to use up the few sick days they're allotted -- leaving them without a safety net if, say, their newborn gets sick. Breastfeeding for any length of time, or recovering from a C-section, is next to impossible. As a result, most new parents are forced to juggle their own health, time with family, and work. No one wins in this scenario.
The organization I founded, The Representation Project, works to overcome limiting stereotypes and gender norms. We recognize that the lack of paid leave and the societal pressures around who deserves it -- and who doesn't -- conspire to perpetuate stereotypes about women and men. Mothers face a penalty in the workplace, earning less than fathers and carrying the burden of being the presumed "primary" caregiver. And men are discouraged from playing a larger role in their children's lives.
I've experienced this struggle firsthand, as a working mother of four young children. There is so much pressure to perform in modern society and that translates into bad policies that hurt working mothers, and ends up hurting our businesses as well.
In business, we know diversity increases the bottom line. So let's start putting our money where our mouth is and support the working mothers and involved fathers. Forward-thinking states like California, along with cities and businesses, are showing that paid leave works. But it shouldn't matter where you live or work, or what job you hold. Paid family and medical leave should be available to every worker in this country.
Why? A national and gender-neutral paid leave policy would equalize access to leave and underscore that, for families and communities to thrive, caregiving cannot be just a woman's issue. It's a human issue.
During my paid leave, California strengthened our family leave law by requiring some compensation for six weeks of family leave. Now, people making lower wages will be paid 70 percent of their salary while on leave, while workers with higher pay (up to $108,000 annually) will get 60 percent. I am proud that my home state has taken this important step. It's time we catch up as a nation with the rest of the world.
So I am calling on all of us to celebrate this Mother's Day by supporting paid family leave. As we gather together to recognize the accomplishments, sacrifice, and hard work of mothers, let's not just pay lip service to mothers but rather truly support them with national paid family leave. Go to NationalPartnership.org/PaidLeave2016 to tell your members of Congress that we can't afford to wait.