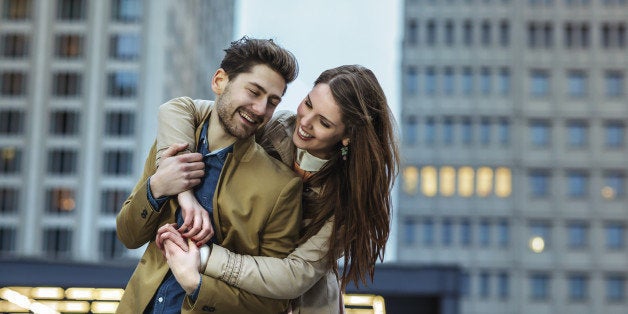 The first weeks and months of a new relationship are always the most exhilarating. When you're getting to know each other, every conversation offers some new morsel of information about your beloved and every physical encounter is full of nervousness, excitement and the thrill of exploring the body of your paramour. All of the time you spend time together -- no matter whether you are having sex or chatting over cocktails -- you are walking the very fine line between true vulnerability and the trepidation of opening up too soon. The fear and uncertainty that you feel is counterbalanced by the sheer excitement of seeing him (or her) and being able to kiss his face once again.
During this emotionally charged time, so many of us are tempted to spend as much time together as possible. We never know if that is a good idea or if we should hold back and act like we aren't champing at the bit to discover everything that we can about the other person. Dating rules from the (so-called) experts - and from our well-meaning friends -- say that the prudent thing is to take it slow; if you show that you like him, he will think you're desperate and run in the other direction.
Personally, I've always been of the opinion that I'd rather spend as much time with the person as he wants (as I still try to avoid letting the guy that I'm dating know how much I like him at the beginning... after all, a girl has to be a little mysterious, right?), so that I can see whether or not we are compatible as quickly as possible. As an almost mid-thirties divorcée, I'm not interested in wasting my precious time with someone who isn't going to be noteworthy in some sense, be it for amazing sex or a long-term relationship. At the same time, I strongly believe in taking risks in my life and, especially, in love. If I see potential in a person, I do what I can to give the fledgling relationship a proper shot.
But that theory has bitten me in the ass more than once. There was the time that I moved to Australia (from where I was living in Bali) to date a guy -- an idea that was 100% his, by the way - and he decided to end it only a few weeks after I packed up my bags and moved Down Under; in fact, my shellac manicure lasted longer than that relationship! And then there was the time that I decided to travel through Southeast Asia for two months with a guy that I'd been dating for three months -- and we broke up two weeks into the trip. But since all of these rapid-fire relationships kept ending in heartbreak, I finally decided to break that pattern. I had learned many, many times over that if a guy was pushing to spend all of his time with me, it was probably because he was trying to fill a void in his own life and, therefore, he was probably not ready for a real long-term relationship. And immediately, I decided that I would never get involved in another relationship that was hurtling forward at an unhealthy pace.
But then, as it always does, something happened... I met a man. This man was completely different than any that I'd ever met before. He is eleven years older than I am, divorced (like me!) and highly emotionally intelligent; in fact, he has even written a self-help book for men on how to survive a breakup... talk about a perfect match for me, the ever-verbose over-analyzer of relationships! We met for the first time for drinks one Sunday afternoon and hit it off right away -- so much so, that we had our second date that same evening (after my evening plans finished), during which we went for a walk in a blizzard with a Starbucks cup filled with scotch and, eventually, ended up standing in a bus shelter for over an hour, sipping and talking. Weirdly enough, it was one of the best dates that I've ever had.
After our first and second date on the day that we met, our relationship continued to progress at that same breakneck pace. At first, I was terrified that we were falling into my same-old pattern once again but as I got to know him better, I realized that he was not using our relationship to fill a void in his heart. He was totally sane, happy with his life and, because he liked me, he just wanted to spend as much time with me as possible.
While this relationship dynamic may not seem significantly different from the speedy -- and highly unsuccessful - relationships that I've had in the past, there is one very important difference for me: my thought process when meeting him and starting to date. The simple fact that I had made the decision not to pursue relationships that followed my unhealthy patterns any longer, and the fact that I was now consciously examining potential suitors more closely to determine whether their actions demonstrated healthy perspectives on life, makes this relationship progression different for me. Once I realized that, I was comfortable to relax and enjoy the (huge amount of) time that we spend together.
The more time that we spend together, the more that I realize that this is the healthiest, most grown-up relationship that I've ever been in -- even though we are together (and sleep at each other's houses) almost every single day. This experience has helped me to realize that there actually isn't such a thing as too much when it comes to how much time you spend with the person that you're dating, if that person is the right person.
So if you're looking for me over the next little while, just keep an eye out for him; we'll probably still be spending all of our time together -- and having a great time doing it.
Popular in the Community