Giving the answer "42" or "not a lot" and making this post very short is tempting, but I will steer away from the pitfalls of a question too general to handle, and will break it down in parts.

This week I got hold of the statistics of the downloads and revenue of the top 50 free apps in the overall rating of the US App Store. So we are looking at iOS apps installations and revenue from in-app monetization as of the 2nd of May 2014, released by the automated mobile app marketing platform AppInTop.com.

It remains unknown how much more these apps make from the in-app advertising as CPMs differ greatly from platform to platform (for Facebook news feed ads they reach $5CPM).

So why is this rating interesting? For three reasons:

How many users can I get? If you are a marketer, you know by now that the mobile usage is growing at the expense of other media (print, TV and online). According to eMarketeer it will soon account for over 20 percent of time an average American spends on media. So this statistics will help you learn how many downloads you can count on if your marketing budget is high enough to get to the top.

How much money can I make? If you developed an app, you might want to know how much money you can make if you get it to the top rating of the app store. This rating will not offer a firm prediction though, as the top apps may or may not use in-app purchases as their business model. For those that do, revenue figures vary greatly.

What are the top free apps I should download? For the rest of us it is just a source of good apps.

Amongst the top 50 overall free apps in the Apple App Store the biggest earners are Clash of Clans ($168'000 revenue per day, 33,700 downloads per day) and Pandora ($120'000 revenue per day, 34'900 downloads per day). Ten more apps earn money from in-app purchases and the rest are completely free.
Top 1-10 Apps
So here are the first 10 apps. Interestingly, only Dots and Make It Rain are making money. For Dots the revenue is nearly $1800 on that day that extrapolates to $656'000 per year (assuming that the app stays in the rating throughout the year). For Make It Rain in-app monetization appears to work better. The app makes $7104 per day and the equivalent of nearly $2,6 million per year (same assumptions apply).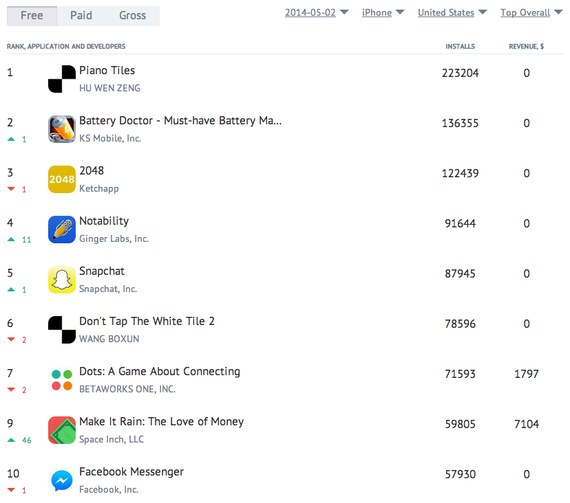 The top game on the overall list is Piano Tiles by Hu Wen Zeng, who saw his app installed 223'000 thousand times. It offers a premium version, which main advantage is to remove the ad, but it looks like no one opted for that at least on the 2nd of May. Further revenue comes from in-app advertisement.

Presence of the Snapchat or Facebook Messenger in the top rating is not a surprise: both messaging services are popular and viral by nature. Many have speculated about Snapchat revenue sources, and this chart only confirms that it is definitely not coming from the in-app purchases.
Top 11-20 Apps
Remarkable revenue figures of the $4,6 billion-dollar company Pandora stand out. Also I am not surprised to see that a new game from the masters of in-app monetization Outfit 7, the maker of the famous Talking Tom, is earning $12'500 per day.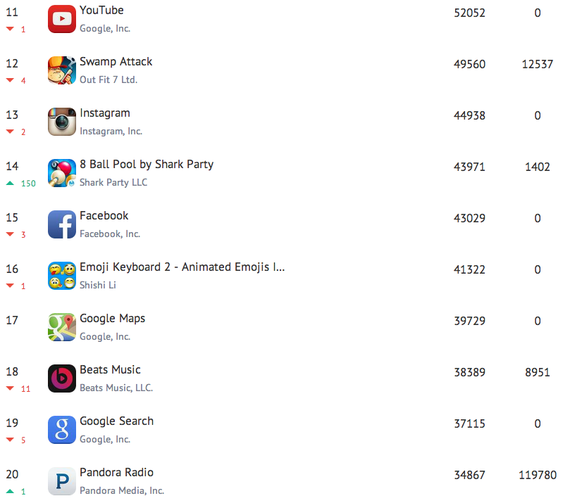 Top 21-30
Clash of Clans makes the highest daily revenue of all apps on the list. To repeat their success one should cease number-crunching activities and study their gaming mechanics, virality loop and in-app purchasing mechanisms instead.
Whatsapp messenger is still not making money as all other apps on the list, with the exception of the already mentioned Clash of Clans and Dwarven Den - the Mining Puzzle Game.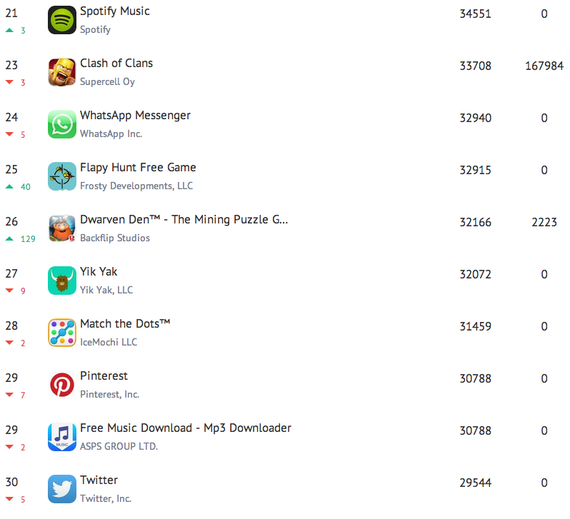 Top 31-40
In this batch it is Skype that makes money from its premium subscribers at $26'000 per day, and will probably continue to do so regardless of its position in the rating. Frozen Free Fall from Disney makes a nearly $27'000, and the darling of the startup world Soundcloud pulls in $813.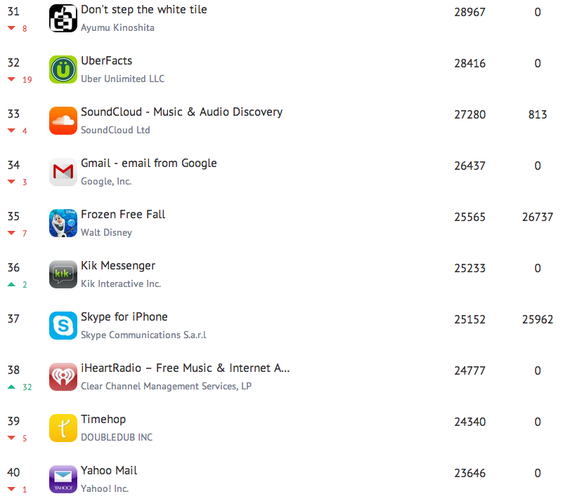 Top 41-50
A single earner in this category is Perfect365, the app that photoshops your photo on the go by using image recognition and some other magic that brings $556 per day.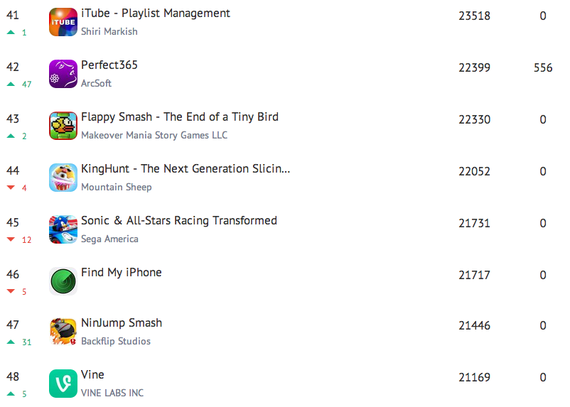 Conclusion
From the top 50 apps only 12 generate revenue through in-app purchases. So where is the catch?
The short answer to that is that mobile apps can on their own act as a marketing channel for an online or even offline business. Take AirBnB or a taxi-ordering service, for example. Some promote their stuffed toys or kids clothing - ever heard of Angry Birds?
The longer form of the answer will be a subject of my future posts. Stay tuned.
Related
Popular in the Community