Credit is an elusive treasure.
To the extent that credit is something one gives to another in earnest, it cannot be forced from me against my will. It cannot be stolen in the dead of night. And because of that, it usually comes with outsize social capital: Those to whom we assign credit for any number of cultural feats are enshrined in our history — printed in our books and, perhaps, on our money.
So the matter of who earns credit in the United States is not merely a semantic question, but a fundamental determination of the rightful shepherds of our nation and who ought to be afforded praise.
The irony is not lost on me that we are now centering this conversation about public service bonafides around two of the most famously self-promotional celebrities in recent memory.
Kim Kardashian West learned about Alice Marie Johnson's plight as most others did — through Twitter. Johnson, a 63-year old black woman who has served nearly 22 years in federal prison for a drug offense, was denied commutation under President Barack Obama. Her heartening story of survival and reformation went viral after Johnson conducted a video interview with the publication Mic.
After sharing Johnson's story with her over 60 million followers, and through her association with President Donald Trump's son-in-law and adviser Jared Kushner, Kardashian West earned an audience with the president to discuss possible reprieve for Johnson. Exactly one week later, Trump granted Johnson clemency.
Progressive advocates of prison reform justifiably celebrate whenever a purported victim of mass incarceration receives clemency. But clemency is a largely symbolic act for those not directly benefiting from it; presidents use clemency to declare their interpretation of law, order and repentance. Given Trump's proclamations supporting police brutality in the United States and his endorsement of extrajudicial killings of drug offenders abroad, we should question the symbolism in this particular extension of mercy.
The mere occurrence of something isn't the extent of a story; the "why" and the "how" are as important as the "what." And in this occasion, the "why" isn't clear. 
We can celebrate the release of Alice Marie Johnson without ignoring the fact that the man who released her is subjecting swaths of others to her plight.
"The president seems to have a passion for everything that Jared has been trying to do [with prison reform]," she said in a follow-up interview with Mic. "And that just makes me happy that that conversation is moving forward."
Her statement would inspire hope if it weren't provably false.
How are we to reconcile Trump's apparent act of generosity with his other instances of stoic cruelty? How will others suffering beneath the weight of incarceration in the Trump era benefit from this "passion" Kardashian West attributes to the president? How should Matthew Charles (whom Kardashian West also tweeted about) feel after having his commuted sentence rescinded when Trump took office, sending him back to prison for another decade? 
We do not know the precise reason for this allyship between Kardashian West and Trump. We do know, however, that the auspices under which this allyship occurs — and its fruits — require both context and scrutiny rather than blanket adulation. We can celebrate Johnson's release without ignoring the fact that the man who released her is subjecting swaths of others to her plight.
In a world that already grants effusive praise and credence to the powerful, we needn't pretend they are brought to moral high ground of their own accord.
And we needn't celebrate the fact that the Overton Window — that is, the gamut of politically feasible solutions at any given time — is only as large as Kardashian West makes it. As appreciative as one may be that that window occasionally allows through some unjustly persecuted people, it shouldn't assuage our concerns about who operates that window and who very clearly does not.
There was a team of people ― largely, black people ― responsible for Johnson's release. There was, to be certain, Johnson's confidant and legal counsel, Brittany Barnett, but there were also swaths of black activists who brought Johnson's story to prominence, knowing they could never earn the privilege Kardashian West flexed in her appearance at the White House. 
Kardashian West's action isn't necessarily a problem, but in a world that already grants effusive praise and credence to the powerful, we needn't pretend they are brought to a moral high ground of their own accord. In fact, we are better off scrutinizing the charitable acts of the powerful with the same zeal we use to scrutinize their more oppressive ones. This is the only way to ensure the moral high ground doesn't become a throughway to even greater immorality.
The people advocating for Johnson at the outset did so with purpose; Kardashian West attended a meeting with Trump with purpose; Trump granted clemency to Johnson with purpose. It is not poor form to question whether these purposes are all one in the same.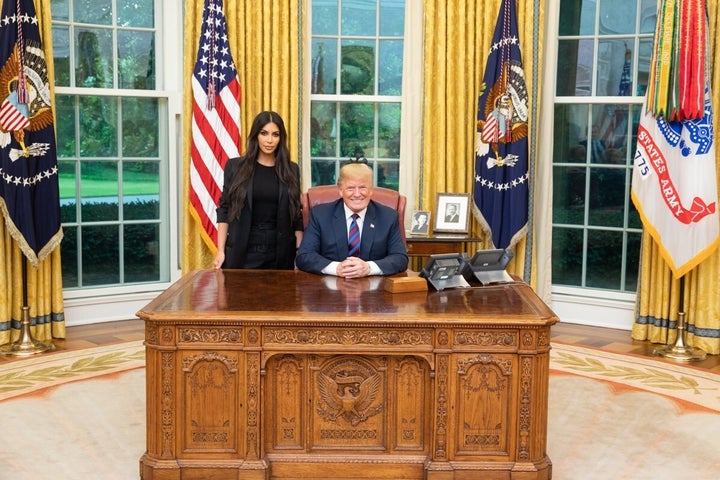 Clarification: This article previously referred to Brittany Barnett by a previous name, Byrd, and has been updated throughout.
Calling all HuffPost superfans!
Sign up for membership to become a founding member and help shape HuffPost's next chapter