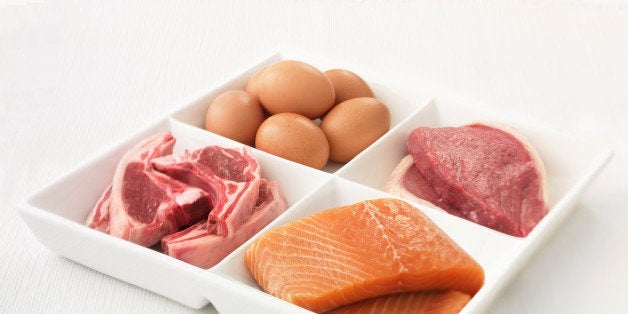 Hands down, that's the question I have been asked most when it comes to building the best body. When I was barely a teen, I spent precious allowance money on protein powder and supplements that promised a superhero physique. The more-is-better philosophy took charge -- it always does -- and muscle mag writers pushed the recommendations far above one gram of protein per pound of lean body mass. I recall most articles promoting around 300 grams for male weight lifters and some competitors reporting up to 600 grams per day. I thought those excesses had come and gone, but a reader proved me wrong this week. His trainer demanded he eat more than 500 grams per day, not including almost 100 more in the form of amino acids. This young man was under 180 pounds. I asked if he was having significant gastrointestinal problems and the quick answer was yes, to a disastrous level, but "I thought I should trust my coach." His coach should be in jail. I won't cover the health dangers of over-consuming protein in this segment, but that line was obliterated.
Nutrition is 80 percent of success -- and other dumb attempts at math...or philosophy
I'm happy that the exercise science community is weighing in on the topic. Many studies might surprise you. To set up the trend, I'll quote Jeremy Loenneke, PhD: "Eating doesn't grow muscle; lifting weights grows muscle." The Angry Professor, as he's known, is correct -- it doesn't matter how much you eat of anything if the training stimulus isn't proper. We've been steeped in axioms like, "Nutrition is 80 percent of success," but that's not true. Success is a composition of every variable and if there are gaps in any, the rate of success will fall. Training is 100 percent of success; sleep is 100 percent of success; nutrition is 100 percent of success; not texting while driving is 100 percent of success (you atrophy when you're dead); and so on. Maximize all angles.
Health and science organization recommendations
A scientific view of recommendations is in order--let's start with WebMD. They report that babies need 10 grams a day (just thought you'd want to know), young children 19 to 34 grams, teenage girls and boys between 46 and 52, adult women also 46 grams, and adult men 56 grams. The Institute of Medicine warns that we should consume at least 10% of our calories from protein, but no more than 35%. If you calculate the numbers so far, you'll see that most public general population sources aren't going to deviate far from the recommended daily allowance (RDA) of 0.8 grams of protein per kilogram of body weight. Many people view the RDA as a warning that we eat too much protein, but a Washington D.C. protein summit of more than 40 nutrition scientists concluded we eat too little. One scientist claimed that up to twice the RDA is not only safe, but a good goal. Upward we go!
Nancy Clark, registered dietician and author of industry classic books, states that an adult trying to build muscle mass should eat 0.6 to 0.9 grams per pound of body weight. That would put me -- a full-grown, athletic, hard-training, manly Homo sapien -- at 102 to 153 grams. That is exactly twice the RDA. The American College of Sports Medicine falls in line with a similar range of 1.2 to 1.7 grams per kilogram of body weight.
But I really, really want more muscle!
The results of the National Health and Nutrition Examination Survey reflects our summation. The demographic with the highest actual protein intake was men aged 51 to 70, and they only reached 21% of calories from protein. So, what about the big boys? How much should a crazed, ban-me-from-Planet-Fitness weight lifter consume to maximize muscle-building benefits? For that opinion, I turn to a literature review from the International Society of Sports Nutrition. The most contemporary researchers in the industry scoured the most contemporary research and estimated that exercising individuals "need" 1.4 to 2.0 grams of protein per kilogram of bodyweight. I have met some of these scientists, I have read much of their research, and I have even spoken side by side with them at conferences. I take their opinions seriously. If they say we need more, I'm in! So...how much protein would that be?
I am 170 pounds, or approximately 77 kg. On the low end of their recommendation, I would consume 108 grams of protein per day. At the high end of their recommendations, I would carnivorate 154 grams of protein per day. These are the aggressive scientists--the ones who work with athletes and hard-training weight lifters. Most live the iron life. But, I hear you scoffing. My grandma can eat more protein than that!
Is there a conspiracy? Why would their recommendations -- the highest I could find supported by research -- be so moderate? I'll explore that in my next blog as we dive into the physiology of protein assimilation. Go bake 10 pounds of chicken breast and meet me back here next week!