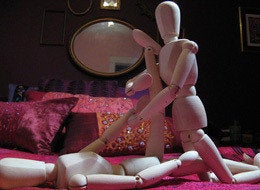 As a young girl, one of my favorite programs was a British comedy series about a hotel called Fawlty Towers. I distinctly remember the batty owner, Basil Fawlty (John Cleese) answering a question that he thought was on how many times he had sex each week. "Two or three times a week, it's normal in Torquay, you know!," he quipped.
At that impressionable age, I was looking for answers on sex, and for some reason, probably because he was the only one willing to talk about frequency, the two or three times stuck in my gullible and misguided mind, as the correct answer. By the way, just to fill you in, whether you have seen the series or not, Basil Fawlty is not the best role model in television history!
As a result, I have in the past been guilty of trying to make an ex-boyfriend, who was fabulous in so many ways, have the same sexual appetite as Basil but to absolutely no avail! My boyfriend was a once a month kind of guy and no amount of paraphernalia, Tantric sex classes or even therapy was going to change his mind. Either we just weren't wired in the same way, he didn't fancy me, or he hadn't heard Basil's opinion on the subject!
In truth, I could have realized earlier than I did (we were together three years) that I was putting an enormous amount into this relationship that ultimately was not going to lead to a happy and nourishing marriage for both of us, but obviously a large part of me felt it was worth fighting for. So with that in mind, here are the tips on how to have enough sex.
TIP 1: There is no right or wrong amount; every couple is different, so long as you're in agreement. Ideally you want to find a partner who has a similar sexual appetite as you and you will only really discover that once the honeymoon period is over and you have spent some time together. Many great relationships have a lot and many have less, depending on the people involved and what each other's needs are.
TIP 2: If both of you want and need completely different amounts, talk about it, otherwise it is like having an elephant in the room. The person who wants more sex is most likely going to feel frustrated. If you believe you are with your life partner and really want to make it work, but there is a discrepancy in what you both desire, discuss your needs and what each of you can do to help make each other happy.
TIP 3: If you have children and complain that you don't have time: make time! Your marriage is number one. You are your child's backbone. If they see that their parents' relationship is strong and fused together tightly, they are much more likely to grow up to be confident and secure. No amount of running around your child is going to make up for the osmosis effect children sense when they see their parents happy and fulfilled.
TIP 4: See sex as another part of life. Even if you have been bought up with parents who never discussed it and it was a taboo subject. Do what you can to make it an essential and easy part of your everyday existence with no stress around it.
TIP 5: Have fun with it. Sex should never be dull if you vary what you do, where you have it and dont be embarrassed to experiment with toys, it might make you want to have more!
That's it for this week. If you like any of these tips pass the word round and you can e-mail me at sophie@howhappyis.com.