If this is indeed the final act of Alex Rodriguez's controversial playing career, the beleaguered star's swan song game this Friday will be a costly spectacle for fans hoping to attend.
Sunday morning's press conference at Yankee Stadium showcased a teary-eyed Rodriguez detailing his difficult last four weeks, in which he has faded into obscurity on a team in midst of a rebuild. With his at-bats becoming less frequent each day, his decision to play his final game in pinstripes has caused the secondary ticket market to respond appropriately.
On TiqIQ, prices for tickets to see A-Rod in his last game against the Tampa Bay Rays Friday night have skyrocketed since Sunday's announcement. As it stands now the average resale price for tickets is $305.49, marking a 302% boost from the $75.92 average posted prior to Sunday's announcement. It will be the most expensive game played at Yankee Stadium this season.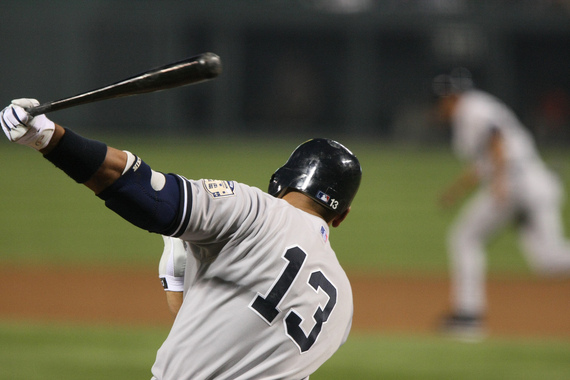 For those looking to just get past the gates on Friday, the cheapest tickets are now priced for $66 each, up 313% from Sunday's get-in price of $16. Conversely, the most expensive ticket is in Legends Section 20 Row 1 for over $8,900.
Barring his return with another team, Rodriguez will become the latest player from the Yankees' 2009 World Series team to call it quits. Mariano Rivera hung up his cleats in 2013 while Derek Jeter played his final game one year later. Mark Teixeira announced last week that he will also retire at the end of the 2016 season.
Including the playoffs, Jeter's last game on September 25, 2014 against the Baltimore Orioles was the most expensive Yankees game TiqIQ has recorded since 2010, when the company began tracking resale ticket data. The average resale price for tickets to the game was $768.09 and the cheapest ticket was listed from $296. Rivera's final game on September 26, 2013 posted more similar numbers to that of A-Rod, with tickets averaging $237.89 and the get-in price listed from $61.
Rodriguez caps a 12-year run in the Bronx that brought numerous highs and lows. Alongside a World Series title in 2009, he also won two MVP Awards in 2005 and 2007 and was an All-Star in seven seasons as a Yankee. However, he will likely be remembered most as one the biggest names to come out of the performance-enhancement drug era, which reared its ugly head in the form of a 162-game suspension from the league during the 2014 season.
However his legacy holds up, it's not surprising that A-Rod's final game at Yankee Stadium is garnering big ticket demand. One of the greatest hitters of all time, the 41-year star will wave one last goodbye to a Yankee crowd that has dealt with his sweeping highs and harrowing lows since his move from Texas in 2004.
Calling all HuffPost superfans!
Sign up for membership to become a founding member and help shape HuffPost's next chapter