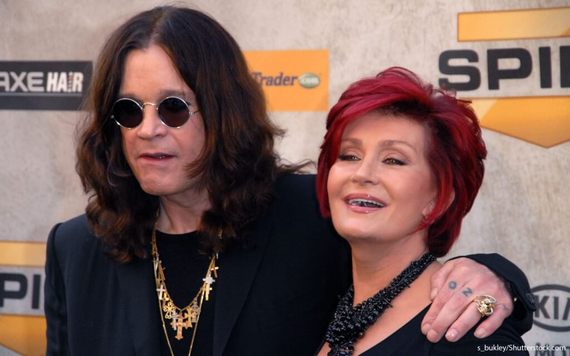 By Laura Woods, Contributor
After a tumultuous 33-year marriage plagued by drug and alcohol abuse and cheating, Ozzy and Sharon Osbourne are calling it quits. Ozzy Osbourne is reportedly living in a Los Angles hotel amid allegations of an affair with Michelle Pugh, a hairdresser to the stars. While this isn't the first time the couple has split, this time it's rumored to be for good.
Find out more about Ozzy Osbourne and Sharon Osbourne's net worth, and what's at stake in the potential divorce.
Ozzy and Sharon Osbourne Split: What's at Stake?
Since they've been married for 33 years, the couple's finances are completely intertwined. Ozzy Osbourne's net worth and Sharon Osbourne's net worth are estimated at $220 million each, according to Celebrity Net Worth, which reports on celebrity earnings.
Among the biggest assets to be split in the divorce is the couple's real estate. The couple owns a $10 million Beverly Hills, Calif. mansion, plus their long-time Buckinghamshire, South East England estate. If Ozzy and Sharon Osbourne don't have a prenup, their assets will likely be divided 50/50 since California is a community property state.
Ozzy Osbourne Allegedly Cheats With Michelle Pugh
Last week, Sharon Osbourne reportedly confronted her famous rocker husband Ozzy Osbourne with proof of an affair with Michelle Pugh -- a celebrity stylist at the high-end Los Angeles salon Meche. He allegedly came clean about his close relationship with Pugh and went missing for several days, sparking fears of a drug and alcohol relapse. Now that he's back on the radar, Ozzy Osbourne's drug use isn't thought to have ramped up again, but the rocker and his wife are not on speaking terms.
Ozzy Osbourne's kids -- Aimee Osbourne, 33, Kelly Osbourne, 31, and Jack Osbourne, 30 -- have reportedly been in touch with their father. The last time Ozzy and Sharon broke up was in 2013, when he relapsed.
Ozzy Osbourne Net Worth: $220 Million
Ozzy Osbourne rose to fame in 1968 as the lead singer of the heavy metal band Black Sabbath. His drinking and drug abuse led to his ousting from the group in 1979, which led him to become a solo artist. He eventually reunited with some members of Black Sabbath in 2012.
As of 2014, he's earned an estimated $150 million from a total of 100 million record sales, including those from Black Sabbath and his solo years, according to TheRichest, a celebrity finance source.
Ozzy has also been headlining his self-named heavy metal tour Ozzfest on and off since 1996. Additionally, the Osbourne family starred in the hit MTV reality show "The Osbournes" from 2002 to 2005, earning $20,000 per episode for season one, increasing to $5 million per family member for seasons two through four.
Sharon Osbourne Net Worth: $220 Million
Sharon Osbourne has hosted "The Talk" for six years, earning $1 million per year, according to Celebrity Net Worth. The music manager and TV personality worked as Ozzy Osbourne's manager after he left Black Sabbath. Over the years she helped shape the musician's solo career, even creating Ozzfest.
On television, Sharon has appeared as a judge on "The X Factor" and "America's Got Talent," in addition to appearing on talk shows. In 2014, Sharon Osbourne shared a secret from her early dating years with Ozzy:
This article, How Much Will Ozzy and Sharon Osbourne Split Cost?, originally appeared on GOBankingRates.com.
More from GOBankingRates:
Popular in the Community