It's been over a week already, and I'm still having a hard time processing just how magical this night truly was for me, and why.
As I continue to develop and grow as an artist, I feel overwhelmingly fortunate to say that I am surrounded by, and get to experience life with, some of the most creative, talented, and unique individuals the world has to offer. And, if you have followed me long enough, you know that when I say "artist", it expands beyond the music I make. (Watch my TEDx Talk to see more of what I mean.) Don't get me wrong, I love music and feel more connected to it today than ever before, but my overarching mission is to - explore all of the ways that art, and the process of making it, can better serve and empower others. This is the very reason why my last premiere event meant more to me than any other show to date. I finally had a chance to show a holistic glimpse of what I consider to be my artistry - songwriting, performance, and the development and mentorship of young talent - all of which converged in front of a group of very incredible individuals, packed wall-to-wall, in one of Hollywood's most exclusive nightclubs right off the Sunset Strip, The Blind Dragon.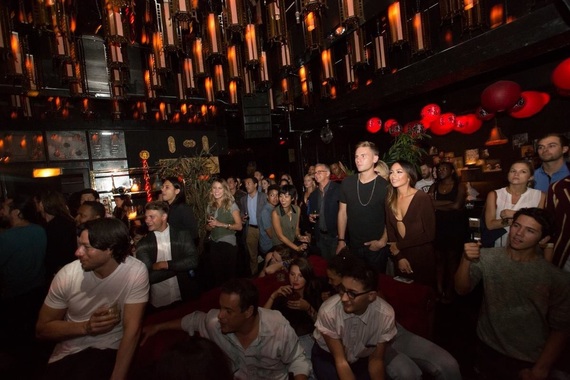 All photos by Guest of A Guest
In partnership with my amazing PR team (Riot Media Group) and our sponsors, we worked together to make this event something truly special - a night to remember. We kicked off the premiere by offering our guests - influencers and VIPs of all sorts - complimentary cocktails sponsored by the Global Learning Foundation, as well as a premium photobooth provided by Gold Frame. The official welcome was brought to everyone by our lovely host for the evening, LA beauty expert, YouTuber, and personality - Lynette Ceneé. Oh, and not to mention... my wife (as of about a month ago!). I might be a little biased, but she's an extremely talented young lady, and I felt honored to have her be a part.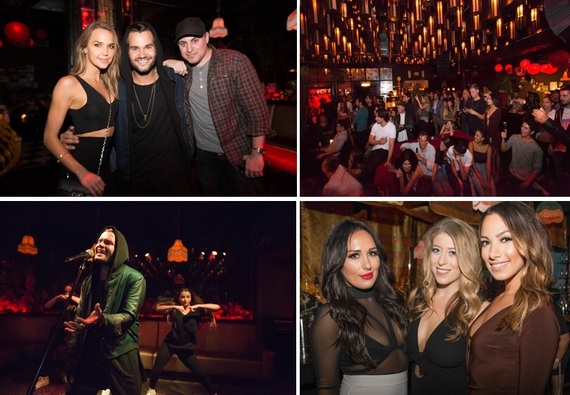 To many's surprise, the show started off with what was expected to be the main event - the live performance and premiere of my unreleased song. At the release party for my third song "Where You At", I performed ("Insomnia" & "Glow") from behind an acoustic guitar, which I've done for the majority of my shows, but this time I wanted to make it a bit different. With that in mind, my production team and I crafted a unique medley of my material in which I performed to fully produced tracks and ended the set with the full version of my new song, which will be released soon - "Hide and Seek". But what made my set particularly special wasn't the element of the production; it was the fact that I was accompanied by back-up dancers, something that I had never done before.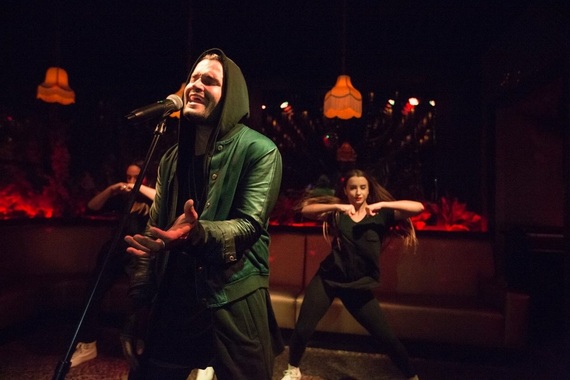 Dancers Leeah Faraa and Caroline Boniske. Choreography by Shane Sparks.
Interestingly, my team was hesitant on the thought of using dancers, and I was challenged by nearly everyone I work with... was this the best idea? On one hand, I fully understood their reluctance - this was uncharted territory, which added a new level of variables that none of us had previously experienced; on the only hand - my gut and heart told me to go for it. I saw it as opportunity to take my performance to an entirely new place, and expand my capacity for what I believed I was capable of; my gut won. I'm humbled and happy to say that it turned out to be one of the best performances of my career thus far, and provided one of the strongest reactions from a crowd I had yet to experience.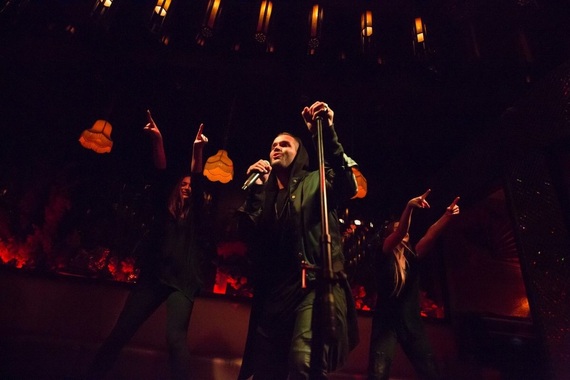 Like I mentioned a bit above, a large part of my artistry involves the the work I do through my organization, MyTown Music, which was designed to empower, and assist young kids through songwriting coaching and artist development. I am not able to fully disclose all of the details just yet, but as of these last few months the MyTown crew and LA film director, Brett Gursky, have joined forces to document the work I do with young kids in a very special film project titled - "MySong". As a surprise for everyone who attended, we actually premiered the trailer for the very first time. You can check it as well here:
But that wasn't all. One of the two incredible kiddos who were apart of this project came out to make a cameo appearance that night. Tommy, at 15 years young, took center stage and performed one of his original songs, wielding only a mic and keyboard, all by himself. With everyone's excitement from the trailer in the palm of his hands, he captivated every person in the room with his remarkable talent and powerful voice, laced with soulful and passionate lyrics. It was such an empowering and emotional moment for me as I finally sensed others were starting to feel what I have felt for a very long time - the magic of what young individuals have to say, and the passion in which they say it.
As this enchanting night drew to a close, I couldn't have imagined a better person to unite all of these elements and hit them home the way that Arizona based keynote speaker, early childhood author, 2-time Grammy nominated composer, and founder of the Global Learning Foundation, Enrique "Hank" Feldman did. He is not only all of those things and much more, he's also my closest colleague, mentor, collaborator, and friend of many years. With Enrique in the building, and GLF being the primary sponsor for this event, we couldn't have shown who we really are, and what we represent if some sort of significant learning didn't take place. We wanted these individuals to be engaged through interactive play and a visceral learning experience, and the above image of Hank leading the crowd through a series of "brain games" - created exactly that. GLF addresses issues of education on all fronts, but the ultimate target of this incredible organization is deeply rooted in its commitment to "develop human potential - to reveal purpose". I share this very mission and carry it with me personally in everything that I do.
I'll leave you with a powerful and provoking question that Hank left us with, which essentially encapsulated the purpose of the entire evening, and all of the exciting initiatives to come. He said,
"Pay attention to the energy in this room right now... What will the world look like when this kind of energy is present in classrooms everywhere...?" -Hank Feldman
Calling all HuffPost superfans!
Sign up for membership to become a founding member and help shape HuffPost's next chapter