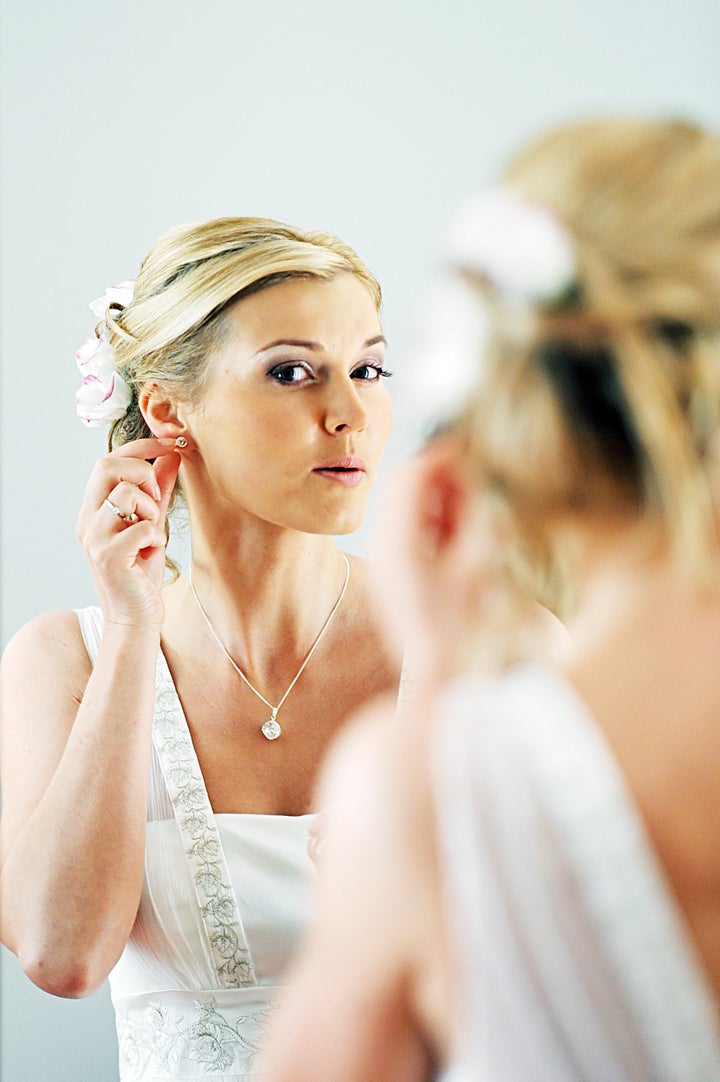 Like a lot of women, I've been dreaming about my wedding since I was a kid. Back then it had very little to do with the commitment and more to do with the party, the colorful details and, of course, the dress.
As a child, I didn't question or truly comprehend what it meant to get married. It was just my understanding that that's just what everyone did when they grew up, so I'd better start planning early. It was, after all, the most important thing I'd probably ever do in my life, and in the naivety of youth, I was also under the delusion that it only happened once for everyone. You don't get a second chance at something so important and lavish.
I can't remember exactly when it began, but somewhere along the line I started envisioning my wedding and logging it in a notebook. Looking back, had these weddings ever come to fruition, they would have been horrible for everyone privy to them. I hate to admit that once upon a time I wanted my wedding party in purple dresses. I, of course, would be in a white version of the dress that Molly Ringwald wore in "Pretty in Pink." (I know, I know... it's terrifying.)
It was also during the purple dress phase of my dream wedding -- probably around age 10 or so -- that I wanted my wedding song to be "The Rainbow Connection," by Kermit, the main course to be chicken cordon bleu and for it to be held in my parents' backyard. My father and I would dance to a Fleetwood Mac song of his choosing, my mother would bake the cake and my sister (obviously my maid of honor), since she had an aversion to the color purple, could wear whatever color she liked. As for the husband, his face was sort of a blur, although I do know I was probably hoping deep down it would be Donnie Wahlberg of New Kids on the Block.
My dream wedding stayed that way, give or take a detail or two, until high school.
It was around 17, when I was far closer to an appropriate marrying age that I decided I needed to revamp my future wedding.
I tossed the idea of purple dresses for my bridal party in exchange for silver ones. I was going through a silver phase and had worn a silver dress to prom. In my mind, this color would look stunning on everyone -- everyone would also be rocking heeled Mary Jane shoes a la Courtney Love. It was the height of the grunge era.
While chicken cordon bleu would remain on the menu for the main course, I had decided another option would be a good idea too, so, being a New Englander, I added the most obvious choice: lobster. I was no longer interested in getting married in my parents' back yard and thanks to having read too much Truman Capote, I decided that the only place for my wedding would be the Plaza in New York City -- a place I had never been to, in a city I'd yet to know and would eventually love.
By then I had also attended a few weddings and, having realized that tables needed to be labeled, I would have all my tables named after characters from "The Great Gatsby."
As for the song to which my husband and I would dance to? "About A Girl," by Nirvana, of course. And my father and I, again after having been influenced heavily by film and books, would dance to "Speak Softly, Love" just as Don Corleone and Connie did in "The Godfather." Apparently, I thought that made perfect sense for our French/Irish/Swedish family.
My dress, along with the husband, were both blurry at this point. I'm not sure why this was. Although I had a boyfriend at the time, I was quite certain I wasn't going to marry him. And despite my love for the grunge scene, I wasn't sure how I could work that into my wedding attire without looking overly disheveled. However, I did know I'd have my favorite flower, daises, in my hair.
Yes, that's how my wedding would be and since I was 17 and practically a woman who would obviously be getting married within the next couple years, I assumed that this would stay permanent.
Then I didn't think about my future wedding for a long time; a very long time.
While some details would cross my mind, I stopped recording them or making notes. I'd occasionally rip out pictures of dresses from magazines, but that's where it ended. During and after college, I lost interest in the concept. And although, as I reached my late 20's and attended more and more weddings, the whole idea just seemed more of a hassle than anything else. Eloping started looking like the best option of all.
In the last couple of years, I've swung back around. I no longer keep a notebook, but I do have a folder on my computer of wedding-related items that I'll occasionally add to if I see something great. These days I'm thinking a less over-the-top gown and something that's probably more blue than white. I'd still have daisies in my hair and lobster on the menu, and my dad and I would still dance to "Speak Softly, Love," because, I mean, come on, that's funny.
After living in New York City and having been to the Plaza so many times, I don't think I'd like to have my wedding there. I've reverted back to something low-key -- maybe even my parents' backyard after all. I'm not sure what song I'd like to dance to with my husband or even what colors I'd want to see my wedding party in, because honestly, I'd just rather they wear what they want.
My future wedding no longer captivates me the way it once did and I know exactly why: love.
At 10 and 17 and all the years in between, I didn't know what it meant to be in love. It was only after the first time I fell truly in love at 22 that I realized that all that wedding planning -- although fun in theory -- is just hoopla and showing off. I don't really see it having much to do with love; I see it as having a reason to be a princess for a day. Of course, every little girl wants to be princess for a day, but this woman, the one I've become, would rather the relationship part be right than the wedding details. Although I do think a wedding is a fine excuse to splurge on Jimmy Choo heels, because what else is a princess supposed to wear under a wedding dress?