written by Jennifer Andrassy, SAS Sr. Communications Specialist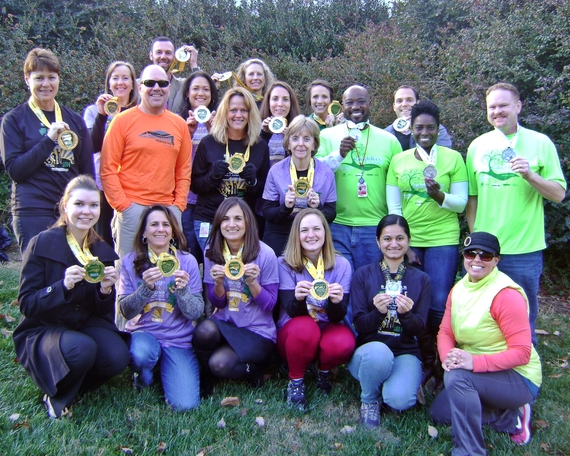 Jennifer Andrassy (front row, 3rd from right) and fellow SAS runners

When I saw my dad in the emergency room, he couldn't say my name. He couldn't move his left arm. He was agitated, disoriented and scared.
I was scared, too. And alone. And helpless. All I could think was, "He's too young for this. I'm too young for this. Is he going to make it? Am I going to make it?"
Well, he did, and I did, with the support of family, friends and my company - SAS. I don't run the company, of course. I'm just part of it. And it's part of me.
From college girl to caregiver - full-circle at SAS

What started as an internship in 2004 has become a 10-year career working in executive and sales communications at SAS. Over the years, I've taken advantage of the many benefits SAS is famous for - from perfecting my freestyle in the SAS pool to scarfing the peanut butter and M&Ms in the break room.
My two toddlers attend the SAS Montessori daycare and preschool. My entire family uses the SAS Health Care Center. I furnished my home through SAS' online bulletin board. I clothe my kids through the annual clothing swap. I bring home dinner at least once a week from one of the SAS cafés.
So, when my dad had his stroke, it was second nature for me to turn to SAS - my SAS.
On my first day back at work after my dad's stroke, I met with SAS' eldercare specialist at our Work/Life center. I felt like she really understood what I was going through. She answered my many questions about the future and helped me realize that my dad wasn't the only one who needed to recover from the stroke. I needed to recover, too.
Getting my feet back under me and upping the pace

Thanks to the SAS Work/Life team members - their collective knowledge, resources and contacts in the community - I attended a lunch and learn on dementia, participated in a caregivers support group, found a great facility for my dad and developed plan for managing his finances and care.
After checking off the biggest items on my to-do list for my dad, I decided to make time for myself as a person. I signed up for morning yoga classes and joined the Zero-to-Half Marathon training program through the SAS Recreation and Fitness Center (RFC).
Instead of watching TV or eating massive amounts of ice cream, I started using exercise to manage stress and remind myself what's really important. With the support of my manager, coworkers and RFC trainer, I completed my first half marathon in November 2014 and my second in March 2015. I am a distance runner now - something I never thought I would be.
Ten months have passed since that scary day in the emergency room. I don't feel scared any more. I don't feel alone, and I don't feel helpless. What started as one of the most challenging times of my life ended as one of the best.
My dad has settled into his new place. He is well cared for and safe. And I feel stronger, happier and ready for whatever comes next - especially with SAS behind me.
Calling all HuffPost superfans!
Sign up for membership to become a founding member and help shape HuffPost's next chapter