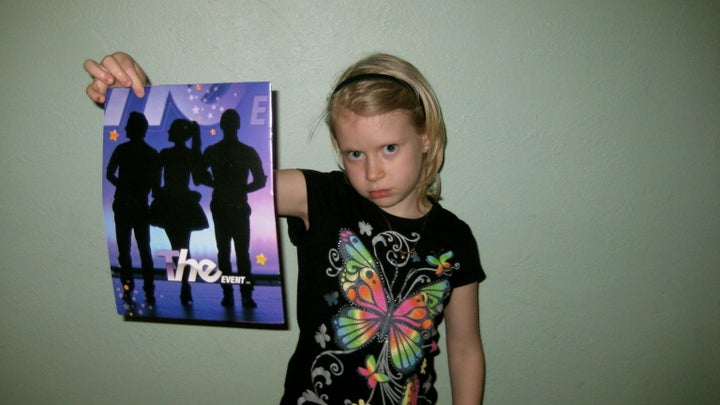 It all started in the car. I was with my two young girls, looking for a radio station more kid-friendly than NPR -- something poppy, mindless and happy. Except I flipped to a local rock station right as a commercial was beginning. The ad said something along the lines of:
"Do YOU have a talented child? Does your child LOVE the Disney Channel? Can you see YOUR child on television on commercials on sitcoms? Call this number NOW, and if you are one of the first callers you could score your child an interview with a real talent scout in your area looking for new, fresh faces."
Now Oona, like most kids, has had an illustrious begging career already. But that was all minor-league stuff compared to what came next. Bouncing up and down in her booster seat, Oona squealed about how she really, really, really wanted an audition. Acting was her life. It was the only thing she ever wanted to do. Ever. Ever.
This was news to me but -- why not? Can't hurt, I thought, so I pulled over and dialed the number (which Oona had already memorized and recited back to me). Moments later, Oona had a 10 o'clock appointment for Saturday morning, to be held in the 2nd Floor ballroom of the Radisson Hotel on the edge of Manhattan's Korea Town. "Bring two recent photos," an energetic phone receptionist told me. "And dress for success!"
Hindsight, 20/20 and all that, but those three obnoxious, sad-sounding words should have given me extreme pause. Instead they just got me thinking: what to have Oona wear?
During the long, five days of waiting, Oona bopped around the apartment, delirious with excitement, working on her outfit for the big day, and rehearsing "You'd Have Been Sorry," -- an Oona original that was a vaguely Adele-ian tale of heartbreak and woe, as far as I could tell. Her father, Mac, and I had no idea what to expect, but we were amazed at her dedication, so while we cheered her on, we also tried to soften a likely eventual blow: "Sweets -- they might not be looking for a blonde seven-year old girl, so if you don't get it, we don't want you to be crushed. Certain things are out of your control."
On the morning of the "audition," Oona was up and in our bed just after 6 a.m., vibrating with anticipation. Our standard mode of transport from Brooklyn to midtown Manhattan is the subway, but Mac and I must have been slightly seduced as well, and we agreed to drive in to the city and park in a (très cher) garage. It was windy and cold out, and we didn't want Oona to muss up her painstakingly chosen ensemble -- a pink, cinch waisted dress, stripey tights and a matching headband.
This is now painful to admit but just before we left the house I pulled Oona into my room and, to her extreme delight, applied a bit of blush to her cheeks. It wouldn't have been so bad if just the day before I hadn't ended one of our mother-daughter battles with the words, "don't even ask me to wear make-up out of the house until you are at least 14. That's final." It is, apparently, a very slick, very steep slope to the Land of Stage Mom.
We arrived at the hotel an hour early, but they weren't letting anyone in until 9:30. Hmmm. We have a 10 o'clock appointment, right? Turns out everyone was given the same appointment time and, upon arrival, we were all got the same purple folders full of paperwork and photos of little kids performing and hobnobbing with the likes of Eric Allan Kramer from the Disney Channel's "Good Luck Charlie.") And, curiously, there were also marketing materials and pricing information for "The Event."
This was the first I'd heard of "The Event"-- a function in Orlando that, if selected, aspiring child actors and models can attend to help them break into the industry through instruction and introductions to the right people.
"Participation Package" levels range from $1,950 (for 2 showcase events) to Option Level 5, for $7,900 (10 showcase events). A sick feeling coated my insides. The language and presentation was disturbingly familiar to the hard-sales tactics I learned in one of my first jobs out of college as a ballroom dance instructor at a Fred Astaire Dance Studio. That experience, which Mac and I entered and fled together after two months, was my introduction to the dark side of a corner of humanity that preys on the dreams and desperation of others.
And yet, my baby girl was so excited. Don't be so cynical, I told myself. Support your kid.
I pushed my doubts aside -- and something even uglier emerged. As the ballroom filled up with hundreds of little hopefuls, I was secretly encouraged that there were very few towheads in the crowd. If they are looking for a blonde, seven-year old, Oona is in!
Oona sat in between me and Mac rehearsing the script for two short commercials that had come in our folder, with an exuberance that was almost heartbreaking. "Zoo Planet Fruit Flavored Snacks take you over the rainbow!" she repeated until she was satisfied with her delivery.
Finally, a business-chic woman with a too-tight ponytail addressed the crowd to kick things off. Before beginning the auditions, she wanted to show an introductory video.
The lights dimmed, and Daphne, Oona's younger sister, squirmed onto my lap. Oona pulsed in the seat next to me, climbing to her knees to get a better look.
For the next twenty-some minutes, we watched a video that was one of the most manipulative, sly and aggressive examples of salesmanship I've ever witnessed. Mac was visibly uncomfortable, wringing his hands and obsessively rubbing his eyes. Were we allowing our daughter, so full of hope, to be brainwashed right in front of us?
One of the most egregious moments was the testimonial of a disabled, wheel-chair-bound African-American father of two young daughters who supposedly got their start in show biz at "The Event." Through tears, this dad recounted his life in Africa where he couldn't afford a wheelchair and, for many years, was forced to "crawl" places. He inferred that, thanks to "The Event," his life had turned around. As the audience sighed with sympathy around me, I fought down the bile.
And then -- as in an unlikely, magical Disney denouement -- it was Oona who saved the day. Just as the video was winding up to its emotional crescendo (kids at the Orlando showcase tearfully thanking their parents for their support) Oona turned to me with her own tears dampening her cheeks and said, "I think we should leave. Right now." I asked her if she was getting nervous about her audition or if her dad had said something to her. "Can we just leave? Right now?"
In the lobby, a fresh group of wannabe child stars lined up, ready for their close-ups. Two organizers of "The Event" shuffled papers at the check-in table. A few feet from them Oona let it all out through sobs: "I thought that I was going to come here and go into a little room and that someone would tell me whether or not I had talent. I didn't want them to make us spend money. I just want to do it the regular way. I don't understand what they are doing!"
In all honesty I can say that this was my proudest moment as a parent to date.
Mac and I covered Oona with kisses and walked her and Daphne through a light drizzle to Toys R Us for prizes and treats.
A lesson on corporate evils could wait for another day.
When we finally retuned home late in the afternoon after spending a small fortune on toys, lunch, cabs and that parking garage, I Googled "The Event." The results, like this recent article form the Los Angeles Times, confirmed our hunch.
The day had become an event, all right -- one that none of us will soon forget.
Support HuffPost
A No-B.S. Guide To Life
Related
Popular in the Community