By Sari Kamin
HRN Staffer
It starts with a banana that turns into a college scholarship for a young woman in Rwanda. Or a pineapple that becomes a computer lab. It's women who have started their own businesses in the poorest areas of Central America, and pineapple farmers who are learning to read. It's about impact, resonance, and social change. This is the story of Whole Foods' involvement in Costa Rican agriculture and how it is having wider social implications across the globe.
I was recently invited to go on a weeklong tour of Costa Rica with Whole Foods Market. The intention was to visit the farms that they do business with and learn about the various ethical and eco-friendly methods that they use in their growing and business practices. I visited a banana farm on the grounds of Earth University, a pineapple farm named Finca Corsicana, and a group of women who were receiving micro-loans through the Whole Planet Foundation, a nonprofit organization founded by Whole Foods Market.
I expected to see great innovations in environmentally sustainable bananas and pesticide-free pineapples. What I didn't anticipate was how meaningful it would be for me see the results of a trajectory that resonated far beyond the soil that the fruits were growing in.
Whole Foods buys and sells bananas that come from a farm on the grounds of Earth University in Limon, Costa Rica. The bananas (which are certified by Rainforest Alliance ) serve as the literal and symbolic partnership between Earth University and Whole Foods Market. One hundred percent of the profits that come from the banana sales go towards funding scholarships for students and university research and operations. Earth University is a private, non-profit university that trains students to become leaders and innovators in the world of agricultural sustainability. The students that attend come from around the world. Many of them are selected because they live in rural, impoverished areas where they would otherwise not have the opportunity to receive a college education. At Earth University the students are required to start their own businesses that promote sustainable agriculture practices. Many of the students learn organic farming techniques and they experiment with new methods in composting and energy conversion. By the time they graduate, they are equipped with entrepreneurial skills that they then apply when back in their native cities and villages.
While I was at Earth University, I talked to several of the students who impressed me with their intelligence and their ambition. In Brooklyn, New York, where I live, we spend a lot of time talking about what needs to happen in order to change the food system. In Costa Rica, at Earth University, the students are living this change first-hand. I met Michele, a 19-year-old Ecuadorian student training to be a sustainable farmer. His explanations of the farming practices at the Earth University garden were so comprehensive I struggled to keep up with him.. I met Anete, a 23-year-old from Rwanda with wide eyes and delicate features who was there because of her interest in food production. I asked her what she was planning to do after graduation and she responded; "I'm planning to start a peri-urban agricultural system where people use recyclable materials like bottles, plastics, or old clothing. I'm planning to go and work in Rwanda. As a country that has faced genocide, we have a lot of orphans and women who don't know what to do. I believe that here they are teaching us entrepreneurship. I can go and organize them and teach them how to use their small land for production." Pretty ambitious stuff coming from a woman too young to legally rent a car in the United States.
Another stop on my trip took me to a meeting of micro-lending clients in the town Guacimo, Limon. Inside a small modest home were women, fanning themselves and their babies in the hot hot heat of a Costa Rican afternoon. The women are part of a collective that receive small loans from the Whole Planet Foundation.
The Foundation gives grants to micro-lending banks in Latin America, Africa and Asia that then loan money to women (no men allowed here) in order to enable them to start a small business. The idea is that once they begin to generate income, they pay back the loan. Most of the women then go on to take out a larger loan as they continue to grow their business. Whole Foods Market funds the Foundation. One percent of the retail sales of all products labeled "whole trade guarantee" sold at the Whole Foods stores go directly to the foundation, meaning the money then goes directly towards financing micro loans for women.
At the meeting I attended, the women had gathered to pay back any loan amounts that were due and share their personal accounts of accomplishments or losses that they were experiencing. Babies cried and cell phones rang as the women explained their ventures. My colleagues and I sat, simultaneously sweating and fanning ourselves as we listened to Marsha, the group's elected leader. Marsha, a sturdy middle-aged woman with several children clinging to her hips, was doing especially well selling cakes. She had started her business by selling chickens to her neighbors and had since graduated with a bigger loan to her current venture. She took us to her kitchen, a small room that doubled as a playroom for the children, and showed us her kitchen-aid mixer; shiny and new, paid with the profits she had earned selling her baked goods.
One of my final stops took me to Finca Corsicana in La Virgen, Costa Rica. Here I encountered the world's largest organic and Fair Trade certified pineapple farm and one of Whole Foods main pineapple suppliers. When a product becomes Fair Trade certified, the producer agrees to a standardized set of regulations that account for labeling, transparency, traceability, and a premium, which is a small sum of money paid by the consumer on top of the agreed price. In the case of the Fair Trade pineapples from Finca Corsicana that Whole Foods purchases, the premium is sixty cents per every box of pineapple. That money gets set aside for the workers to do whatever they choose with as long as the decision is agreed upon democratically and is used to improve the quality of life of the workers. The pineapple farm has been selling to Whole Foods for three years, and that premium has accumulated. With that money, the workers have successfully built a new learning center that houses a computer lab and additional teaching classrooms for learning English and other language skills. A day care center and a gym are currently in the works.
The workers I met were proud and organized. Their eyes shone as they talked about what they had been able to build, and what they had planned for the future. The founder of Finca Corsicana, Dennis Gaughen, explained that the future day care center would enable women to bring their children with them so they wouldn't have to miss work and stay home with their children. He asked one of the women how this would impact her. "I'm a mother." She replied. We nodded, understanding how important this change was.
To learn more about organic, Fair Trade, and RainForest Alliance farming practices, tune in to HeritageRadioNetwork.org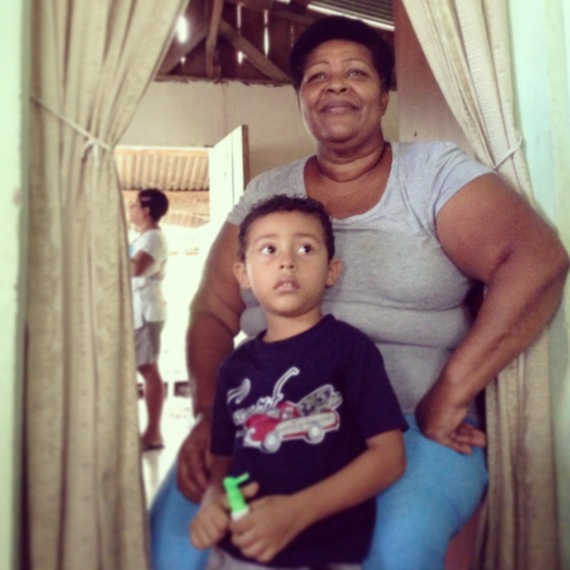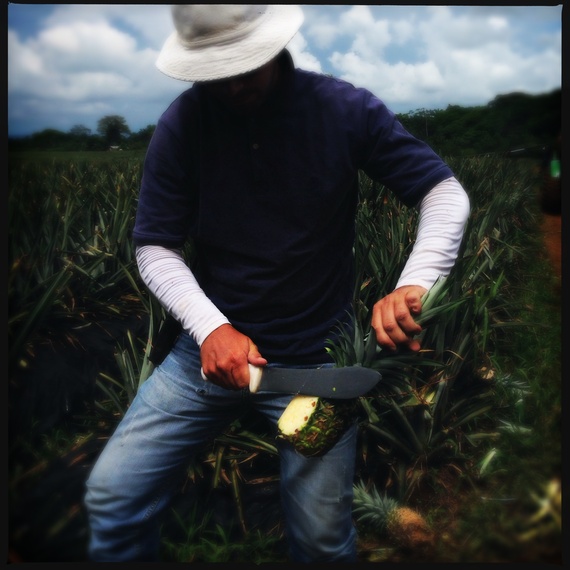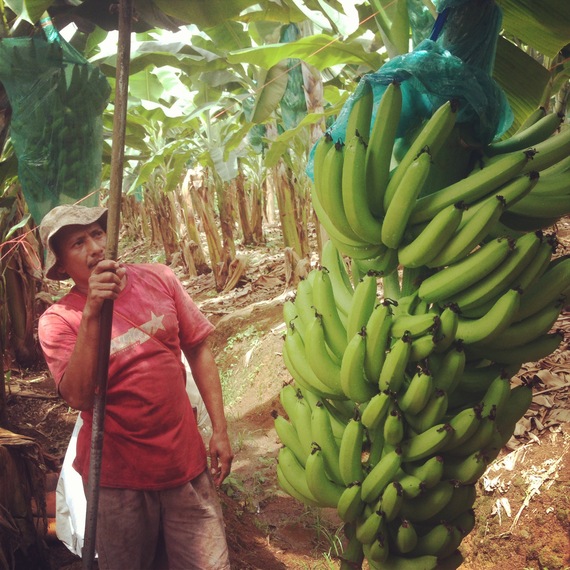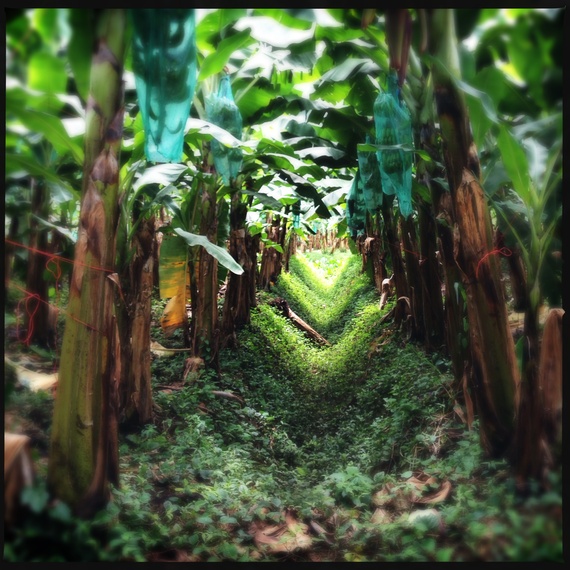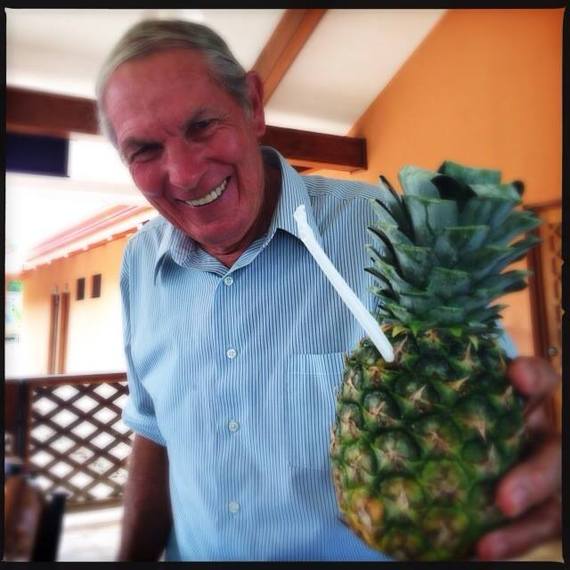 REAL LIFE. REAL NEWS. REAL VOICES.
Help us tell more of the stories that matter from voices that too often remain unheard.