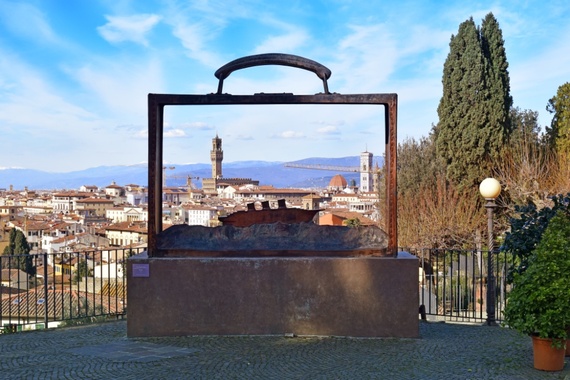 In 2013, I chose to take a radical sabbatical from my lucrative job at a top wealth management firm and spent the next three years volunteering my time and working for free. This decision came after more than 25 years as an academic, technology entrepreneur and business advisor.
What made this sabbatical in particular so radical can be seen by looking more closely at the word itself-sabbaticals are usually paid breaks where one takes the time to dig deeply into an area of interest that they would otherwise be unable to, and then return to their job with new insights. I deviated from this common path. My time away was neither paid, nor was there an option to return to my previous job.
There is a quote by a baseball player Yogi Berra that I have always admired: "If you come to a fork in the road, take it."
While this is a very catchy quote, it isn't easy to act upon. Nevertheless, it was the quote I had in mind when I reached my own fork in the road. The question I faced was a major one, and I knew early on that it would have a huge impact on my life: Should I use my expertise to help affluent people become happier and more fulfilled, or should I use my framework and system to help the disadvantaged? Helping affluent people meant a better livelihood for myself, but helping those in need would mean a better quality of life thanks to the sense of satisfaction I would receive. Ideally, I would have liked the option to pick both, a better livelihood and a better quality of life, but the fork in the road lay before me and I knew I didn't want to waste any more time to have it both ways.
This thought process began to bubble up after receiving emails from readers of my book, Beyond the PIG and the APE: Realizing Success and true Happiness. From the beginning, I wanted to gauge the success of my book, not on how many copies were sold, but on the number of lives it was able to impact. Something as simple as getting an email from a reader whose life changed for the better as a result of their reading meant more to me than making the bestseller list ever could.
An email I received not long after the book came out was from a woman in her 30s, asking if she could switch to me as her therapist. Although I told her that I was in no way a therapist, we did speak a few times over the next couple of months. The more we talked, the more she started to settle down. She dropped her therapist of seven years, changed her job and started helping the poor in Haiti. And, last August I received an invitation to her wedding reception, which signaled that she even overcame her struggles with relationships. I was incredibly overwhelmed to see how my book and our conversations had impacted her.
Not every story is as positive. In November 2012, a man emailed me and asked if I would have lunch with him if he made the drive from Washington D.C. to Pittsburgh, where I live. Despite the long distance, he was sincere about making the trip. Once we met, he shared with me how he'd lost his job the previous year and battled with depression, and how reading my book brought him peace. I was blown away by his story and his gratefulness. It is not every day that someone is willing to drive over four hours each way just to share a meal and thank another person for writing a book. The surprises for the evening were not over. By the end of the meal, he also shared with me that his sister had committed suicide the previous year, and that reading my book brought peace to his life and he could grieve.
It was clear to me after having these experiences that I needed to make major changes in my professional life in order to help others. I had seen the impact that simply reading my book could have on complete strangers, and I knew that I could help so many more people if I dedicated myself full-time to this pursuit. Although we had two teenage children and a life we needed to support, my wife and I made the decision to take the plunge. My original plan was to enter semi-retirement and spend less time working -- spend more time influencing positive change wherever I could.
Just three weeks later, I attended the Wisdom 2.0 conference in San Francisco and arranged to meet Congressman Tim Ryan, author of the book A Mindful Nation, who had asked me a few months earlier to help him with a technology project. We were supposed to meet and discuss an entirely different topic, but instead he shared his plans to start a foundation called the Mindful Nation Foundation and asked me to run it. Without even knowing all the details, I knew the opportunity was aligned perfectly with my desire to help the everyday citizens of our country.
With three years' worth of savings in the bank, I accepted his invitation to launch and run the Mindful Nation Foundation. I began volunteering my time to help veterans heal from PTSD, collaborating with teachers and healthcare professionals dealing with burn out, teaching children how to pay attention and inspiring leaders to create more compassionate organizations. I had a chance to do what I had been unable to in the last 20 years: work with regular people face-to-face and have a real impact on their lives while getting to hear firsthand about their experiences and the hardships they faced. I got an insight into the human condition that I wouldn't have been able to experience from behind a desk.
News of my new path shocked some and was welcomed with open arms by others. I will agree that it does feel like a big gamble, leaving a comfortable job and a steady paycheck in order to face the unknown. However, it is my belief that experience is the best teacher -- and the experiences I received over my three years with Mindful Nation were more valuable in shaping my life and beliefs than any salary could.
While I enjoyed my experience and felt extremely fulfilled everyday on a personal and emotional level, I suddenly fell very ill after about 2 years of service to the Mindful Nation. I could not walk for over three months and the doctors were baffled. When five blood tests and three MRIs could not produce a diagnosis, I recalled the name of a great physician in New York City, Dr. John E. Sarno, who had written many great books including my personal favorite, The Mindbody Prescription.
Even though he had retired at the ripe old age of 89, I reached out to him for help. His guidance led me to a local physician who at last was able to provide me with a diagnosis -- which, although horrifying, acted as a much-needed wake-up call. The physician, who asked I promise not to reveal his name, shared with me his hypothesis, which he had developed after working with many people like myself. My symptoms were in line with other patients he had worked with, whose minds worked too quickly and whose bodies were often pushed beyond limits and not given enough opportunity to rejuvenate.
In his experience, he'd seen these symptoms escalate into disabilities (like my own baffling inability to walk) and then, eventually, to cancer. The thought of facing a future of illness because of my own inability to take better care of myself was more than frightening. The experience helped me realize how many small choices we all face during a typical day, and how approaching them with mindful clarity and determination could lead to real change on a larger scale.
A Renaissance is defined as a "rebirth," and that was what the wake-up call of my illness provided to me. I have been through many career changes over the course of my life, but this last experience was what finally cemented how important it is to make wise choices in every moment. It also lead to an ideological shift on my end; my metric for success has gone from being measured in ROI -- Return on Investments -- to ROL -- Return on Life. My choice to switch from a focus on Standard of Living to Quality of Life has also produced some truly amazing intangible rewards.
I am now embarking on the next leg of my journey. I have recently founded the ChoiceLadder Institute that offers personal and professional programs that provide training in conscious judgment and the skill of making choices without compromising our values. ChoiceLadder emerged as a culmination of all my experiences -- from my book, to Mindful Nation, to my illness -- as the ideal way to take both forks in the road. It was a solution to address the angst and need for more mindful choice-making in the world, and was also a way for me to thrive, personally and professionally.
The number one question I have been asked since launching the ChoiceLadder Institute is: "What inspired you to start this organization?" It is a question that I believe many entrepreneurs face, and one that I myself never get tired of answering. My driving motivation is to be able to share the insights and the frameworks derived from all the dumb things I did so others can learn from my mistakes, instead of having to rely on the old trial-and-error method alone. Experience is the best teacher, but it takes a long time and can come at a huge cost. My intention is to share my experiences to help other accelerate their learning and thus prevent them from suffering in the same ways I did.
It's my hope that through my latest Renaissance, I'll be able to touch the lives of those I reach and maybe -- just maybe -- inspire a Renaissance in them as well.