Several years ago, I went to a wake with my cousin and her one year old. At the time, I was on the fence about having children, but in that moment, I envied my cousin for her kid.
On one of those impossibly gray New England days, like a movie set for a wake, this tiny being sparked sweet conversation and bright smiles. That day, I added a "pro" to my pro/con list: kids are good for wakes -- they give you something to talk about, help you avoid awkward conversation, and focus everyone's attention toward life.
When, in my twenties, I told my Catholic mom that I was moving in with my on-again, off-again boyfriend of nine years, her response surprised me: "I hope you'll have kids, Catherine. It was the best thing I ever did."
Her advice felt odd because I had just started a PhD program and babies were not on my mind. Not to mention, I was about to move in with a boyfriend we all knew was wrong for me. I was lucky, though, that she made this rare gesture of guidance. A few years later, when I did need her advice, she was no longer able to give it.
My mother started acting "weird" around her sixtieth birthday, and an fMRI revealed she had a degenerative brain disease called frontotemporal degeneration.
A middle-school librarian, she started acting like her pre-teen students. She sat on the floor crying next to a girl who was in a fight with a friend, her usually tidy library in disarray. She drove 90 on the highway and bragged about it. She shouted to strangers with babies: "I want one of those!" She ate and drank everything in sight, downing champagne directly from the bottle on the day I announced my engagement. Now, ten years into the disease, she hardly speaks.
At the age of thirty-eight, 16 years and about the same number of boyfriends after my mother advised me to have children, my son Quinn was born. My mother's advice helped push me off the fence. So did the feeling that our family needed a bright spot while we took on each new challenge her disease presented. A woman who had epitomized competence lost her ability to do the things adults do: hold conversations, work, drive, get dressed, groom, use the bathroom.
My mother regressed to the state of a toddler around the time my son turned one. On a given day I could be found fishing a small object out of my mother's or my son's mouth. On those days when I took care of them both, I often felt I had made a grave mistake. Even though I was not my mother's primary caretaker, it was more caretaking than I could handle.
But it wasn't long before my son began to ease my grieving. He distracts me just like my cousin's one-year old did at the wake. He gives me something to talk about and do in the nursing home when I visit my silent mother. Thanks to Quinn and my sister's newborn we've shifted our focus away from mourning toward milestones.
But there's so much more: when you lose someone to dementia, the new "person" they become begins to replace your memories of them pre-disease. It becomes hard to hold onto the details of who they were. By taking care of my son, I've been able to reconstruct memories of my "real mother."
When I nursed Quinn, I imagined my mother holding me close, and I remembered her telling me as an adult that she loved nursing. I did too. When I read him the same books she once read me, my voice takes on her cadence, and I'm reminded of her approval of Caldecott Medal winners. When I bake with my son, I remember her making me Mickey Mouse pancakes with raisins for eyes and letting me experiment with recipes I found. When I bake my son carrot muffins, I remember how clever she was: feeding us "green meatballs" full of spinach and paying us a penny for each bone we found in our fish so we wouldn't choke.
At Motherwoman, we believe that speaking the truth about motherhood is a radical act. The truth for me is that becoming a mother has drawn my focus away from my mom's decline toward my son's ascent and has miraculously resurrected parts of my mother's personality. But it is also the truth that motherhood has evoked feelings of deep sadness. I am terribly sad that my son will never know my mother: a librarian with a loud voice, a tough woman (her refrain to me when I complained was "life isn't fair") who could also be goofy - she dressed up as Santa when she was eight months pregnant with me. My mother contained multitudes, and there's no way I can convey who she was to my son.
But as my son gets older, I am grateful for her advice to become a mom, and I am eager to unearth new details about my mother that have been buried deep in my memory and share them with him.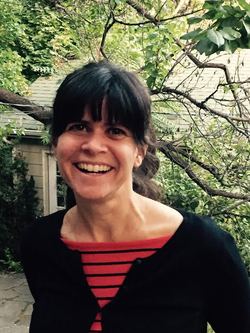 Catherine Savini is the co-editor of MotherShould?, where being on the fence about motherhood makes sense, and an associate professor of English at Westfield State University. She lives in the Berkshires down a two-mile dirt road in a town with no stop lights. Frontotemporal degeneration is particularly devastating to families because it usually strikes between the ages of 45 and 66; there is no cure, no treatment, and patients are often misdiagnosed. See www.theaftd.org to learn more.