Bicycles change lives. I know because a simple bicycle changed my family.
Seven years ago, at the age of 19, my son suffered a traumatic brain injury as a result of a car accident. Rob was in a coma for five weeks and he was hospitalized for five months. Prior to Rob's accident I believed what I had seen in the movies about comas: that when someone comes out of a coma, they are back to normal. In reality, it's like a computer crashing, everything shuts down and takes so long to reboot.
We had no idea how much Rob would recover. When he left the hospital, he had casts on both legs from the surgery to lengthen his Achilles tendons; he didn't speak; he couldn't hold up his own head; he couldn't sit, stand, or even eat solid food. Our days were filled with therapies, medication schedules, and doctors' appointments.
As we worked to adjust to our lives, Rob continued to improve. When he began speaking, he had no volume and we had to read his lips to understand what he was trying to communicate. When Rob asked to go on a bike ride, I wasn't sure I understood. Then my heart broke. How could I tell him he might never ride a bike. He had no memory of the accident and didn't understand why he couldn't move.
Adjusting to the trauma and the demands of my son's injuries took a toll. On good days, I could joke with Rob and be optimistic. I couldn't imagine Rob wouldn't recover completely. On my worst days, I was infuriated by any request. Most days I was simply exhausted.
As the weeks went by, my husband had a very different reaction to Rob's request. Dave actually took it seriously and he kicked into research mode. He was determined to find a tandem bicycle that he could ride with Rob. I observed this obsession, believing that Dave needed this project to fill his time and to comfort him. Rob's accident devastated our whole family, but my husband had the hardest time. Dave is a mechanical engineer. His job is to fix things. This was something he could not fix.
One day, Dave declared there was not a bike available that would work for Rob. I expected this would be the end of it. Instead, Dave announced he was going to build a tandem trike that he and Rob would ride. My heart sank. I thought he was crazy and drowning in grief.
By 2010, Rob's bike was complete. On Dave's specially-designed and self-built bike, Rob's first ride lasted almost a mile. Rob was so full of life he looked like he might explode! His legs shook involuntarily even hours after the ride. It was amazing to see my son, who could not walk, riding a bike nearly a mile.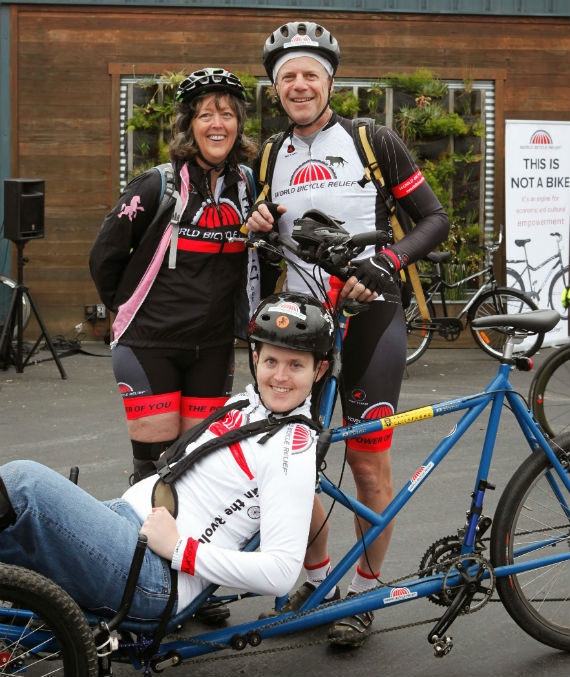 The Thompson Family
As a family, we started cycling every weekend. On our first big ride, Dave signed us up for a 30-mile cycling event. We made it 20 miles, a record for both Rob and I. Last year, we set another record. Rob, Dave and I biked 60 miles at one event. I continue to think Rob and Dave are crazy and amazing. Rob is still in a wheelchair but biking has helped him relearn a cadence we hope will help him walk again. He says he feels normal when he gets on his bike.
As we journeyed this path that led us to the power of bicycles, we got to know the organization World Bicycle Relief. They work to create a world where distance is no longer a barrier to education, healthcare, and economic opportunity. For many in the developing world, the challenge of distance makes simple tasks like going to school, a doctor's appointment or the store, difficult and sometimes impossible. Meeting everyday needs is a struggle.
As a family, we resonate deeply with daily struggles of mobility. We enthusiastically support #GivingTuesday and partnering with World Bicycle Relief. They build specially-designed bicycles for rugged terrain that are distributed to students, healthcare workers and entrepreneurs in places like rural Africa. Partnering with World Bicycle Relief puts the gift of mobility into the hands of others who need it most.
I am living the power of the bicycle. I know first-hand how a bike provides opportunity and independence. I know a bicycle can change lives. Rob is lucky to have a father who created a bike that worked for him. World Bicycle Relief provides bicycles that have high impact in the areas they are used. We want to help get as many bikes as we can in the hands of people who need them. This #GivingTuesday we are proud to be ambassadors for World Bicycle Relief and the Power of Bicycles.
This post is part of a series produced by The Huffington Post and the 92nd Street Y, founders of #GivingTuesday, a global day of giving that will take place this year on December 1. These stories highlight the work of organizations and people around the world who are committed to giving back and doing good this #GivingTuesday.
Calling all HuffPost superfans!
Sign up for membership to become a founding member and help shape HuffPost's next chapter