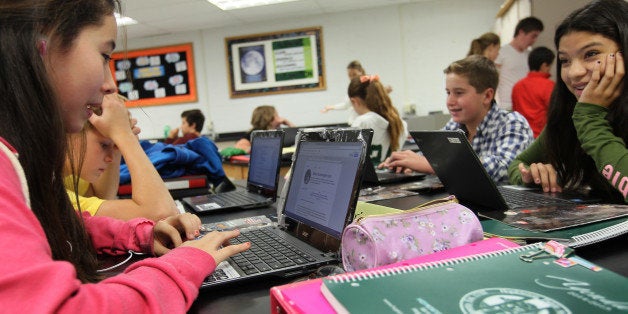 For the past few months, I have had the honor and opportunity to serve as an inaugural Franklin Project Ambassador this year with the Aspen Institute. This leadership development program and local engagement strategy aims to promote at least a year of full-time national service as a cultural expectation, a common opportunity, and a civic rite of passage for every young American. By 2023, the Franklin Project aims to create one million full-time "service year" positions annually for young people from every race and socioeconomic background to serve their communities and country as civilians. As a project manager in the President's Office at Arizona State University (ASU) -- the most innovative university in the country and home to a first of its kind Public Service Academy -- there is no better environment to design and launch new service programs and initiatives to help meet this mission.
The Franklin Project's mission inspires me because of the profound effect my own service years had on my life. Service changed everything, from how I viewed myself to how I viewed others and society in general. During my time as a Teach for America Corps Member in Phoenix, Arizona, I confronted the grave inequities that our public education system continues to impose upon children growing up in poverty, especially children of color. I also confronted my own racial and socioeconomic privilege that, despite my progressivism and idealism, I realized I was largely blind to for much of my life. I confronted a number of other previously held perceptions and beliefs that bound me to a naïve optimism about the notion of equality of opportunity in the United States.
I also confronted pessimism that long shaded my own view of technology, a pessimism grounded in personal experience. Confronting this belief had a particularly profound effect that reverberates today, as it changed the trajectory of my career and ultimately my life.
My pessimism toward technology began as a young boy. I vividly remember the feeling of a syringe blasting cold molding putty into my ear cavity. While the physical sensation was odd, the emotional sensation was calming. I was being fitted for a device called the Speech Easy. Worn like a hearing aid, the device produced the "choral effect," and was supposed to ease the severity of my stutter.
It did not work, and I became bitter. This experience provoked a deep skepticism of easy technological answers to complex problems. As a senior in college I wrote columns in the campus newspaper lamenting the insidious effects of technology on society. I knew technological progress had dramatically improved human lives, but I was convinced we were approaching a limit, one defined by greatly diminished and self-indulgent returns.
My time as an eighth grade science teacher at a low-income middle school in Phoenix upended my skeptical perspective. A student named Jorge was in my homeroom during my second year. Jorge suffered from a moderate intellectual disability and was a classified English language learner. He was five grades behind proficiency in both math and reading. His hand-eye coordination was weak, and he had a difficult time writing. Science content, with its linguistic, numerical, and graphical density, proved difficult for Jorge. He struggled to demonstrate comprehension through traditional classwork and exams.
The introduction of Google Chromebooks, however, proved game-changing. The laptops liberated my pedagogy, as I could deliver 140 individualized lessons to each of my students. This was particularly meaningful for the 15 percent of my students who had learning disabilities, and for the 50 percent of my students who were English language learners. When students learned content while practicing writing and presentation skills, they could iterate their work with ease, and they were empowered to direct their own learning.
Jorge, for example, used gamified computer modules to demonstrate comprehension of the structure of atoms and the mechanics of forces. While Jorge may have struggled to draw an atom, he was a wizard when it came to building Bohr models by dragging and dropping protons, neutrons, and electrons though an online resource. In education, we can't judge a fish by its ability to climb a tree. Educational technology is the means by which we can enable all students to demonstrate their aptitudes.
Through these experiences, I became fascinated with the power and potential of educational technology, especially as it relates to educational equity. Presently, the digital education market is dominated by low-quality, high-cost education options. Degrees from for-profit institutions, which can be 22 percent to 57 percent less valuable in the job market than similar nonprofit degrees, saturate the digital education landscape. This is even more troubling given that most online learners are low-income students. The effect is that those who stand to gain the most from digital education are often presented with low-quality options and usually have limited information to inform their decisions. What's more, the future of digital higher education across the globe has serious implications. By 2030, for example, India is expected to have upwards of 140 million higher education students, and at current capacity the country only has one-third the needed physical infrastructure to support these students. Digital learning will emerge as an even greater necessity than it is today.
My fascination with education technology led me to reevaluate my goal of attending law school. Instead, I became an Innovation Fellow at ASU. During this experience my belief in the power of technology continued to evolve and grow. I worked on a project helping advance a gamified advising tool called me3, which blended the power of social media, behavioral analytics, and traditional high school counseling models.
I now manage a project funded by the Markle Foundation that seeks to connect job-seekers to a real-time education and labor market that will make the process of upskilling and changing careers far less burdensome. While I am no longer in the classroom with students like Jorge, it is through projects like this that I can remain grounded in my students' lives. The Markle platform will benefit people like my students' parents, who have been traditionally excluded from second chances at post-secondary education.
I chose to Teach for America because I believe that all children in our country deserve the opportunity to attain an excellent education. I am committed to promoting national service opportunities for young Americans because I believe we are a generation that cares deeply about justice and equity. The unexpected turn my professional life took as a result of my time teaching was by no means the only positive outcome of my experience. More importantly, I grew as a human being by working with my students as a team to create a classroom centered around scientific inquiry and social justice, and was proud to see them hurdle over entire grade levels of science content on their way to high school.
That said, I never expected to end up where I am today as a young professional. For that, I have Jorge to thank, as well the opportunity to have participated in a national service program, Teach for America. I encourage other young Americans to do the same.
This post is part of a series produced by The Huffington Post and the Aspen Institute's Franklin Project in conjunction with Giving Tuesday. The series, which will run for the month of November, features pieces written by Franklin Project Ambassadors, local leaders who are working with community stakeholders in 25 states toward the Franklin Project's vision of making a year of national service -- a service year -- a cultural expectation, common opportunity, and civic rite of passage for every young American.