My experience with world travel began when I was 14 years old, spending six weeks in Israel with a group of students from my Hebrew High School. Together we learned about the rich history and culture in a place we read about from the time we began to read.

We traveled all around the country -- Jerusalem, Tel Aviv, Haifa, Kiryat Shmona, and many other cities and villages in between. A medic and a soldier accompanied us as we hiked through the Golan Heights, and we laughed while floating in the salt water of The Dead Sea.
It was a magical trip and we required little sleep. We were young, curious and full of energy.
Fast-forward sixteen years later when, in 1990, my husband and I traveled to Italy. We decided to visit that beautiful country before starting a family, and thought it best to book our trip with a tour.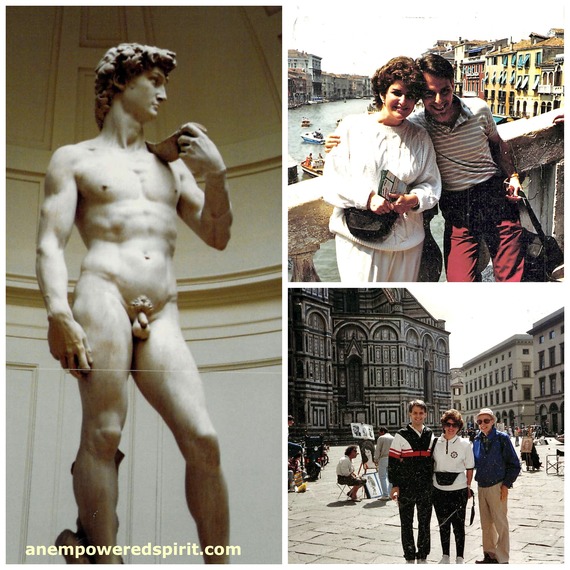 Being older, and now having an autoimmune disease, the amount of energy I had was nowhere near the same as it was in 1974.
Ordinarily we'd travel on our own, but decided a tour would be helpful with handling our luggage, booking top choices of accommodations, and taking care of transportation to and from our destinations.
When you have a disability, careful planning is necessary.
Booking our trip with a tour was wise. We chose to explore each city apart from the group, meeting up with them at a few of the four-star restaurants included in our tour package.
We also enjoyed not having to worry about lugging our luggage around Italy.
Traveling can be tiring when you're disabled. Over the years I've put together a few rules that make traveling easier and less stressful.
Take time to rest. When you are away, you feel as if you want to do it all and see it all. Taking a nap is the last thing you want to do. Do it anyway. Napping will refresh and restart your energy levels. It will go a long way toward keeping you healthy while you're away.
Hydrate. It's important to drink a lot of water, preferably bottled water. One time I visited Acapulco with a group of friends and I was the only person not to get sick. Insisting on drinking bottled water was the reason I believe I escaped being ill.
Cranberry Juice. I drink cranberry juice, or take cranberry capsules, to prevent urinary tract infections. I learned my lesson after spending a few days in the hospital after returning from one vacation with a serious UTI. Drinking one glass of this juice helps to prevent UTI's.
Accessibility. If possible, use a travel agent familiar with vacations that are accessible. If you don't know of an agency, ask one of the nonprofit health organizations for recommendations, or search travel on websites such as TripAdvisor or AAA.
Flying. Airlines must provide accommodations for people with disabilities. If someone requires a seeing-eye dog or other service animal, airlines are required to allow them to travel with you. (Check for quarantine or import regulations on return.)
Personal. I use a cross-body bag to keep my hands free to allow for better balance while walking. I purchase sneakers that are light, flexible and provide good support. When purchasing shoes or sneakers for travel, try them on in a store and walk on both the floor and the carpet to check for support and comfort.
Cruising. Cruises are a great way to travel if you are disabled. Getting around the ship is easy, and accessible transportation for ground tours is readily available. Check with each cruise line about accessibility before booking. There are some cruises that cater to people with special needs.