Like many other black women across the country, my eyes were glued to BET last Sunday night. I had been waiting to see Black Girls Rock! (BGR!) since last year's event ended. Two hours of talented black women performing and encouraging one another is basically my version of Disney World. Such a treat.
This year, I had the pleasure of watching BGR! with my husband. I'm always asking Dan to watch various television specials with me, many of which he doesn't really like (ahem, Grammys). But my husband approached BGR! differently, as not one sarcastic comment was made the entire night. He not only entered the sacred space, but he respected it too.
I'm not surprised by my husband's interest in BGR!, by the way. Since the beginning of our relationship, Dan has shown interest in my life experiences, acknowledging that race has played a large role in shaping them. A curious man gradually became a confident man, never shying away from topics such as white privilege, especially when talking to his loved ones.
Simply put, my husband is always up for challenging folks' racist views, probably more so than myself. After many years of these conversations, I tire easily. Not Dan, though. He loves people and he loves how different we all are. I think that's why he's always reminding others that differences are usually only a threat if we make them out to be.
So anyway, back to BGR!. We're watching and I'm clapping. I'm groovin' and he's inquiring. I couldn't stop feeling like BGR! was doing more than entertaining us.
Halfway into the show, Michelle Obama walked onto the stage and for some reason, I had a visceral reaction. Suddenly, I started remembering moments from my childhood.
I remembered walking into a classroom of white children for the first time as a 9-year-old and feeling absolutely terrified.
I remembered a white boy I didn't know pretending to have a crush on me because his friends dared him to. He asked me out on a date during lunch while all his friends sat a few tables away, laughing hysterically at me. Teasing black girls is funny, right? I was 15, I believe.
I remembered being called the n-word for the first time when I was 13. My sweet friend Melissa was standing right next to me when it happened and had no clue how to comfort me. I went into hiding for a few days because I was so embarrassed. (I doubt those grown men who spewed hate at a child felt embarrassed of their actions.)
I remembered cutting out pictures of white women in magazines, wishing my body and hair could look just like theirs. I also remembered eating 500-700 calories a day and relaxing my hair in order to make that happen.
Immediately all my feelings of joy were replaced by feelings of pain -- pain I've been carrying with me for years and years. Growing up in a predominantly white area was an incredibly isolating experience for me. Having Black Girls Rock! around back then certainly would've helped my self-esteem. In fact, I think it would've been life-changing.
I shared some of these memories with my husband, as he listened very intently. Then, I quickly wiped away my tears and prepared myself for Cicely Tyson's beautiful wisdom. I also made a mental note to talk about some of this stuff during my next therapy appointment.
A few hours later, Dan did something to let me know that he gets it -- as much as he possibly can, anyway. He tagged me in a comment he left on Afrobella's Facebook page that completely blew me away.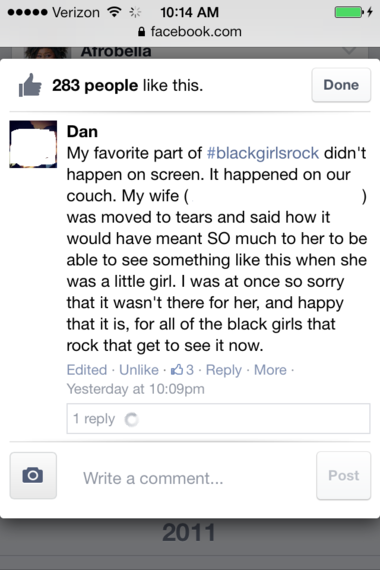 What a guy, huh? (Also, he knows who Afrobella is? Amazing.)
So maybe, just maybe, I don't have to deal with all this subconscious racial shame on my own. Yes, I know there are people of color all over the world who can relate to my experiences. I also know that my husband is not one of those people. Even so, Dan seeks to help me face the shame. He not only wants to see me heal, but he wants to help me heal. He cares about the pain I experienced in the past.
I'm a fairly confident woman who doesn't often seek ego boosts from her husband (or from Michelle Obama, for that matter). Nine-year-old me, on the other hand, could've used all the encouragement she could get back then. So on her behalf, I'm leaning into it. And I hope that by doing so, she'll continue to heal.
Nine-year-old me rocked then and I rock now. Today I'm grateful for a husband who thought to remind me of that.
Apparently, I really needed to hear it.
Popular in the Community