Europeans have tried to take New York for hundreds of years. The fact that we keep coming is a measure of our optimism and, of course, our stupidity. Manhattan is littered with the detritus of failed attempts to impress it. I know this because I tried -- and failed -- to take New York once before.
In 1999 an Irish publisher hired me to edit a new guide to luxury goods. Described in the Financial Times as "the yellow pages for billionaires," America's Elite 1000 was supposed to show its readers how to be classy. Being Irish, half Jewish and nearly as brazen as my boss, my function was to dazzle New York society with my chutzpah and gift of the gab. "I'm going uptown," he told me, "and you're going to open the door." Together we walked into a great many closed doors, and I have scars to prove it. This frivolous venture collapsed shortly after 9/11, at which point we shuffled back across the pond.
Upon returning to Ireland I launched The Dubliner, in the hope that my compatriots were ready for a magazine of ideas. They weren't, but I spent eight years trying to prove the country wrong, only selling the title to another publisher in 2008, as the economy was falling off a cliff. Then I opened a non-profit museum of Dublin. To the amazement of my wife, my accountant and most of my friends, we are still in business.
New York ate me alive -- but I'm still hungry. Next month I return with an exhibition, Dear Christy, and a new play, The Private View, at the American Irish Historical Society on Fifth Avenue. The exhibition showcases the personal archive of the writer and artist Christy Brown, while my play is about John Lowe, a young Englishman who played a bizarre role in Irish history and went on to act in 80 movies.
Returning to New York is perhaps an act of epic folly, but I do feel proud of the work this time, and I take some comfort in the fact that my subjects both enjoyed some success in the city.
Christy Brown was hailed as a genius by the New York Times. Reviewing his novel Down All the Days, a critic concluded, "Nothing quite like this book has been known in literature." Christy was memorably played by Daniel Day Lewis in an Oscar-winning film, My Left Foot, which brought the remarkable story of his life to millions of Americans.
John Lowe was arguably more successful still. In his memoir, Lowe - who changed his name to John Loder when he went to the United States - recalled,
"Starring in a hit play on Broadway is something all actors dream about... The number plate of my limousine read JL1 and I was on first name terms with every policeman within a mile of Times Square."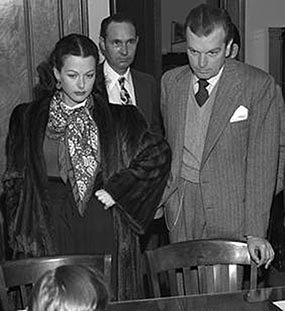 Unfortunately the stories of Christy Brown and John Loder also prove that success in America can be illusory, even capricious. Christy Brown came to a miserable end, choking to death at the age of 49. After divorcing for the fifth time, John Loder returned alone to London, where he was given a bed in the Distressed Gentlefolks Aid Association. These days he's remembered, if at all, as the man who married that actress: Mr Hedy Lamarr.
Yet still we come, looking for approval on the greatest stage of all, with President Obama's description of the American Dream ringing in our ears: where you start should not determine where you end up. But let's be honest, that's not really a promise. It's an aspiration. And in the 16 years since my last attempt to take New York I have learned that dreams rarely come true. This should be depressing, but it's not.
"Try again. Fail again. Fail better."
The man who wrote those words, Samuel Beckett, was born in Dublin, of course, but he remains admired wherever people dare to fail and try again.
Will anyone come to see my play? Is New York ready for the return of Christy Brown? And will we ever learn? Find out next month, or look the other way.
Trevor White is director of the Little Museum of Dublin. Dear Christy and The Private View will be presented from November 11-24 at the American Irish Historical Society, 991 Fifth Avenue at 80th Street.
Calling all HuffPost superfans!
Sign up for membership to become a founding member and help shape HuffPost's next chapter