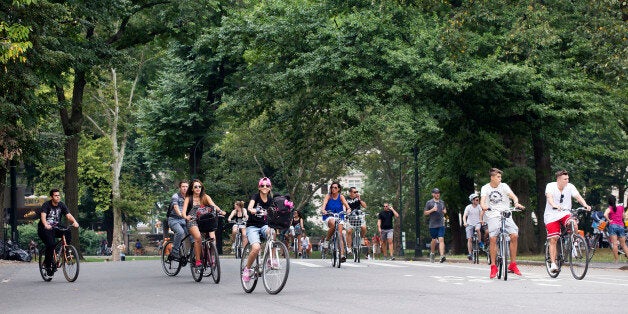 To call New York City a microcosm of the world is no exaggeration: The city is home to an estimated 800 languages, diplomatic missions from 193 nations, and people from every corner of the earth. Right now, New York also faces challenges that mirror those of the broader world, including rising income inequality, a rapidly growing population, and serious vulnerability in the face of climate change.
So it's fitting that world leaders met in New York to ratify the Sustainable Development Goals(SDGs)--17 historic targets for ending poverty and hunger, ensuring access to education, protecting the environment and advancing human rights between now and 2030--just as New York City is also embarking on its own parallel citywide sustainable development targets for the decades ahead.
A local vision of the SDGs, the city's OneNYC plan was developed with locally-focused goals and initiatives that join economic and environmental sustainability with social inclusion. It started with a two simple questions: What does New York need to thrive in the next century? What kind of city do we want to leave our children? OneNYC uses build on lenses of growth, sustainability and resiliency that were in previous citywide strategic plans, but adds new emphasis on equity inspired by the Global Goals. It is the first major sustainability plan to link up with international goals in a comprehensive way.
Pairing specific achievable targets with metrics, OneNYC initiatives focus on slashing greenhouse gas emissions, stamping out disparities in health care access and results, combating poverty and inequality, expanding educational opportunities, and protecting the city from climate impacts. Specifically, the plan aims to cut greenhouse gas emissions 80% by 2050, achieve the cleanest air quality of any large US city, improve access to public transportation, lift 800,000 New Yorkers out of poverty by 2050, ensure that young people have access to quality healthcare and adequate meals, as well as significantly increase affordable housing. The goals also aim to prepare the city for likely impacts of climate change and other shock events with infrastructure improvements, with a goal of eliminating long-term displacement from these events by 2050. With a core focus on the question of aligning vision with resources, the plan looks to coordinate regional, national, and international partners beyond the city to achieve these goals. As countries around the world implement the SDGs, New York City is offering other municipalities inspiration in realizing their own objectives.
The way to meet the SDGs globally is to meet them locally. In New York, this means developing practical programs in line with the SDGs to meet people's needs. A program linked to OneNYC, for instance, enables a mother in Queens to visit the Corona Greenmarket to participate in free nutrition classes with her 4-year old daughter each week. Through this program, the mother is able to learn tips for making healthy meals on a budget at a class for adults, while her daughter learns the names and colors of in-season vegetables at the kids' class. The classes are translated in English and Spanish and located next door to the local Women, Infants and Children (WIC) center, where they're able to access other nutrition and education services. They also receive free food samples, recipes, and a NYC Health Bucks coupon to spend on produce at the market. Taken together, this and dozens of other targeted programs under the umbrella of OneNYC will enable New Yorkers to measurably meet the SDGs from housing and education to gender equity and sustainability.
Globally, the SDGs matter because they channel energy and investment toward addressing our most urgent challenges: ensuring that people have access to food, water, shelter, education, and a habitable planet. Countries are coming together between now and next March to design indicators to measure our progress toward the goals and to work to secure financing to make sure these big aspirations become reality.
Locally, the goals matter for much the same reason. They're bringing together government agencies, businesses, and nonprofits to coordinate toward reaching the local targets. Cities can and will take the lead in pursuit of sustainable development--but it takes vision, commitment, and serious locally-tailored game-plans.
Meeting the Sustainable Development Goals will be extraordinarily difficult. We're still a long way from eliminating poverty and we are only beginning to address climate change. Following this summer's Financing for Development conference in Ethiopia, world leaders are still seeking the resources necessary for a coordinated global approach. So, in the meantime, the biggest action toward meeting the global goals has to come from cities and localities. As a microcosm of the world, it's only natural that New York City is getting started.
Related
Popular in the Community