Worldwide, tech entrepreneurship suffers from an undeniable gender gap. At tech companies from Silicon Valley to Tel Aviv, the vast majority of both founders and their employees are men. Data reveal serious obstacles confronting women in tech. A 2013 study in the Proceedings of the National Academy of Sciences (PNAS) found evidence that investors were more likely to invest in companies pitched by men. Likewise, 70 percent of Google's employees and the vast majority of its senior executives are men. Clearly, women face huge structural barriers to working at and leading fast-growing tech companies.
This gap, however, has begun to close over the last decade. Pitchbook estimates that in 2004, just 4 percent of U.S. VC deals went to companies with a female founder. In 2013, that number was at least 13 percent and growing. According to the New York Times, Google's leaders are "unhappy" about the company's gender imbalance, and are working to improve it. The tech sector has yet to close the gender gap, but its entrepreneurs, investors, and executives are now focused on improving both diversity and equality across the industry.
Over the course of more than a year, Endeavor, the world's premier organization supporting high-impact entrepreneurship, created the largest ever dataset of New York City's tech sector. After interviewing nearly 700 local tech founders and identifying more than 2,500 tech companies, we began to uncover some surprising findings. In just the last decade, New York City has become one of the fastest-growing tech sectors in the world, and its growth has been led in part by hundreds of women entrepreneurs.
In fact, back in 2003, we found that only 42 New York City tech companies had at least one woman founder. Ten years later, 457 local tech companies have a female founder, constituting more than 15% of the city's tech companies. These companies in turn employ more than 7,000 people in New York City, and have attracted nearly $3 billion in investment. Both in terms of the quantity and quality of women-led tech companies, New York City has become a global role model.
New York City's women entrepreneurs become successful, and not only in traditional, financial terms. Although their companies may have hundreds of employees and be worth hundreds of millions of dollars, these high-profile entrepreneurs have also gone on to inspire, mentor, and invest in the next generation of women-led tech companies here in New York City.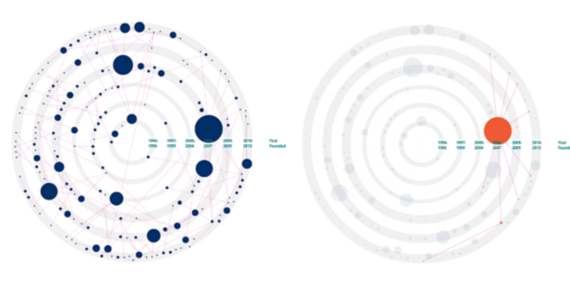 Gilt Groupe may have a valuation in the billions, but its founder Alexandra Wilkis Wilson has found time to mentor Hayley Barna of Birchbox, the subscription beauty-product service, and Karen Moon of Trendalytics, the visual analytics platform that was WSJ Startup of the Year in 2013. Arianna Huffington, in the course of building her eponymous media company, has inspired women entrepreneurs at news site Mic (formerly PolicyMic) and career blog The Muse. After selling LinkShare for $400 million, Heidi Messer became a serial entrepreneur and investor, founding Collective[i] and investing in Lifebooker, the popular online health and beauty appointment booking service. These are just three of the hundreds of relationships we visualize in a first-ever interactive graphic of connections among women-led New York City tech companies.
The impact of these social connections cannot be understated. Entrepreneurs who are connected to top-performers like Alexandra, Arianna, and Heidi are twice as likely as their unconnected peers to become top-performers themselves. From media, to advertising, to e-commerce, and beyond, the tech sector's gender gap is closing because of the concerted effort of these trailblazers, who reinvest their success in the women entrepreneurs who are following in their footsteps.
Calling all HuffPost superfans!
Sign up for membership to become a founding member and help shape HuffPost's next chapter