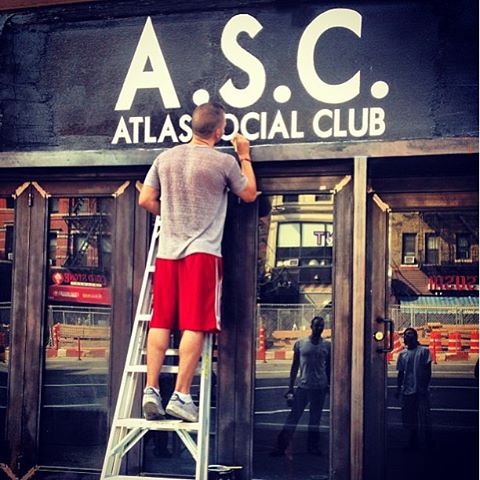 Co-owner Pablo Raimondi paints the sign at the new bar that he and three old friends are opening
Late one warm August afternoon, the food, drink and people carnival that is the stretch of Ninth Avenue running down the center of Manhattan's Hell's Kitchen is up and running. Clinking plates and glasses join random chatter up and down the main drag.
One storefront space sits quiet, or so it appears. Behind a brown fabric curtain in the window, drills drill, hammers hit nails and four old friends, now business partners, put finishing touches on a new gay bar they're saying is more downtown than up.

Atlas Social Club is set to open in mid-September. It's gotten plenty of headlines due in part to co-owner Benjamin Maisani's relationship with the CNN anchor Anderson Cooper. There's also another unique New York story, rooted in a four way friendship, inspired by a city's innate ability to drive and fulfill entrepreneurial spirits.
Some might say New York is the only city in the world where four friends, all from different points on earth, (Maisani is from France, Pablo Raimondi, Argentina, Asi Mazar, Israel and Josh Wood is from Illinois) might randomly meet, become close friends, and well over a decade later, form an ambitious business partnership based in a tough as nails business -- nightlife.
Benjamin Maisani, one of the four owners, began making cocktails around thirteen years ago at Barracuda Bar in Chelsea.
"I fell into the whole nightlife business by pure chance while working at a museum and going to school," said Maisani who was an art history major in college.
It didn't take long before he fell in love with the hours and the social interaction tending a bar encouraged. Later, in 2005, he and fellow bartenders Darren Dryden and Gabe Beaton decided to strike out on their own and apply what they'd learned to their own business model, which soon became the gay bar Eastern Bloc in Manhattan's East Village.
By 2010, Maisani and another friend, long time Splash Bar bartender Asi Mazar collaborated and decided to open another gay bar.
While shopping for a space, they came across a spot on Avenue C and while Maisani was sold, Mazar worried a gay bar that far east wouldn't work. In stepped Maisani and Mazar's friend, comic book artist Pablo Raimondi.
"I didn't care if it was gay or straight, I just wanted it to be fun and successful and make money," said Raimondi.
With Mazar's blessing, Raimondi and Maisani built out the space from the ground up and created a motif that's heavy on taxidermy. It's not gay per se, instead a 'mixed crowd' and flocks in on weekends. It opened in 2010 and they call it Bedlam.
Two years later, Maisani and Mazar started looking again for a space on the West Side. Maisani said they targeted areas where there was a high concentration of existing gay bars, mainly Chelsea and Hell's Kitchen.
The strategy? Become another stop on an existing gay bar hop.
By the time they'd settled on the new bar's location, Raimondi had joined on. A bit later, Josh Wood, the event producer/promoter joined as a partner as well.
The four say the new spot is heavy on the cool, sans the pretension, they're calling it a cross between a gay speakeasy and a vintage gym.
Wood, who started as an assistant, now has his own production company. These days he has a working partnership with AMFAR, where the events he produces have helped raise millions of dollars.
It was around 14 years earlier, when Wood first met Maisani at the Crunch Gym at Astor Place downtown. That's also the place Maisani met Raimondi. It was through Maisani, Wood also met the other two.
He said he thinks his getting involved in the bar is a good business decision. The main driver, he wanted to be part of a venture with his three friends.
"I don't think there's any other city in the world, where you'd have the opportunity to do what we're doing here, the way we've all come together and made this happen," said Wood.
For Wood, living in New York is never a passive experience. He says people here have to be engaged and involved, a sentiment Mazar agrees thinks the city encourages.
"We're all a bunch of foreigners here, whether you're from another country or another state, we all come here with a strong sense of purpose, and we all create this unique fiber that makes New York such an interesting place," he said.
Raimondi and Maisani chime in saying this sort of business venture probably wouldn't happen in their native Argentina or France, respectively.
"I know there's no way I would have been a bar owner in Paris. The red tape alone is astounding," said Maisani.
There's also no doubt that ten years ago, if you'd told Maisani and Raimondi they'd own and run bars together in New York City, they'd both have laughed in your face.
In fact, Raimondi thinks he never would have been a bartender had he not needed to supplement his freelance comic book career during a slow streak around eight years earlier. So, he turned to Maisani, who then taught him how to mix drinks.
Two years after mastering that craft and working weekends at nightspots downtown, Raimondi's comic book career took off. Still, he kept bartending. Turns out, it got him out of the house and forced him to socialize.
Unlike the other three, Raimondi wasn't into the the bar and club scene. For him, it was work mixed with pleasure, since he was usually making money with friends.
"The main reason getting in on the business side of the bar was ever possible for me, is because I've done it with my friends as opposed to some corporate investor," he said.
Raimondi subscribes to an intimate shared stake Mom & Pop mentality when dealing with his partners.

"I think it's good that we can yell at each other, you can get it out of your system, and move on. I don't think I could be so honest with people who I have a purely business relationship with," said Raimondi.
Later in a call from an AMFAR event in Toronto, Wood took a moment to toast New York City.
"New York is one of those rare cities, where it doesn't matter what your background is, doesn't matter if you're rich or poor, of if you know anybody when you get here, so much more matters about your personality and really, how interesting you are and more so, how interested you are in the people around you," Wood said.
Calling all HuffPost superfans!
Sign up for membership to become a founding member and help shape HuffPost's next chapter