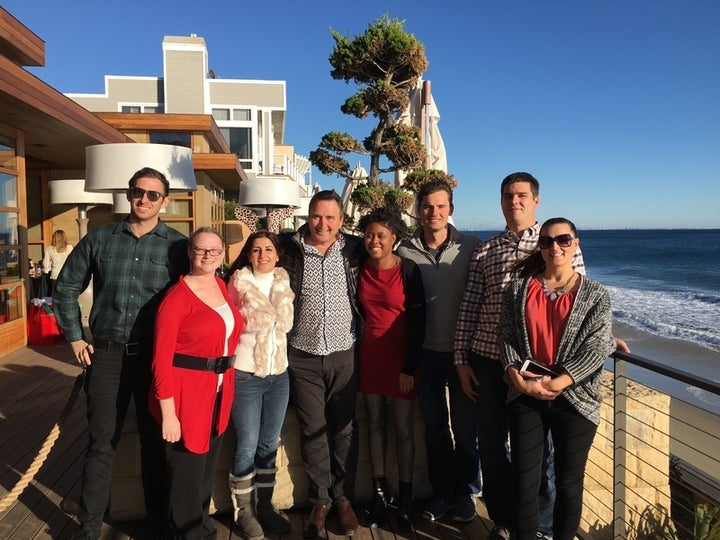 Social selling is gaining prominence every single day, especially with companies trying to win enterprise deals. However, less than a decade back most people had very little idea about how to use social media as a powerful sales tool. Our social selling skills were limited to using LinkedIn to send invites to as many prospects as possible.
But a few people recognized the huge potential - one of them being Jon Ferrara. Prior to founding Nimble, Jon had co-founded the award winning customer management product GoldMine.
Jon realized that social media would become a major sales tool and began building Nimble, a CRM centered around the social approach.
Nimble is now backed by eminent investors like Imagen Capital Partners, Mark Cuban's Radical Investments, Indicator Ventures + individual angel investors including Jason Calacanis, Howard Lindzon and Don Dodge and has a key strategic partnership with Microsoft.
In this article, Jon shares how he recognized the need to build a social-centric CRM, and the key strategies Nimble used to grow to one of the most popular social selling tools.
Nimble was one of the first CRMs to be built around a social selling approach. How did you recognize the need for a social centric approach in a CRM?
After using social media back in 2008, '09, and '10, I saw how social media was going to change the way we play, buy, work and sell. So I started looking at contact management tools and quickly realized that available systems were glorified CRMs that weren't social. In fact, they weren't even about helping you cultivate relationships, which is the heart of social selling.
Available contact management systems were about reporting, and they were broken. People were abandoning CRM projects in droves, because they required people to spend far too much time logging what they knew and what they did, rather than helping them sell. So I set out to build a contact management system that works for you, instead of you having to work for it.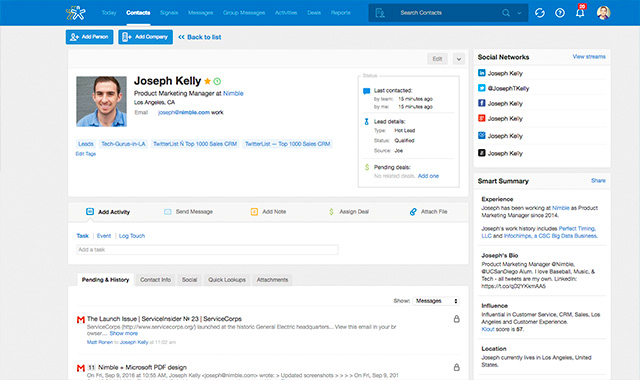 How did you validate your product market fit?
With most CRMs migrating upstream, and no CRMs incorporating social, I knew there was a significant opportunity, in particular in the SMB space.
We launched Nimble in 2011 after Beta testing the product extensively with people in my personal and professional network, and we have been innovating and iterating ever since.
A key validation metric is that over 100,000 people have subscribed to Nimble since we've started without any significant marketing or paid advertising. Each release takes us a step closer to fulfilling my vision of Nimble becoming the world's simple, smart and social contact manager for individuals and teams.
Who is your ideal customer persona?
Our ideal customer is any professional or business team that values trusted relationships and the results they create. Most of our users are salespeople, sales development teams, social media marketers, PR, BizDev and marketing/communications professionals.
Nimble is used by teams of up to 25 people, working in any sized company.
What growth strategies did you use in your early years?
People sell what they know, and they know what they use. We started building the Nimble brand by identifying the key influencers of our core prospects in and around the areas of promise of Nimble, which are primarily thought leaders in sales, marketing and social media.
Once we identified influencers we then shared their content that inspired us and hashtagged it appropriately with #sales, #marketing, #social and attributing their name. In many cases the content sharing initiated a conversation with the influencers where we built a relationship and offered them a license to use Nimble to apply their passions and grow their business better, smarter, faster. In the end the influencers became friends, Nimble customers and evangelists.
What kind of resistance did you have from the market in the early years when the awareness about social selling was not as high as it is now? How did you overcome that resistance?
As recently as today, and certainly in 2010, salespeople didn't understand the opportunity to use social media for prospecting or for nurturing leads into relationships and relationships into sales. The space was rapidly evolving, and even those who recognized the power of social media to sell didn't know how to do it well.
So we partnered with social sales thought leaders like Jamie Shanks, Kurt Shaver and Jeff Korhan who were pioneering strategies to use social media as part of the sales process .
What growth strategies that you learned from your Goldmine days were you able to successfully apply in growing Nimble?
I founded Goldmine in Canoga Park in 1989 to help me manage relationships and work in sales teams more effectively. Over the next decade, we turned $5,000 into a $200M empire, without spending a dime of venture capital.
At that time, Novell's NetWare dominated the network operating system market, so we made the decision to build the first networkable contact management product to run on top of it. Rather than trying to sell Goldmine ourselves, or trying to create a market by advertising -- which we didn't have the money to do -- we went to market by cold calling Novell's resellers and solution partners.
When Microsoft entered the operating system market with its vast marketing machine and channel partner network, we switched focus to the Microsoft partner community. At the time, our customers told us that although Goldmine was built on a database that was affordable and easy, it didn't scale to millions of records or hundreds of users. They asked us to integrate with NT Server, SQL Server, and Exchange Server to convert Goldmine into an enterprise-ready, scalable solution, which we did.
In addition to adding $10 per sale for resellers, Goldmine became the number one ISV in NT Server, SQL Server, and Exchange. It wasn't long before we had Steve Ballmer doing his monkey dance at our annual conferences.
Today, by partnering with Microsoft and its partner channel, Nimble is following many of the same plays we used to grow GoldMine into a $200M enterprise.
Nimble signing a global reseller program with Microsoft and our recent acceptance into Microsoft's Seattle Accelerator program gives us unprecedented access to top Microsoft partners and customers, powerful business connections, and technical knowledge.
Which growth strategies did not work for you?
We do not use traditional marketing or advertising. We decided early on to focus our efforts on building fishing poles. We left it to others to sell Goldmine, bundled with services and first party products.
How do you see the future of social selling evolving? How do you think will CRM tools evolve as a result of that?
So-called social selling has evolved into the way selling is done. The more processes and systems become increasingly digitized and AI becomes more prominent, the more people need to be human, authentic, and engaging when cultivating relationships online.
Future CRM tools work for you, giving you more time to build your personal brand and make meaningful connections by spending less time on menial tasks like data entry. It unifies contacts across the entire company, including those currently locked up specialized departmental CRMs. It automatically generates enriched contact and company records that would otherwise require significant time and effort to compile. It helps you discover missing email, phone number and address data; and it brings social business insights to you, everywhere you communicate with prospective and current clients.
Conclusion:
At it's core, sales is about relationships. Social media gives people the information and channels they need to build and nurture those relationships. Nimble gained immense popularity because it recognized the vast potential of social selling - several years before it became a buzzword.
Peter is Co-Founder SuccessIsWhat, a blog on leadership and productivity. He is also Co-Founder of SuccessIsWhat Marketing, a content marketing firm for startups and small businesses. His work has appeared in Huffington Post, Fast Company, Lifehacker and several other top blogs
Popular in the Community