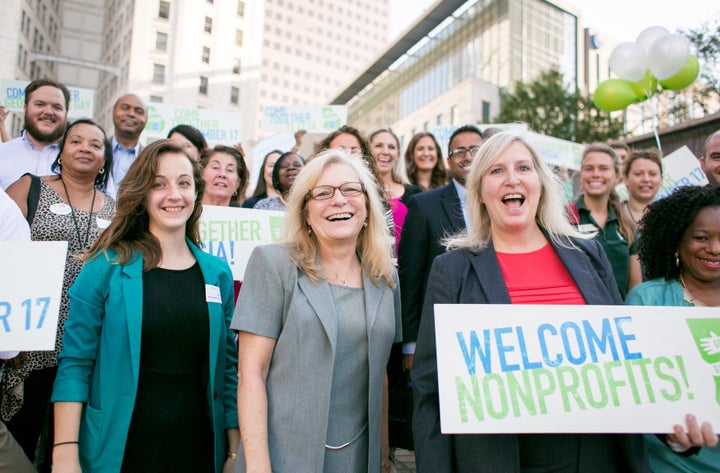 Whether we realize it or not, each us of lives our lives in nonprofits.
You or your child may have been born in a nonprofit hospital, attended a nonprofit daycare and benefitted from after-school programs run by nonprofits like Boys & Girls Clubs of America. Here in Georgia, where I'm proud to serve as president of the Georgia Center for Nonprofits (GCN), an organization called Quality Care for Children has helped establish statewide standards for childcare and launched a free app showing parents the best local options for their kids. Another nonprofit, Camp Twin Lakes, offers full-featured, free-to-attend camps around the state for children with medical conditions that would otherwise prevent them from getting the traditional summertime experience. Enduring Hearts, meanwhile, supports pediatric heart transplant patients, while FOCUS + Fragile Kids provides year-round community events and needed equipment for children with developmental disabilities.
In your free time, you might run a trail maintained by a local "friends of the park" group. The PATH Foundation sets up and maintains hundreds of such trails throughout Georgia, while the Atlanta BeltLine is busy implementing one of the most ambitious urban development projects in the country, centered around a 22-mile historic rail corridor encircling the city. That one nonprofit effort has drawn together a massive partnership of city agencies, private companies and fellow nonprofits to change the way people live, work and play in Atlanta; it's also positioning dozens of underserved neighborhoods to welcome critical new development.
"If you attend art museums and performances, you should know that almost all of them are nonprofits."
If you attend art museums and performances, you should know almost all of them are nonprofits. In Atlanta, that includes everything from the madcap improv comedy of Dad's Garage Theatre, to the forward-thinking dramatic work of Living Colors Theatre Company, to The Atlanta Opera, Shakespeare Tavern Playhouse and other groups keeping performing arts' oldest traditions alive. It also includes pioneering institutions like the Morris Museum of Art in Augusta, the first to dedicate itself to work from the South, and the young but rapidly growing WonderRoot, which does more than seems possible to support art of all kinds: instruction for kids and adults, a local art subscription service, public art projects and even an arts-based initiative helping kids caught in the justice system earn a clean record.
And of course, following disasters like Hurricanes Harvey and Irma, where would we be without the emergency relief and long-term rebuilding work provided by nonprofits? A long list of Georgia nonprofits are currently helping meet the needs of those who have lost homes, property and more ― here in Georgia as well as in Texas, Louisiana, Florida and the Caribbean ― including Angel Flight Soars, the Georgia Food Bank Association, Friends of Disabled Adults and Children, Hosea Feed the Hungry, the Salvation Army of Camden County, the United Ways of Greater Atlanta and Coastal Georgia, and several nationally and internationally focused organizations birthed here in the state: Habitat for Humanity, ToolBank USA, MedShare and the CDC Foundation.
And there are far more than these. Legislation and civic engagement are being driven by activist and outreach groups alike, like Atlanta's world-class Center for Civic and Human Rights, calling on tens of thousands of visitors every year to share America's commitment to global human rights. The Georgia Innocence Project is not just implementing justice system reform on a case-by-case basis. It has engaged a nationwide audience by partnering with the "Undisclosed" podcast to produce a hugely popular multi-episode story about a client who was wrongfully sentenced to life in prison at age 19. Environmental groups like the Chattahoochee Waterkeepers and Trees Atlanta keep our natural resources clean, abundant, safe and accessible for everyone. Still others serve the homeless, deliver meals and care to the homebound, create job opportunities for the unemployed ― and on and on. Efforts like these create positive change not only in our local community, in the here and now, but across the country and throughout the world, spanning generations.
Another reason to support nonprofits? They make for thriving economies. According to research from the National Center for Charitable Statistics and others, the nonprofit sector employs upward of 14 million people nationwide. With more than 37,000 organizations, Georgia contains a healthy share of those employees, all of whom have direct and indirect economic impacts on the state's economy. Resourceful by necessity, nonprofits also drive innovation and attract talent by empowering them to do amazing things every day for their communities.
Nonprofits are not a nicety. They are essential. Supporting them is also essential, which is why a growing group of corporations, nonprofits, foundations and media outlets came together with GCN to create Georgia Gives Day in 2012, an annual event which has raised more than $13 million from more than 73,000 individual donations. This year, we're proud to announce a rebrand in partnership with the global giving movement that's become the second-biggest day of giving nationwide: GAgives on #GivingTuesday, coming up on November 28, is set to break every state record for giving in one 24-hour period.
Living in Georgia? You can find out how to give directly on Nov. 28, or become a fundraiser yourself, by visiting GAgives.org. Outside Georgia? Be sure to visit the #GivingTuesday site to find opportunities for supporting nonprofits in your area and help kick off the end-of-year giving season right.
Popular in the Community