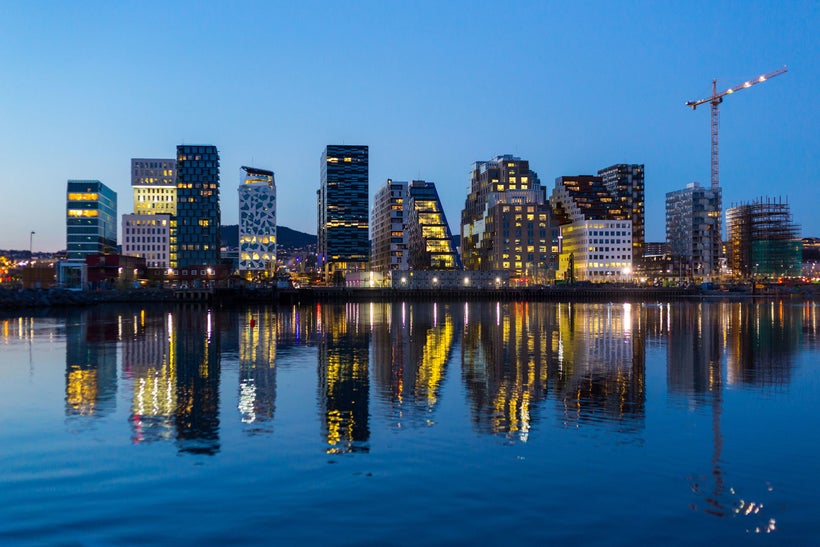 As part of my new series titled the "Exodus of Silicon Valley", i'll explore startup cities outside of Silicon Valley, the companies and founders proving life outside of SV is possible, and the challenges and benefits of setting up shop outside of the infamous startup capital of the world.
Diving into the first article of this series, we'll take a look at Norway to learn how founders there are leading the transition from an oil country to a startup country in record time.
Exodus of Silicon Valley: Oslo, Norway
Nordic countries currently account for 50% of the European startups that exceed the $1bn valuation, also known as 'unicorns,' which include companies like Spotify and Skype. Last year, the Northern countries saw a record-breaking year for investment with 78 private investments totaling $196.3 million.
This is indicative of a supportive startup ecosystem, availability of financing and an overall ease of doing business. The investor networks have become more organized and the tax and regulatory incentives have continued to increase interest in the Nordic startup scene.
Of the eight countries that make up the Nordic region, Norway is set to compete with Sweden as the fastest growing startup ecosystem in the area. Many attributed this to lower oil prices, stating that since the economy could no longer rely on oil, they had to bet on other industries and foster innovation.
In 2000, oil production was double in Norway what it is today. "This has forced people to do other things," as Rolf Assev, of Oslo incubator/accelerator StartupLab, told Red Herring. "We've seen a tremendous growth in the quality of people starting startups here. Ten years ago most innovation in Norway was done by ten people sitting in an R&D office. Now (corporates) have realized they have to acquire, learn and hire from startups, which is very positive."
Given the late blooming of this startup ecosystem, the infrastructure is also very different than that of a Silicon Valley-style workflow.
"Norwegian companies have a much flatter structure than that of the US," explains Anders Lassen, CEO and cofounder of Fuse, a UX tool suite for mobile app designers and developers. "A flat structure makes it easier for employees to voice their ideas and opinions across the entire company, up to, and including the management team."
As opposed to an agile or waterfall workflow, a flat organization (also known as a horizontal organization) has few or no levels of middle management between staff and executives. In such a structure, the number of people directly supervised by each manager is large, and the number of people in the chain of command above anyone is small.
"We often see that the C-level people are actively involved with product development, all the way down to writing production code," says Lassen. "This can be a benefit in highly technical products as it ensures continuity between the overall vision and the implementation. It can also be a great motivator for the employees and keep them engaged over time."
In the fresh startup culture that is Norway, this 'all hands on deck' work style is vital to get things done correctly on the first few tries. "Some would say the downside to this model is time loss on decision-making, but we see it as an infrastructure that fosters collaboration and feedback," says Lassen.
This sense of top-to-bottom collaborative culture is also why incubators and accelerators are skyrocketing in the region. As Oslo Business Region puts it, "Collaboration is our way of competing, and we see various coworking and innovation hubs popping up all over" as a result. And it's not just collaboration throughout an organization or close geographic area, it's collaboration with cities like Austin and London that give Nordic startups global launch pads.
We can't think about startup culture without considering a major engine in the machine – investors. Norway accounts for 10.8% of the total funding amount raised in the Nordic countries with $109.5M.
The Nordics stand for 2% of the world's GDP but 9% of the global billion-dollar exits. In highlighting the difference in Norway's investor culture, Lassen says he's noticed that Norwegian investors seem more patient when it comes to financial outcomes. "They appear to be more focused on the vision of a company, the composition and qualifications of the team, and feel relatively more comfortable making long-term investments. That's not to say they're not focused on actionable metrics, but my takeaway is that they're more interested in being actively involved in building a company and giving it time and space to flourish."
The flat organizational structure and long-term vision of VCs will make for an exciting future in Norwegian startup culture. As the region grows as a competitor to Sweden, Berlin, Stockholm and other leading European cities, it will be interesting to follow how company culture plays a role.
REAL LIFE. REAL NEWS. REAL VOICES.
Help us tell more of the stories that matter from voices that too often remain unheard.
This post was published on the now-closed HuffPost Contributor platform. Contributors control their own work and posted freely to our site. If you need to flag this entry as abusive,
send us an email
.