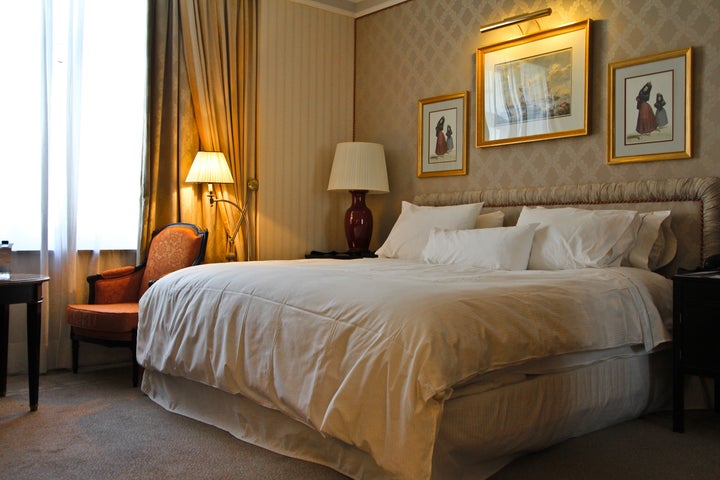 There's no doubt that hotel employees have seen it all, from guests who stiff the bellmen to Charlie Sheen-esque hotel room rampages. It's safe to assume they're sick of both the typical and atypical shenanigans that occur, so we thought we'd dole out some advice on behalf of weary hotel employees across the world.
Do NOT trash the room like a rock star
We know it's liberating to be at a hotel: someone else makes the bed, the bathroom is ridiculously clean and that minibar is practically calling your name. It's easy to feel like a rock star, but chances are you're not Keith Richards, so don't tear up the room like you are. Even if you can bankroll the damages, an out-of-control party that culminates in a chair being thrown out the window and the cops being called (or worse: Mike Tyson's tiger in the bathroom) is a sure-fire way to be asked never to return.
Do NOT stiff the bellmen and housekeepers
Traveling is expensive. The hotel stay, the transportation, the food, the sightseeing -- it can add up pretty quickly, bleeding your bank account of months of dedicated saving. We know it hurts, but the bellmen and housekeepers' tips aren't the place to recoup expenses. The bellmen are nice enough to lug your suitcases to your room, and it's not like your Heavenly bed is making itself every day: Housekeepers put forth a lot of effort to get your room looking spic and span. In the grand scheme of things, a few bucks here and there to show your gratitude for the hotel staff's hard work isn't too much to ask.
Do NOT answer the door for room service in your underwear
Vacation is the time to let loose, kick off your shoes and unleash your inhibitions. And while we totally support forgoing day-to-day responsibilities like checking emails, returning phone calls and working out, when you're staying at a hotel, there's one decorum that must be observed: putting on pants to answer the door for room service. Sure, it's your prerogative if you want to lounge in your room all evening, watching a Lifetime marathon in your underwear, but when room service comes knocking at your door, taking two seconds to throw on a pair of sweats may spare your waiter years of therapy.
Do NOT help yourself to a five-finger discount
Who doesn't love luxe amenities? Plush bathrobes, 300-thread count Egyptian cotton sheets and top-of-the-line blowdryers can really make you feel like you're living the high life. But when it comes time to depart, the harsh light of reality sets in: it's back to your tattered robe, regular old cotton sheets and run-down blowdryer. All of a sudden temptation strikes, and you start convincing yourself that no one would notice if you snagged a little souvenir to commemorate your stay. Heed our warning: Not only will your five-fingered discount show up on your credit card bill two fold, but you'll also land yourself a spot on the hotel's blacklist.
Support HuffPost
A No-B.S. Guide To Life
Related
Popular in the Community