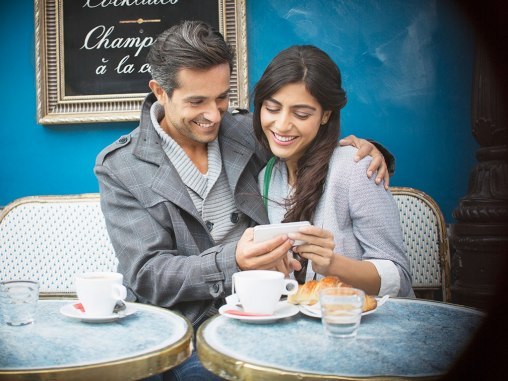 How to greet someone:
Start off on the right foot by greeting people with "bonjour" (hello). It's not only polite to do when you're introduced directly to someone, but also when you go into a shop, when you're first approached by a waiter at a restaurant, even when entering an elevator. While this may seem a little much, it's an important way to ingratiate yourself with the locals -- and, in return, you'll receive much better service or attention.
In the evening, you should technically say "bonsoir" (good evening), though the start time of saying this is somewhat fuzzy. It's typically said as evening starts to fall, but in summer that ends up being rather late. Still, some others start saying bonsoir as soon as they leave work; a safe bet is to begin using that salutation around 7 p.m. If you say bonjour during the evening, it's better than nothing, but you might be quickly tagged as a foreigner.
Do's and Don't's:
Do exchange la bise (a light kiss on each cheek) in social situations between women; it's also okay between men and women.
Do not greet another man with a kiss if you're a man; shake hands instead. Men normally don't give each other la bise unless they are very, very good friends or family; even then it's rare.
Do let the French person take the lead with cheek kissing, in order to avoid awkwardly misplaced lips or a shuffle of heads. You should also follow suit with the number of kisses exchanged. The general norm in Paris calls for just one kiss on each cheek, but some groups of friends have their own customs. Additionally, some regions around France follow different rules.
Do shake hands when being introduced to a formal business contact, shop owner, or concierge, unless otherwise approached by them to give you la bise.
What to wear:
To fit in with locals, it's best to leave behind any sweatpants, baseball caps, flip-flops and white sneakers. Parisians are generally quite stylish, but that doesn't necessarily mean extravagant haute couture outfits -- instead, think casual chic. You'll likely see Parisian women wearing some combinations of skinny jeans, an up-and-coming designer top, Converse, or ballerina flats. Parisians also love their trenchcoats (which they call le trench) and blazers, and wearing a long scarf will also help you blend in.
Fanny-packs or large colorful backpacks are a dead giveaway for tourists; if the latter is necessary, keep it more on the discreet side. Another option is to pick up a very Parisian Longchamp bag, a nice leather purse, or a chic bag designed for men. Lastly, while you might be tempted to purchase a beret while you're here, unless you're planning on playing petanque with elderly gentleman, you should save it for back home.

See Also: 15 Movies That Will Inspire You to Go to Paris

How to walk and talk:
Parisians walk with a purpose, but that doesn't equate to a race through the streets; rather, they walk at a steady but determined pace. It's good form to walk on the right side of the sidewalk (this also applies to escalators), but on busy streets it can be a bit of a free-for-all. If you need to look at your map, "pull over" and consult it to the side of the road instead of in the middle of the sidewalk: This will save you from the evil stares, huffs or nudges of your fellow pedestrians.
Contrary to some stereotypes of Mediterraneans, Parisians are very soft speakers. Speaking loudly in public is frowned upon, but it can also make you stand out as a tourist and thus lead to unwanted attention, particularly from pickpockets.

Learning the local language:
It's polite to learn a few key phrases in French; this will earn you the respect of locals, and help you in the end. As mentioned above, the friendly bonjour is essential. Other key expressions include au revoir (good bye), merci (thank you), s'il vous plait (please) and l'addition (the bill). One thing not to do: Hail your waiter by saying "garçon"! If anything, it will likely encourage a waiter to take his sweet time in actually bringing you the bill.
More from Condé Nast Traveler:
PHOTO: BILL CHEYROU/ALAMY
Related