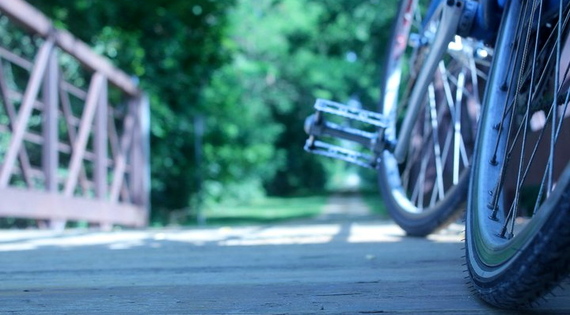 For months, I've envisioned my Book Tour by Bike only in fuzzy, lighthearted montage. It all begins with me riding (downhill, with a tailwind) on a lonely road. The camera cuts to a gas station, where I'm talking with a gruff-but-charming old-timer, then flashes to the Duluth bookstore or Madison library where I'm fielding witty, engaging questions (wittily, engagingly). Finally, as the music fades, I'm lying under the stars on a rickety dock, looking spent and full and pleased as punch that I've chosen to bike my book tour.
I've been enjoying this montage. Or better said, I had been. Because yesterday, I woke and checked the calendar and realized the tour starts in three days. And that realization sparked many mini-realizations, including: (a) I should maybe pack; (b) I have no idea where I'm sleeping after my reading in Mercer; (c) it's been months since I rode more than thirty miles in a day.
It was time, I decided, to get organized. So I made a list, checked off the easy stuff: I emailed some Mercervians to ask after backyards and couches. I loaded my panniers. And then I took a ten-mile training ride (read: beer run) to the local microbrewery. On the way there, it was grade-A Montage Material: light tailwind, popcorn clouds, fresh legs. But then I had two beers on a sun-soaked patio. And, well, the ride back wasn't so dreamy. I was half-drunk and sunburnt. Wind was pounding my eyeballs and left eardrum. And with every pedal stroke, I became more aware that I'd eaten little since the previous night's bratwurst. By the time I got home and dropped the bike and faceplanted into bed, I was remembering, "Oh, right -- this is gonna be hard."
You'd think a guy who has taken many bike tours -- who has written a book about one of them -- might remember that riding a heavy bike, over distance, does not feel like a montage.
You'd think I'd remember that.
Anyway. I've now snapped out of my trance and begun considering the varied, unsexy moments that feature in any bike trip. And I've decided to share a bit about my varied, unsexy preparation for this one: this Book Tour by Bike. To retain some semblance of authority, I'll begin by boasting about stuff I understand (the bike), then mumble into murkier territory (the gear) with the hope that you'll stop listening by the time I get to the part I know nothing about (book tour).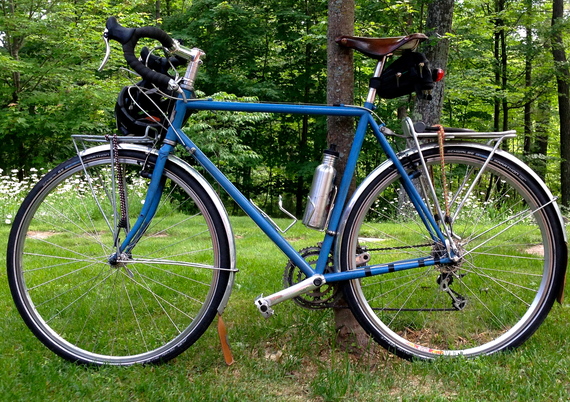 The bike's name is Rudolph, and he's a Soma Double Cross. Four years ago, I bought his frame from the Community Cycling Center. I got him powder-coated at Brooker Enterprises, then built the rest up with help from some gifted, patient friends. Rudolph has been on three long tours and countless shorter ones. Including work commutes and grocery store runs, I've ridden him over 20,000 miles. He's a good bike. And he's in fine fettle. I just rebuilt both wheels, replaced the chain and cassette, put on new handlebars (the old, wider ones made me feel like I was driving a yacht), and installed some gorgeous mudflaps made by the most gifted and patient of my friends.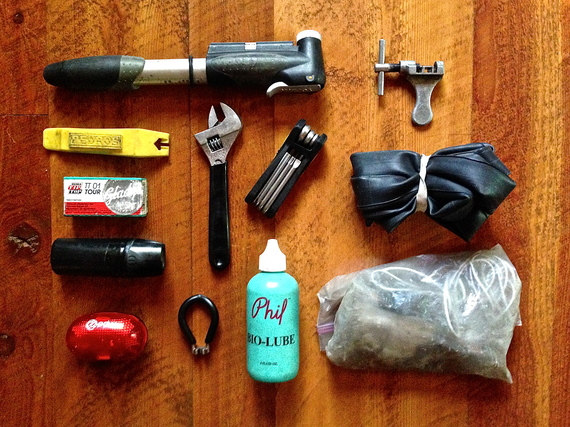 I'm pretty confident Rudolph will hold up out there. But just in case, I've brought some tools. I've got front and rear lights (not tools, technically, but tool-like in shape and size), my patch kit and pump and tire levers and, in case I run over a cluster bomb and/or get too lazy to glue on patches, a spare tube. I'll also carry a multi-tool and adjustable wrench, for brake/fender/random adjustments, some chain lube, a spoke wrench, and my Filthy Bag of Random Crap. This is key. For any tour, you must fill a plastic bag with bolts, washers, chain links and lots of other useful-seeming stuff. You will not need this stuff. As some kind of universal law, you'll only need the Crap you didn't pack. Still, bring the Bag. It'll help you build character. Or something.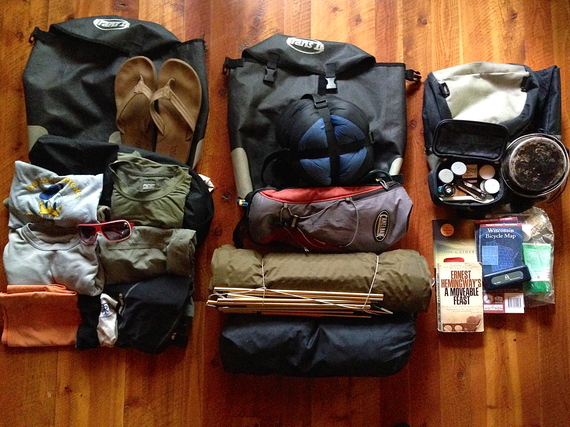 While bike touring, I also need to do things like sleep and eat and not be naked. So, in one pannier I've packed clothes, including the practical -- padded shorts, long underwear, moisture-wicking socks and shirt -- and the less practical -- jean shorts, Donald Duck tee, freeboxed sunglasses. In another, I've got my camping gear: tent and fly and poles, sleeping pad and bag. And in one of the front panniers, I've loaded my cookware (spice kit, utensils, the crappy tinware I've used for a decade) as well as toiletries, a harmonica, some maps I haven't read, and two books: Hemingway's A Moveable Feast and Anne Enright's The Gathering. The final pannier, pictured below, will hold my book-related gear.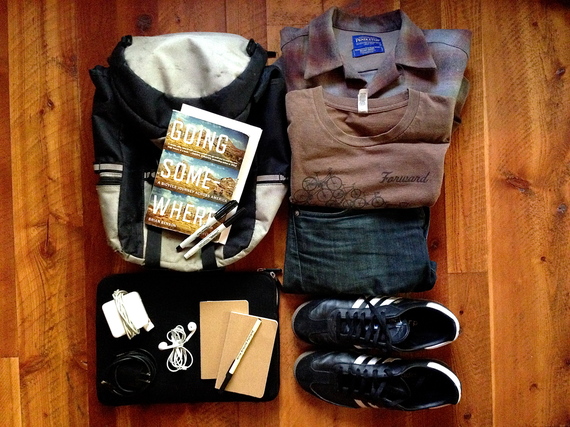 This is where things get fuzzy. I've never done a Book Tour by Bike. I've never done a Book Tour by Anything. Sure, I've given three readings, but they've been in my hometowns (Land O' Lakes, Wisconsin and Portland, Oregon). All I've got to go with is my gut. And my gut has said: pack light.
I've got a copy of Going Somewhere, bookmarked by reading notes, and some Sharpies for signing. Like my hero, Calvin, I'll be wearing the same outfit every day: Pendleton flannel and Wisconsin Bike Fed t-shirt, old jeans and new Sambas. And between readings, I'll compose blogposts with help from a laptop, a spacephone and two journals in which I'll jot down notes from the road.
Speaking of: along the way, I'll be sharing lots of stories, sights, sounds and other things that start with "s." I hope you'll follow my posts on this blog, my way-shorter posts on Twitter, and/or my photo feed on Instagram. If you or anyone you know lives in the Upper Midwest and wants to check out a reading, the schedule's here. Finally, for a compressed version of the above pack list, check out this wondrous little postcard made by Amelia Greenhall and Elly Blue. For first-time bike tourists, it's indispensable.
And now if you'll excuse me, I need to go take a long bike ride.