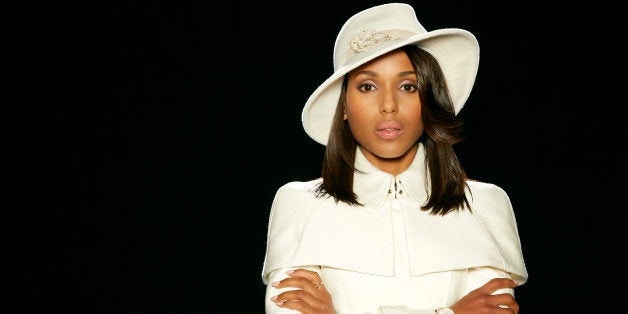 Kerry Washington's InStyle cover is set to hit stores Friday, but the yet to be released issue has already generated quite a bit of debate. Washington's visibly lighter appearance on the cover has upset a number of super fans, even prompting a response from the magazine and Washington herself.
But in the pages behind the controversial cover, Washington gives her take on her character's influence on women.
In the issue, the 38-year-old actress explains to InStyle the differences between her personal red-carpet fashion choices to that of Olivia Pope's. Over the years, Washington's award-show wardrobe has consisted of daring colors, patterns and cuts. Most notably a crop top ensemble she donned while pregnant for the 2014 Screen Actors Guild Awards. As for Pope, Washington said, she "sticks to a more neutral palette in pastels by designers like Dior, Ferragamo and Escada." Fashion choices, which have become the inspiration for The Limited's 'Scandal' collection.
"Olivia's had a huge influence" Washington continued. In fact, she explained, "After the first couple of episodes aired, people started posting on Twitter things like 'I have a job interview today, and I'm trying to dress like Olivia Pope.'" And why wouldn't women want to channel Olivia Pope's fierce style to help land that prospective job? Pope is known for her attention commanding designer power suits, classic cardigans and detailed blouses. Her wardrobe has become the subject of articles, Pinterest boards, and blogs viewed by women who want to duplicate her flawless style in their line of work.
The considerable amount of interest shown by fans in Pope's wardrobe continues as Washington once again teams up with The Limited for the Spring "Scandal" collection. But it's not just her ensembles the young women, who tune in every Thursday with their glass of wine in hand, admire. It's the confidence, assertiveness and strength she projects.
Scandal's creator Shonda Rhimes has been credited for "breaking barriers" for casting the first black female to play a lead role on network television in 40 years. Washington plays a well-educated, complex, career-driven political fixer that defies race and gender stereotypes.
Some question if the show's success is an indicator that we are in a post-racial television era. But the "Olivia Pope Affect" doesn't stop there. The character has become a cultural icon and role model for women of all color. In a time where women are the breadwinners in nearly half of American households and 61% of millennial women aspire to one day hold a managerial position, Pope has become the quintessential career women.
Women want to dress like her, have her job and "handle" life's everyday challenges just like her. And it wasn't limited to the first couple of episodes either. Young women regularly post on social media their desires to channel Pope for prospective job interviews or in their current roles.
Pope's impeccable problem solving skills, assertiveness and unapologetic demeanor are traits that attribute to her success as a fixer. However, these qualities are typically not viewed positively when displayed by women. Yet, she is revered by those around her. The absence of the stigmas, associated with women in leadership, from the show allows ambitious female viewers to embrace their own leadership traits without the fear of sacrificing their likeability.
Over the years, women have made considerable progress in the workplace but they still don't compare when it comes to holding top managerial positions. Yes she is fictional, but for 60-minutes out of the week Pope inspires millions, who admire her ability to take command and yield fast result all while remaining composed, to do the same in their careers.
The character Olivia Pope is not without flaws. Her affair with a married man who happens to be the President of the United States is questionable at the least. But when it comes to her career, the show's protagonist is driven, efficient and powerful with achievements ranging from CEO of Pope & Associates to being a former White House advisor. So despite the moral gray area that is her love life, Pope is a transformative character that has played a significant role in defying traditional depictions of women on network television.