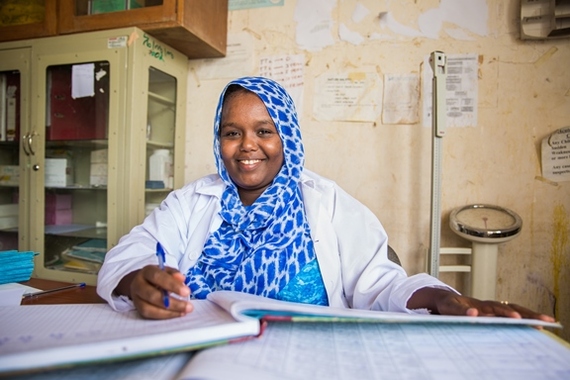 Whenever I visit Ethiopia I have to recalibrate my definition of "rural" and "remote." On my most recent trip I traveled with John Snow Inc.'s Zenaw Adam to the Udeledaba kebele (the smallest administrative unit of Ethiopia usually less than 5,000 people) situated within the Afar region of northeastern Ethiopia. We went to see the work he and his colleagues are doing to improve immunization coverage in the region. After flying to Semera, the tiny capital of Afar, and then driving 3.5 hours, we arrived at a tiny health post serving a small population of largely nomadic families. Along the entire drive in this harsh and sparsely populated landscape, I couldn't recall passing a settlement larger than about 50 people.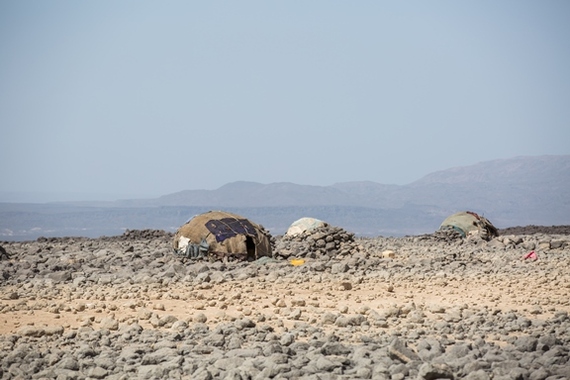 "Wow, this must be one of the most remote places you work," I commented to Zenaw. "Not really," he said. "Some of our health posts are a day's walk or more from the nearest road."
Upon arrival, I met a highly skilled and committed frontline health worker named Humayse Ashab. He serves his community of about 5,000 people admirably, treating common ailments and doing his best to protect people against preventable disease. His supplies are limited—they consist primarily of first aid products, antibiotics, and treatments for malaria and skin conditions—and his basic tools include rapid diagnostic tests for malaria and a stethoscope, which he uses skillfully to diagnose pneumonia cases. When I asked him what pneumonia sounds like, he reached for a piece of paper and crinkled it, describing these 'crackles' as one of the common sounds found in the lungs of pneumonia patients.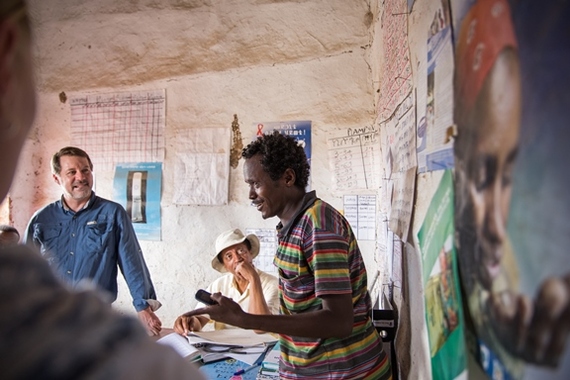 For all his enthusiasm and competence, Humayse is limited in what he can provide. His health post has no electricity, and he has no transportation beyond his own two feet. In a community hard hit by diseases like maternal mortality, malaria, tuberculosis, HIV/AIDS, and childhood pneumonia and diarrhea—all of which are compounded by acute malnutrition and lack of access to clean water and sanitation—the health system limitations down to Humayse's heath post further complicate his ability to meet the community's needs.
The lack of refrigeration capacity at Humayse's health post—and the requirement that vaccines must be kept cold to maintain their potency—mean that vaccines can't be stocked locally and must be brought to the post for this purpose. With these limitations in mind, vaccine outreach campaigns where health care workers bring vaccines to the hardest-to-reach locations in this region on a set date have demonstrated success as a way to get everyone in a small population vaccinated in a single day.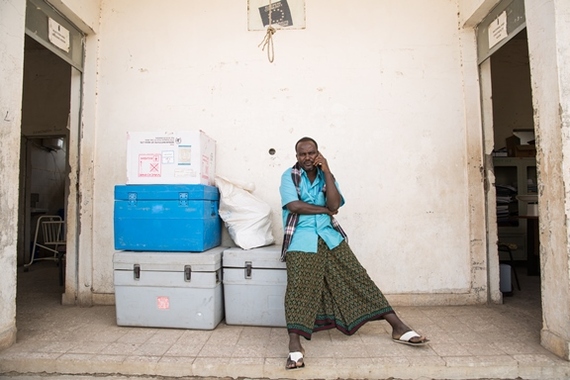 Humayse's daily experiences, and the environment in Afar, are stark reminders of what it will take to reach "last-mile" populations in Ethiopia and elsewhere with more reliable health services. In some cases, innovative technologies—like cooler equipment that works reliably on solar power or ice packs, or improved 'thermostable' vaccines that don't require constant refrigeration—could help overcome some of the challenges of keeping vaccines readily available.
But innovative tools alone won't deliver the health services remote communities need. Health care workers like Humayse need mechanisms to accurately track which women are pregnant, when children are born, and when they are due for vaccines to employ a system for follow up to administer doses on schedule. The data they record on local vaccine stock and usage must flow reliably to supervisors, and continue up through the supply chain. And transport and distribution managers need to turn those data into 'on time and in full' deliveries of needed vaccines.
Without this attention to detail, innovations can't deliver the fullest impact. I'm hopeful about what can be done for communities in Afar, but also under no illusions as to what it requires. First and foremost, it starts with strong political will—and the Government of Ethiopia continues to demonstrate its commitment to equitable delivery of vaccines using a variety of different approaches.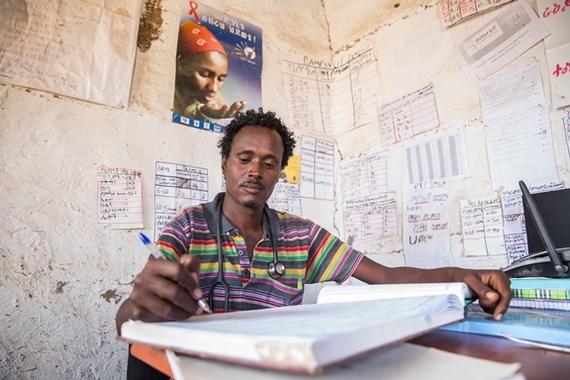 Their Woreda Transformation Program and internationally-praised Health Extension Program are both efforts designed to reach the people of Ethiopia with improved health services. In Afar, the government's partnership with John Snow Inc., with its focus on quality improvement, is designed to help the government achieve its commitment to quality and equity by engaging health care workers and the communities they serve to ensure that every child, even in the most remote areas, is immunized.
Ethiopia's leadership deserves credit for recognizing the importance of serving all their communities, regardless of geographic challenges, and for continuing to innovate and experiment with new ways to improve health outcomes for every child, everywhere.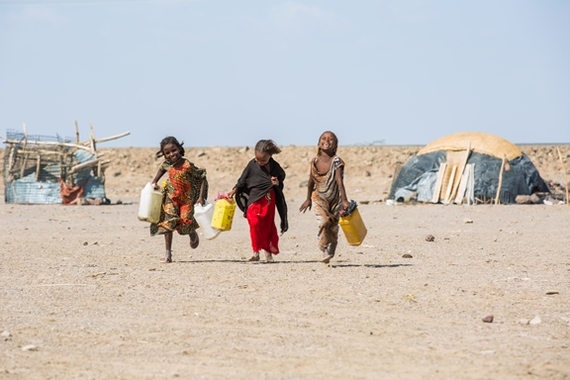 Related
Popular in the Community