"I LOVE hot yoga! Not to mention it releases dangerous toxins that can make me bloat if I'm not careful" says Gabriele. Gabriel, whose name has been changed to protect his identity, is on his way home to pack for a European trip with his older lover and his wife. "Being his personal assistant gives me access to the best money can buy! I shop for the 3 of us!"
Gabriele says that he and his lover's wife are total opposites in every way possible. "I, as you can see, am a tall slender, size 4 in women's clothing thank you very much, deliciously androgynous male who's up for whatever Daddy wants to do. His wife? Hmm, she's a bit of a bore. Not adventurous at all!" says Gabriele flicking his imaginary long hair while in a Tom Ford custom suit as his 3 $10k a piece Cartier Love bracelets clink together.
Gabriele says that he met his lover when he was hired to be his Personal Assistant. His new boss was the CEO of one of the largest brokerage firms in the US and soon Gabriele was assisting him in all things kinky. "Poor thing, his wife is really lazy! She won't try new things and to keep a marriage alive you have to spice it up honey and that's where I come in, I'm the spice! But can I tell you? I'm glad she's NOT freaky! If she was, I wouldn't have a job!"
Gabriele says that his lovers' wife knows about him and she doesn't mind, now. "We share. It's that simple! I admit though, she didn't like me much when we first met, she felt threatened. But once she was comfortable with the idea that I was hired to do everything she didn't want to do, she was ok. Apparently, there were some struggles in their marriage as far as certain fetishes he wanted to try and she wasn't interested in. So for the past year, we work together to keep him happy and when I tell you it's work honey, I mean WE WORK!" says Gabriele snapping his neck and left index finger. He also says that the wife and he call each other in regards to what they will be wearing or where they'll all be going like a couple of girlfriends would. "She was used to having her Stylist bring things to the house for her to try on, not anymore! I get her out, we shop and have lunch, we're actually really good friends."
Gabriele says that his lover was intrigued by him from the moment they met and demanded he get a passport as it was evident that he would be on call 24-7. He also says that the first time he traveled with him and his wife was last year to Italy where his wife had standing appointments with several designers. It was within those appointments that he was gifted with his first of many couture gowns. "Yes darling, I do drag! Remember I told you she and I are opposites. She's all of 5 feet tall and being 6 ft tall makes EVERYTHING look better on me! She insisted I get them! BUT, I am NEVER in drag when she is with us! It's important that people see me as his personal assistant, not his lover! I don't have to be reminded to keep our secret, I just look at my bank account and that's enough for me lock it up and throw away the key!"
Gabriele says that his monthly allowance is $30k and everything he is "gifted" with is like "the cherry on top of the icing that's on top of the ice cream that's on top of the cake!" He also says that he would never think of cheating on his lover with another as he has grown to love his new "family".
He goes on to say that his lover demands that he be in drag while not at work and on dates when it's just the 2 of them. This way, IF anyone sees them together, they'll just think he's having an affair with a model, not a cross dresser as no one knows he has a fetish for men in drag. Gabriele also says that he owns over 100 hair pieces and wigs as his lover loves an overly feminine show piece.
It sounds like Gabriele is part of the family and wonder if he has ever been in a ménage 'a trois with his lover and his wife. "No, we will never do that! If there's one thing he doesn't do is flaunt to her that he and I are in an arrangement. They've been married 25 years and he respects that she looks the other way, even when we're together, he comes home to her. I'll give him that!"
As Gabriele is exiting the private plane that has flown them to London, he says that first thing on the agenda is dropping his lovers wife at Burberry for the September 19th show during London Fashion Week. Then he and his lover will venture to a Covent Garden store where the Ice Creamist Shop is located where they are each going to have a cone with "Baby Gaga" ice cream. "Baby Gaga" ice-cream?
"It's ice-cream made out of breast milk....I told you, he's adventurous and so long as he's happy, I'm happy!" My guess is that even if Gabriele wasn't in the mood for ice-cream today, no one would ever know it! And I'm pretty sure, he'll top it off with a cherry. Isn't that the best way to eat ice-cream?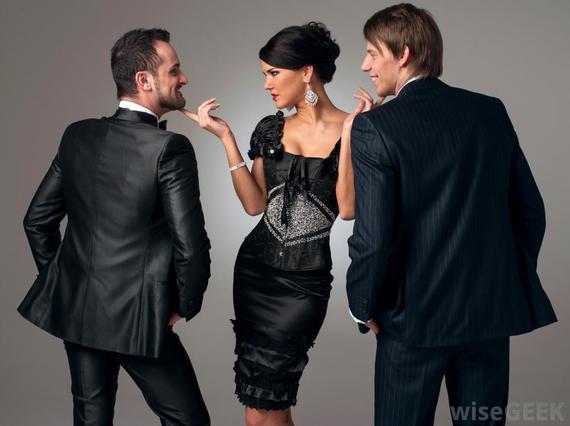 Calling all HuffPost superfans!
Sign up for membership to become a founding member and help shape HuffPost's next chapter