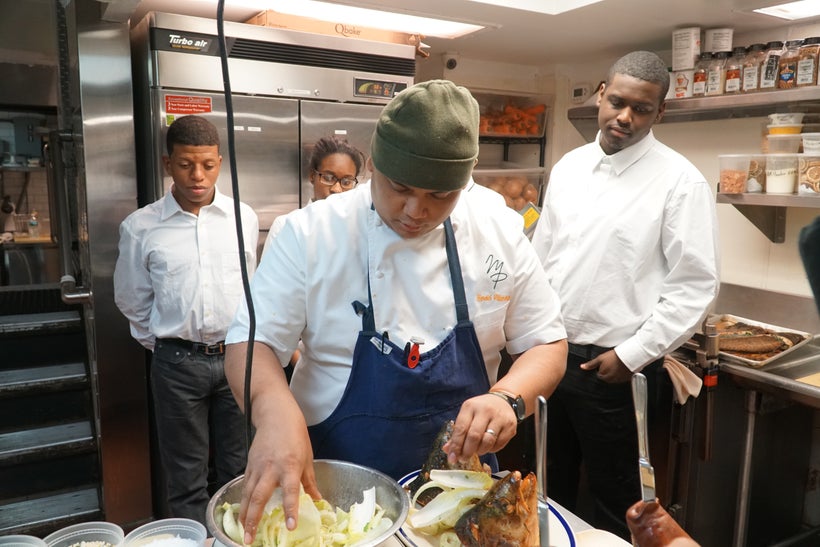 "No one is going to sugar coat your life, you have to take action," Chef Harold Villarosa says, leaning toward me across the table. We've been talking about his work for almost an hour now and his glass of water remains untouched. He continues, "I'm from the Bronx, I know how those neighborhood kids think. I got out of the hood. Food is my way of doing some good." Villarosa is Filipino-American, and his s journey from tough neighborhood kid to celebrated New York chef has been an inspiration to many in his community. But he doesn't rest in his laurels – his mission to help inner-city youth rise above difficult environments has only just begun.
At the age of 15, Villarosa took the first step to pursue his passion in food when he landed a job at Ouest restaurant. After 3 months at the grill station, he was told he needed to speed up and was let go shortly after. But he was not deterred. Determined to keep climbing, Villarosa set his sights on fine dining, a world full of culinary techniques foreign to him and traditionally not associated with Filipino fare. "I didn't see others like me in those kitchens – minorities, cooks of color," Villarosa tells me. He humbly took on the grunt work at highly-acclaimed restaurants – from juicing horseradish at Noma to making thousands of meatballs at Aquavit – to gain experience in elite kitchens. His dream restaurant, however, was Per Se, Thomas Keller's flagship restaurant in New York City. After persistently sending in his resume for three years, Villarosa was finally offered a trail, a restaurant's version of a live interview. Villarosa nailed the trail, accepted his offer, and got to work. It was one of the most gratifying, intense experiences of his career: he cycled through garde manger to fish to pasta to grill stations, working tirelessly into the early morning hours, giving the restaurant his all. Just 8 months after Villarosa joined, Pete Wells tore the restaurant's star rating from a perfect four to two. Suddenly Chef Keller materialized, supervising the kitchen almost every day, peering over shoulders, pacing through the stations. In an effort to keep the cooks motivated, management left a small note at the expediting station. It read: "They can take away our stars, but they cannot take away our freedom." When Villarosa saw it, the message resonated deeply with him. So he shared it on Instagram. Within 6 hours, the note had gone viral and was reported on by multiple media outlets. Villarosa was fired on the spot.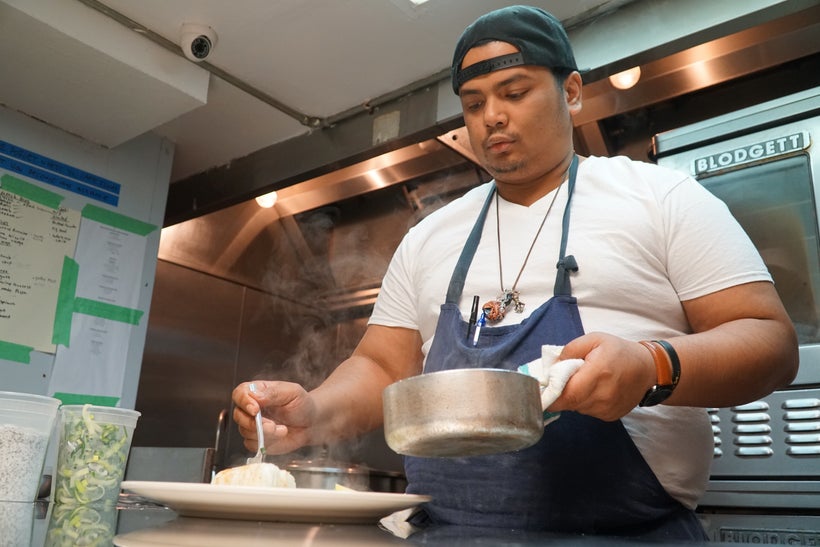 All of this came as a shock to him. "I didn't even realize what had happened. I just said 'Yes, Chef' and soldiered to my station and packed my knives and walked out of the building," he recalls. But what may have been a crushing blow for many other chefs turned opened a door of opportunity for Villarosa. His career up until that point had been focused on the restaurant service industry. At this crossroad, he decided to shift his mission to servicing and benefiting the community. He had a powerful background in food, a unique connection with minority youth given his origins, and a way to leverage restaurants as an avenue to create a better life for them. Villanova had a new vision: "I wanted to train people to do more than I could…to give them a better working environment and a living wage."
This was the genesis of the Insurgo Project, a community-driven, for-profit organization that teaches minority youth business skills and prepares them for high-caliber jobs across professional fields. The Insurgo Project creates an interdisciplinary curriculum for each group of young people, customized to each school's leadership program, usually lasting 6 months to a year. Curriculum topics range from learning about seasonal produce to sales & marketing, but the true learnings are the wisdom from Chef Villarosa's own life. "He tells them about his experiences, about what he's been through, about what he knows they can achieve," says the Project's strategic director, Joaquin Elizondo. Villarosa laughs a little at this, "I just tell them what it's like out there, you know? No bullshit, so they can understand what their expectations should be." For many young people, his frank, no-nonsense tone is a refreshing departure from the didactic attitude common in middle schools and high schools.
The capstone of each Insurgo Project curriculum is a large event, organized and hosted entirely by the students. This is no small feat. In preparation, classes are run like a fast-paced kitchen, with the students split into groups similar to a restaurant's brigade system. Everyone is in charge of a specific objective. A recent event was the Urban Assembly School for Green Career's "Garden Mixer", a fête with food and drinks that featured a keynote speech delivered by Gale Brewer, the Manhattan Borough President, as well as a networking session with a city council member and Jacob of the Jacob's Pickles food empire. Besides preparing for food, the students are also responsible for raising funds to cover costs for the event, and the Project compensates them accordingly. This demonstration of profitability is an important foundation for the class. "How can our students understand the concept of making money if we aren't making any?" Elizondo explains, referring to the charity-based aspect of non-profits. "We pay them so they know they are worth being paid."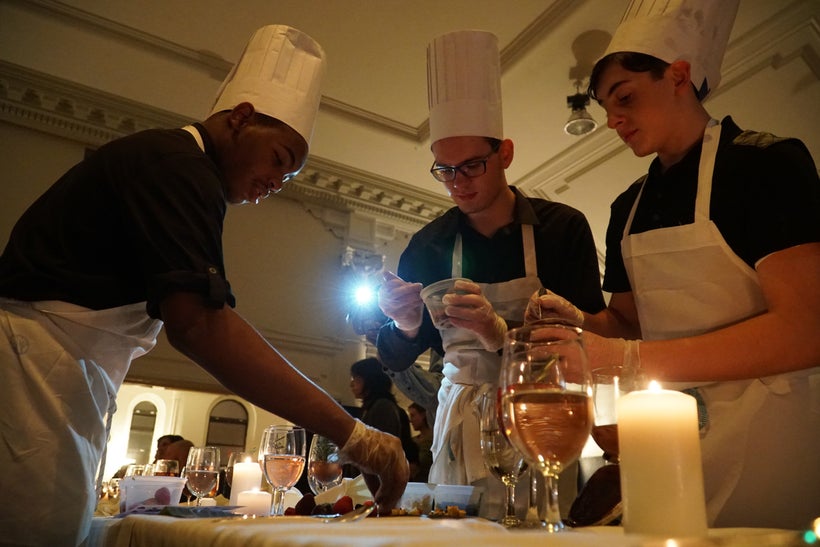 The Insurgo Project has now partnered with 15 schools around the United States and has even expanded internationally to Copenhagen, Denmark. While the Insurgo Project is interdisciplinary and does not steer any of the youth specifically towards the food industry, some young people naturally gravitate there. Luckily for these students, Villarosa is also the Executive Chef of Jacob's Pickles and Maison Pickle, where he has been able to employ over 60 students in the last few years. Villarosa sees this as part of his responsibility: to help organically change and balance the ethnic diversity of workers at upscale dining institutions. One former Project student, Taliyah, has been at Jacob's Pickles for over two years. "These kids – they are very, very loyal," Elizondo tells me with great pride.
The dedication of Insurgo Project's students comes as no surprise, seeing they learned valuable life lessons of hard work and determination from Villarosa. Today, it's come full circle for Villarosa in many ways. Maison Pickle stands in the same space Ouest once rented. Looking into the kitchen, boisterous with activity for dinner service, Villarosa marvels at how far he's coming from being the "grill boy." He also harbors no hard feelings for Per Se, and still speaks of the institution and his time there with great fondness. Reflecting on his own journey, he is motivated to help young people to see opportunities in challenges and gain confidence. "I teach the kids to rise above…I don't teach them doubt," he says. The Insurgo Project's mission of empowerment is central to Villarosa's own beliefs of what America means to his generation and those after it. "President Obama called for action…for service," Villarosa concludes, firm and calm. "We've been in a lot worse situations and the people always come out on top. I believe in that. I believe that's why I'm here to do what I do."
Calling all HuffPost superfans!
Sign up for membership to become a founding member and help shape HuffPost's next chapter
This post was published on the now-closed HuffPost Contributor platform. Contributors control their own work and posted freely to our site. If you need to flag this entry as abusive,
send us an email
.