In wake of contentious politics, the organization is ensuring that Washington doesn't forget its most important feature: young people.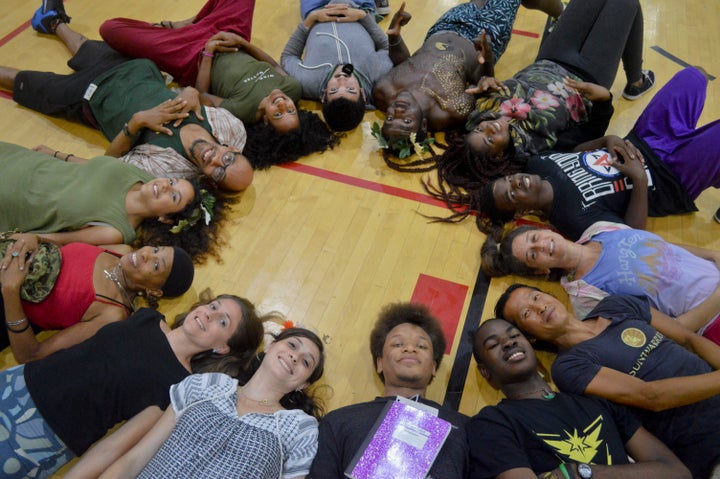 These are only but a few stories buzzing about the political climate in Washington, D.C. While national media coverage has primarily focused on controversies surrounding the current presidential administration, much of the news about the nation's capital seems to have overlooked its most important feature: young people. However, in wake of contentious politics, One Common Unity (OCU), an organization whose mission is to "break the cycle of violence through music, arts, and peace education" is applying the politics of compassion to ensure the voices, needs, and the creativity of young people in D.C. do not fall by the wayside.
Seeking to challenge the pervasiveness of violence, One Common Unity was founded in 2000, following a string of school shootings in the District. A social justice collaboration among artists, educators and changemakers, OCU's aim is to reduce the level of violence among D.C. youth through arts-based, peace education in schools, summer youth initiatives, festivals and concerts. Recognizing a critical need to craft innovative programs for young people, the organization launched its flagship initiative, "Fly By Light" (FBL) Youth Development Program in 2011. Its mission? To train the next generation of youth leaders to catalyze positive social change in their communities through non-violent communication and conflict resolution via art, music and creative expression.
Felicia Klimpacher, 16, one of the participants of Fly By Light, says the program is a safe place where she can truly be herself — or pretty close to it.
"I am kind of weird," Klimpacher said, "but when I go to [Fly By Light], I feel like I can be myself or at least really close to who I really am."
"Not everyone gets to see that side of me — who I really am, I mean," Klimpacher said, as she turned her head briefly to see more FBL participants flood into the Josephine Butler Parks Center, where One Common Unity is housed. The group of students, including Klimpacher, are practicing for their upcoming Fly By Light Summer Showcase, which will be held at the Gala Theatre on June 15.
"Being a kid, a youth, or whatever y'all call young people, in this city is a lot," Klimpacher said smiling, now giving me her full attention.
"I feel like it is a lot to be a kid anywhere but living in D.C. is just a lot."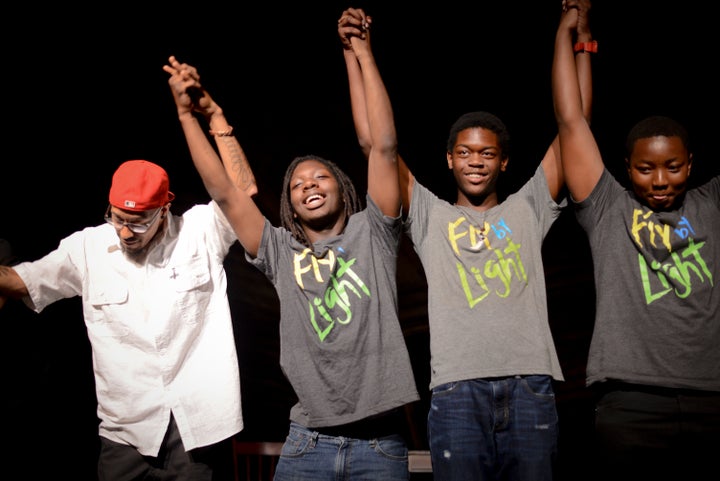 Unfortunately, for Klimpacher and other young people, they know all too well the devastating implications of what "a lot" is while growing up in the District of Columbia. It is no secret countless youth in D.C. — in particular, youth of color — live in communities that are shaped by generational cycles of poverty and violence. While in 2016, the overall crime rate in D.C. was down by 4 percent and violent crime dropped by 10 percent from 2015, the homicide counts in D.C. show an overall increase, based on five-year trends. As of June of this year, there are 33 unsolved homicides in D.C. and a disproportionate number of those victims are African-American. According to a 2016 technical package by the Centers for Disease Control (CDC), "youth violence is the leading cause of death and nonfatal injuries in the United States [and] homicide is the third leading cause of death among persons aged 10 to 24 years." Moreover, the report details "homicide has been the leading cause of death for non-Hispanic Black youth for more than three decades and is the second leading cause of death for Hispanic youth."
In Washington, D.C., youth are four times more likely to die by homicide than by the next closest cause, the direct opposite of national statistics where the leading causes of death in children are unintentional incidents.
If these statistics are intense, the psychological, emotional and health consequences of youth violence are also overwhelming. Youth who experience violence as victims, perpetrators, or witnesses are "more likely to have behavioral and mental health difficulties, including future violence perpetration and victimization, smoking, substance use, obesity, high-risk sexual behavior, depression, academic difficulties, school dropout, and suicide." A 2011 article in The Huffington Post detailed that 10 percent of 8th graders attending D.C. Public Schools have attempted suicide, based on a Center for Disease Control's 2010 Youth Risk Behavior Survey. The article also showed that "more than half of D.C. high school dropouts leave by 9th grade, and more than 80 percent of dropouts do so by 10th grade."
With this alarming data — coupled and even tripled with the active presence of structural racism and violence enforced through housing policies, law enforcement and an unequal distribution of resources — it is no surprise many youth in D.C. are on destructive paths leading to incarceration and even worse, death. However, Hawah Kasat, the Executive Director of One Common Unity, believes the organization's programs and outreach, including Fly By Light, have been successful in breaking cycles of violence because it prioritizes a fundamental structure lacking from numerous curricula — and that is social-emotional learning and literacy.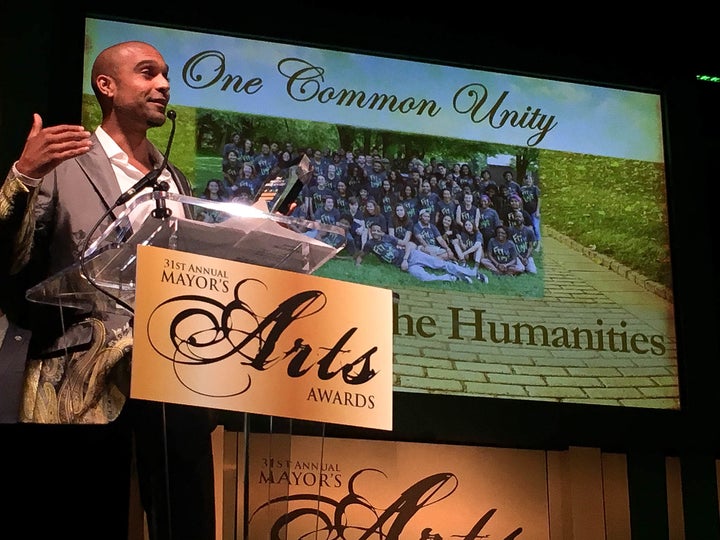 "Young people are one of the most marginalized and oppressed groups of people in the world," Kasat said. "Until social-emotional learning has the same priority as math and science, I believe we will continue to live in perpetual states of violence," he said.
"We need to teach our children — starting from pre-kindergarten and all the way through college — about healthy relationships, teen dating violence, about how to be an ally, about ways to create peace in our communities and about non-violent communication," he continued.
And for the past 17 years, many of OCU's social-emotional literacy methods and health and wellness practices are working. With a 183-page curriculum to guide program facilitators, their recent five-year impact study showed 84 percent of their students have graduated high school — a rate nearly 50 percent higher than the D.C. average. None of the participants in the study have served time in juvenile detention, jail, or prison. About 71.4 percent of OCU's graduates have reported holding the same job for more than six months and 83 percent report taking on more leadership roles than they did before participating in the program. Since its inception, the organization has impacted over 19,500 youth and families and indirectly reached thousands more. In the past year alone, the organization has engaged more than 100 youth participants in their Fly By Light programming. With six after-school programs currently at Bell, Cardozo, Ballou STAY, Wilson, Columbia Heights Education Campus (CHEC), and Roosevelt High schools representing Wards 1, 3, 4, and 8, OCU has delivered more than 115 hours of programming at each site.
And Kasat doesn't want to stop there. In the future, he hopes to bring more of OCU's positive deliverables to D.C. and implement Fly By Light programs on national and global levels.
"In the future, I see OCU growing well beyond the limits of the DMV areas," Kasat said. "I see [Fly By Light] in schools, advocacy groups and community centers around the country and even the world."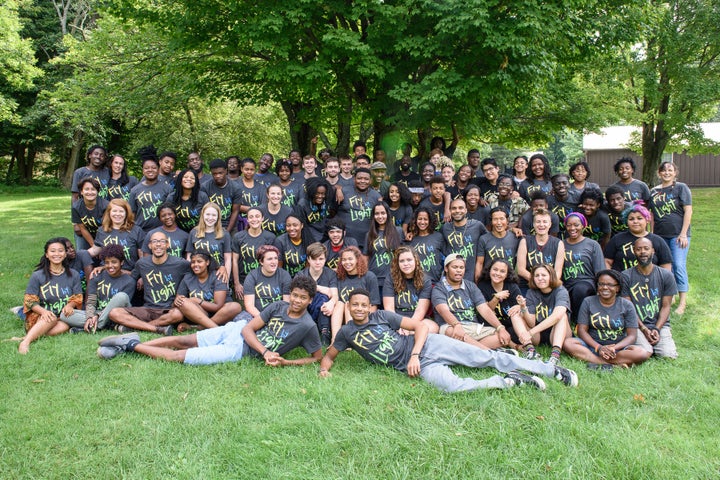 OCU is not void of challenges — one of its most daunting tasks is ensuring their participants maintain non-violent communication and conflict resolution techniques in environments, such as in school and at home, where violence and aggressive behavior may be glorified. However, OCU provides a progressive, extracurricular outlet where participants have room to develop not only personally and academically, but holistically. In today's world, where violence, death, and political animosities are rampant, the organization serves as a conduit for young people to use their talents to foster a new, global order: and that order is the recognition of everyone's common humanity, irrespective of their racial, cultural, economic and political differences.
Leighton Hardy, 15, told me ever since he joined Fly By Light, his self-esteem has increased. Hardy believes with his talents as a poet and photographer, he can impact the D.C. community and eventually, the world. He thanks One Common Unity's staff for encouraging him, even through his most difficult times.
"It is the people within the program, who over time, helped me change into the person I really want to be," Hardy said.
"I went through a lot of stuff over the summer, which threw my life off track," he continued. "I was not doing well in school [but] Fly By Light made me a more confident person and more confident in my abilities," Hardy said.
"And now, I feel like I can be all that I can be — and more."
Related
Popular in the Community