In the villages outside of Jaipur, India, the centuries old craft of hand block printing is making a comeback
Shari Keller has a calming presence. When I meet her in the company workshop after coming off the noisy, chaotic, smoke filled street of busy Jaipur, India, I am more than a bit frazzled. Not only is the heat stifling but as people scramble to get errands done before the real heat of midday, the bustle of the city is overwhelming with its sounds and vibrant colors, constantly catching the eye. Shari, in contrast, wearing a beautiful kaftan, warmly welcomes us into the quiet hum of their production facility, offering chai tea. Over the course of the next ten days, as we visit and document her work at Mehera Shaw, an artisinal textile and fair trade manufacturing company in Jaipur, and at Sanganer, a village outside the city with the block printers of the region, I realize that her natural calm matches the beauty of the work they all do: measured, precise, intricate and thoughtful.
Block printing is an ancient Indian heritage craft practiced by highly skilled artisans in mainly the Jaipur region. Unfortunately, as is the case with many other artisanal crafts in India, block printing is being replaced by screen and digital printing -- faster, mechanized forms of garment production -- and the influx of low cost textiles from China. Companies like Anokhi and Shari's company, Mehera Shaw, are preserving the technique and employing some of the last artisans who know the work. They are striving to ensure its future by developing block printed modern style products and with the promise of employment, generating interest among younger populations to learn the technique. Now, with its integration into the home goods and clothing market in India and abroad, block printing is seeing a new life.
Shari recently took time out of the company's busy production schedule to answer a few questions about her work, the craft, their hopes and challenges, and her take on being a female entrepreneur.

I have a long family connection to India dating back to my grandparents and have been visiting India since I was a child.
I had previously worked and lived in India as a young adult. My husband Mark owned a jewelry business and manufactured in Jaipur so he knew Jaipur well and I had a background in Indian textiles. India is my other home so it made sense to us to keep the business in India.
We had started our Mehera Shaw brand working with another manufacturer in Jaipur in 1999 and worked specifically with block prints which are a speciality of the Jaipur region. We had set up our clothing label initially because we each had a love of Indian textiles, pattern making and working with artisans in India through research I did as graduate student and wanted to continue working with artisans in India. I also had a love for the block prints native to Jaipur.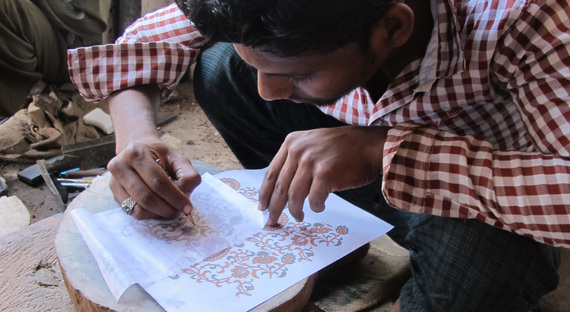 Carver Mohammed Aamid tracing a pattern to be carved into a wood block
Our purpose behind manufacturing in India was never about outsourcing, but rather working with the people we know and supporting a craft we love.
We first developed a women's clothing brand and as we went along, we felt the overwhelming need to be our own manufacturers so that we would know first hand how everyone was being treated, who was working for us, understand the conditions and so we could say with full transparency that we are fair trade and know every step of the process.
We are a fair trade, full service garment manufacturer in Jaipur which means we source fabric (typically certified organic cottons), dye and block print, do pattern making, grading, fit samples, production samples and small to medium-scale garment/homewares manufacturing and finally exporting of the same. We have two facilities, one is our dyeing and block printing unit in Sanganer and the other is our garment manufacturing unit in Jaipur. We employ 35 people in total currently. We partner with like-minded suppliers who work specifically with GOTS certified organic cotton, handloom cotton or silk. We also work with customers who share our philosophy about sustainability, fair trade and slow fashion.
We've been in business as fair trade manufacturers since 2007. Some of the highlights have been the positive market reception to our block printed fabrics and to our East/West style.
Other highlights have been the amazing team of people we work with in India -- they are the ones who make Mehera Shaw and work together every day for this shared dream.
I am currently living in Jaipur with my family so I work at our garment production studio every day and make frequent trips out to our dyeing and printing unit. A typical day includes customer service emails involving pricing, fabric choice, pattern grading, color matching, labels etc., checking on how our current manufacturing and sampling orders are going, on dye and print orders, discussing next collections with our pattern master, working on moodboards and textile print design with interns and customers, overseeing our up cycling project, and checking on our accounts and logistical matters.
In the next year we will be developing our women's brand in the Indian market and launching our wholesale line of upcycled products, homewares, sarees and block printed fabrics. In the next five years we intend to establish ourselves solidly within the Indian market as a retail brand with a positive humanitarian vision for a more sustainable future. We also look to establish ourselves as leaders in the hand printed organic cotton market internationally.

What do you think is the biggest issue for female entrepreneurs?
My situation is perhaps different from other female entrepreneurs working in the developed world. I work in Rajasthan which is a male dominated society. I work in Hindi which is not my native language and I work almost entirely with men. In these circumstances, I find my biggest challenge is to gain the respect of those I work with and find the right balance between being 'the boss', i.e., upholding company policy and making those tough choices, and being generous, understanding, patient, accepting.
It is a balance between being heard and listening.
I find one of my own personal challenges is to set aside what others may think of me and worries that they might not believe or listen to me and focus instead on being the most fair-minded, respectful person I'm able to be under all circumstances.
Which other female leaders do you admire and why?
I admire every mom and school teacher out there who is taking care of their kids, taking the extra minute to smile and encourage someone, to give them a hug and make them feel loved. For every child that feels loved and feels happy the world is a better place. For me, it is that 'behind the scenes' leadership that counts the most.

What brands do you admire and suggest others check out?
I admire the Swedish brand Gudrun Sjoden because I love the artistry and color in her brand, the fact that she is personally involved in every step of the process, forms long-term relationships with her suppliers and has stayed true to her artistic and philosophical vision throughout her rise to success. I also appreciate Eileen Fisher as another women entrepreneur who has upheld her vision and has sought to 'do good' and form long-term relationships with suppliers, provide a high quality, highly wearability product and whose brand ethos sends a positive message about women.
What is the most important lesson you've learned in your career to date?
To withhold judgement and try to understand the full picture first in every situation. We work with artisans and face many issues outside our control on a daily basis so it is vital to understand what is happening before making decisions or coming to conclusions.