The Wharton School at the University of Pennsylvania pumps out a majority of financiers for the major firms on Wall Street. Huntsman Hall, the main building for Wharton, features regular conversations between Goldman Sachs, JPMorgan, McKinsey, Bain, etc. interns and aspiring employees about cap tables, waterfall analyses, lack of sleep, and favorite caffeine ingestion methods. If you were to sum up this culture in a few words, institutional, excess, stress, and money would likely come to mind, but for George Lessner III, he sees it as casual.
Lessner by day works as an institutional investment consultant and helps manage over a billion dollars in assets, by night he is Captain Casual, the contemporary artist capturing the casual nature of excess and embodying the implicit gestures, movements, and actions of opulent lifestyles. As Lessner puts it, "stock market by day, paint by night."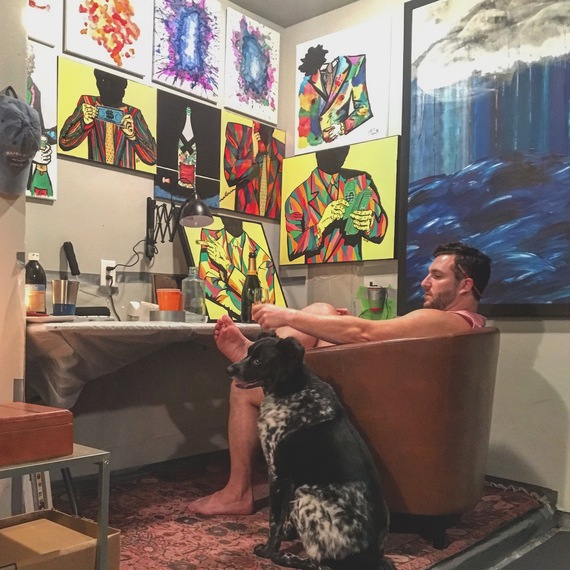 While many artists have been artistic their whole lives and force themselves into the art scene after setting their mind this life path, Lessner took a much more casual approach. During college his walls were blank and made art out of necessity to fill this glaring void in his living space. Contemplating what to create to fill these blank canvases around him he said his thought process was to, "Make it fun and make a statement. Don't make art to match your current apartment, make art to match your future mansion. It's not supposed to match the couch; it's supposed to make a scene."
From here he found a distinct aspect of modern culture not fully captured in the art world: dripping excess. As an investment manager and self-proclaimed 'stock market nerd' Lessner works with high net worth individuals and extremely influential individuals daily and the majority of America lacks an understanding of what this lifestyle is like. "It is hard to conceive going to steakhouses and dropping $1,000 on dinner with four people until that's your everyday life. At that point it becomes casual." Lessner told me explaining a bit of his inspiration for pursuing his art style full time after college.
Working in finance has allowed Lessner to do market research for his works even when he is working with numbers instead of a paint brush. A few executives and asset managers have begun collecting his work but as he says, "Most of my paintings are an explosion of color and demonstrate the desire of excess. I've made work for people from all walks of life and I hope it stays that way." His three current series are "The Casual Gentleman Collection" featuring figures without faces in overtly colorful suits in the middle of casual but opulent activities, "Pop (B)art" which merges Bart Simpson with wealth iconography such as counting money on a canvas plastered with pages from the Harvard Business Review, and "Money Talks" which will be debuting in Dallas on December 8th at the Conception Art Show.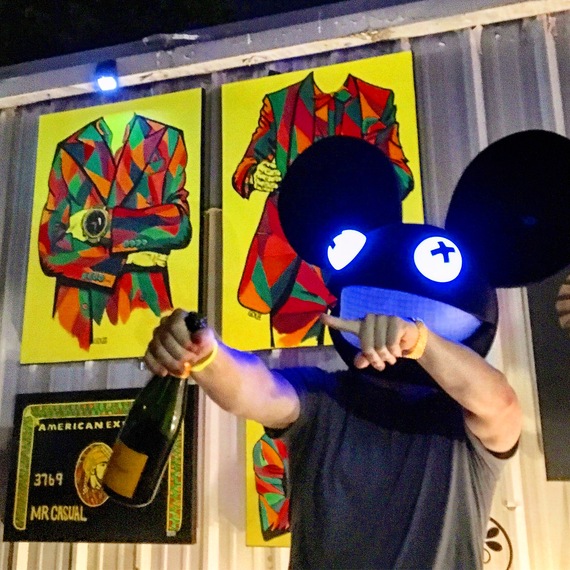 When I sat with the casual artist himself to get a better sense of his life outlook and what his advice for aspiring artistic minds was, I learned on December 5th, 2015 he died for a few moments. Ever since that moment he has tried to bring the volatility he sees in his finance life into his personal life as, "people often forget going with the flow and living life the casual way is okay." Knowing the divide of what needs to be meticulously planned out and what needs to be left to the forces of nature and spontaneity has been critical in driving both Lessner's inspiration, lowering his overall stress, and increasing his enjoyment of life (after death).
For all those creatives out there who dream of one day pumping out a series of art and becoming collected worldwide, Lessner asserts that the best thing any artist can do is just wing it and go with the flow. Do art for enjoyment, not for a living or for critics and that will lead to both a better artistic experience and likely better results. Lessner paints the background of his Casual Gentleman Collection "Lamborghini yellow" because of his obsession with the extravagant cars and the lavish lifestyle they embody. This simple color choice means that every piece in this series sets his mind to the perfect wavelength that vibes with him. Furthermore, for the aspiring art collectors out there, Lessner discourages art to be viewed of as an investment. As an investment manager he states, "Investing carries with it, to some degree, the need to avoid emotional attachment; which I strongly discourage in art and encourage in investing. It also implies that you one day intend to realize an increase in value of the asset by selling it and I like to keep art."
Whether his ability to capture the simple luxury of excess, to play upon the almost innate desire to have excess, or his life which emulates both ideals has led to his growth in the contemporary art scene, Captain Casual has definitely found the merger of business and pleasure. Rather than walking around Huntsman Hall with eyes so tired and desperate for a Goldman internship they are weighed down by designer eye-bags, George Lessner III found the happy, casual medium of being a financier and painter, and still living each day one step at a time.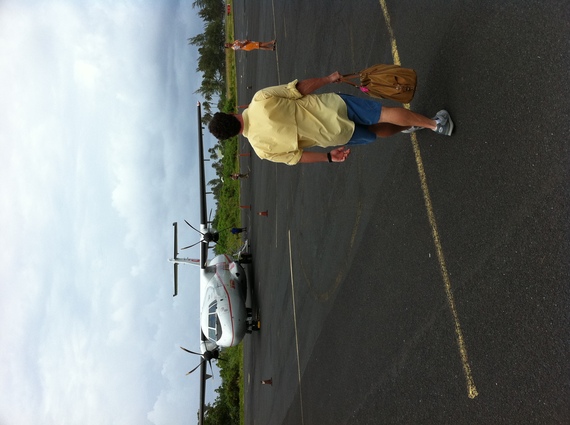 Popular in the Community